This summer, community members worked with us to improve the health and beauty of the Ausable River by participating in several hands-on volunteer events: three riparian tree plantings in the spring and a river clean-up at the end of August. Funding for these projects was provided by the New York State Department of State (NYS DOS) under Title 11 of the Environmental Protection Fund and from a Belay Grant awarded by Colombia Sportswear and the Grassroots Outdoor Alliance, with matching funds from The Mountaineer in Keene Valley.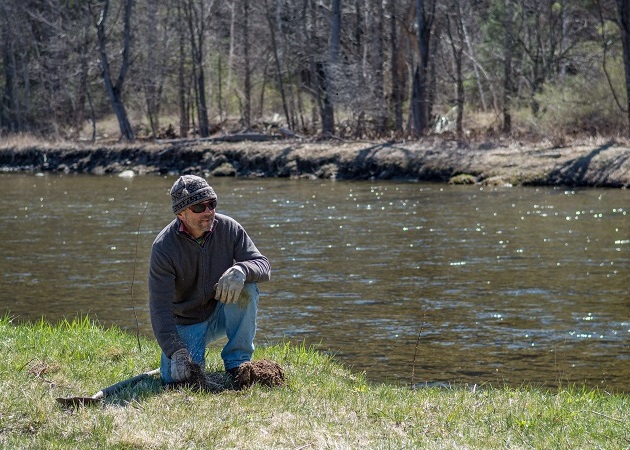 Our first community planting was on April 30th in Upper Jay along the East Branch of the Ausable. Volunteers planted over 300 native trees and shrubs along an exposed bank behind the old firehouse near Wells Memorial Library. As these plants mature, they will provide shade, cooling the water and improving fish habitat. A dense native buffer will also improve aesthetics and create an opportunity for wildlife viewing for members of the community who visit this location.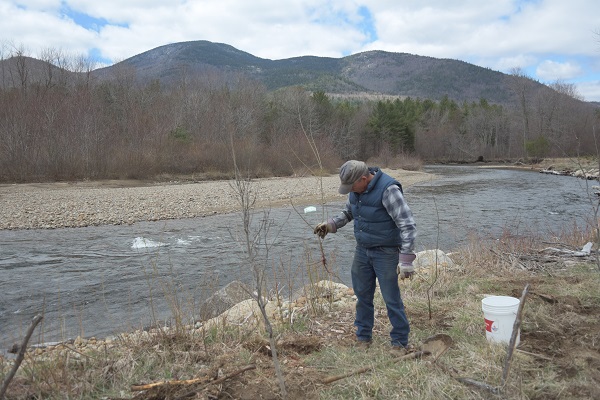 The following week, AsRA staff, with help from friends in the community and staff from the NYS Department of Environmental Conservation, planted 1000 feet of riparian buffer at the Rivermede Farms restoration site. The Rivermede restoration, led by AsRA, the US Fish and Wildlife Service, and Trout Unlimited's Adirondack Chapter and completed in 2012, helped to stabilize collapsing banks along the East Branch of the river in Keene Valley. The approximately 600 trees and shrubs AsRA planted this spring will further improve bank stabilization and habitat for many species of fish and other wildlife.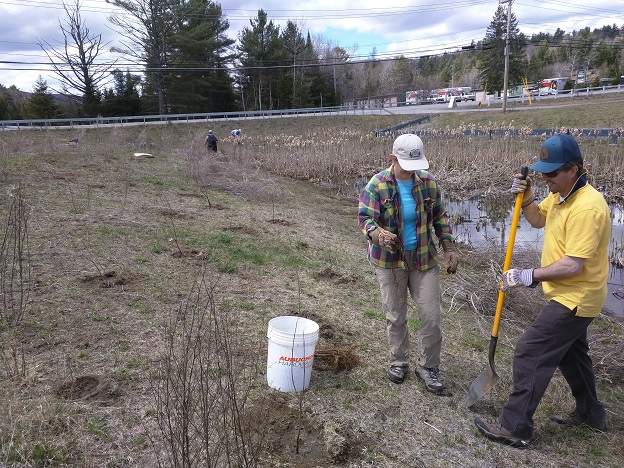 On May 7th, AsRA and volunteers planted over 200 trees and shrubs on a mitigation site next to the Chubb River in Lake Placid. This site was designed to hold and filter excess runoff and snow melt, which could contain pollutants such as sodium chloride from road salt. The planting will provide additional capacity for such contaminants to be absorbed and filtered, instead of flowing directly into the Chubb.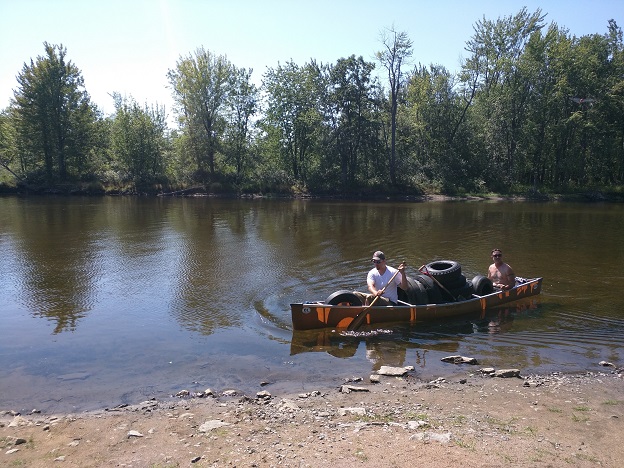 On August 27th, AsRA, in partnership with the Kayak Shack of Plattsburgh, NYS DOS, and Casella Resource Solutions, hosted a paddling river clean-up on the Main Stem of the Ausable River in Peru. Over 25 volunteers paddled or waded the river and removed 200 tires and over a dozen bags of trash. The two miles of river that were cleaned up are ecologically significant because the water flows through an important wetland and wildlife management site before entering Lake Champlain. Tires and other trash directly harm habitat and water quality as well as provide a hazard for recreational users.
AsRA volunteers make a difference. AsRA plans on hosting more plantings and clean-ups in the future. Like our Facebook page to stay up to date with AsRA events and find out what else we are doing to protect and restore the Ausable River watershed. Or contact us to identify other opportunities to volunteer.