Win a Piece of Adirondack History
Silent Auction - benefiting the Ausable River Association
ca. 1900 Adirondack guideboat in excellent condition

The Auction is COMPLETE! Look for this boat next year on Lake Placid!!!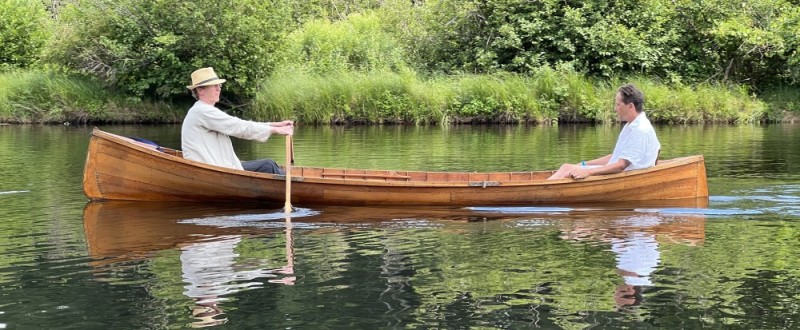 Guideboats were built in and for the Adirondacks. Developed in the 1840's, they are shallow drafted boats designed to carry up to three people and their gear while being light enough to be portaged by one person, the guide. Not that many of the original boats remain on the water. A piece of living history, this guideboat was generously donated to the Ausable River Association by an anonymous local donor. Over its 120 years, it has seen its share of Adirondack lakes. The donor's hope, and ours, is that the person who makes the winning bid/donation for this lovely, nimble craft will use it and care for it as it ages toward its 200th year, enjoying it for the very reason it was made, to slice effortlessly through lake waters with friends and family while reveling in the beauty and joy of fresh water.
History of this boat
Although we do not know its builder's name, thanks to Ted Comstock & Chris Woodward, the broker and builder who completed the most recent study of these beloved watercraft (The Adirondack Guideboat: Its Origins, Its Builders, and Their Boats, 2018), we know—from its characteristic wide stem and fine craftsmanship—this is a professionally built, Bloomingdale-style boat, made ca. 1900, with cherry decks, seats, cleats, and rails, and copper kick plates. It has always been varnished, never painted. Chris Woodward restored the boat, replacing some of the pine planking and addressing a few other issues, for the boat's prior owner a few decades ago. The boat finished second in the two-person Willard Hanmer Guideboat and Canoe Race some years ago. It is ready to row.
We greatly appreciate the donated expert evaluation of this guideboat – estimating its age, contributing to our knowledge of its history, attesting to its lakeworthy condition, and helping us understand the current market for these venerable craft – provided by Ted Comstock and Christopher Woodward, both of Saranac Lake.  
Specifications
Weight: approximately 60

 lbs.

Length: 

16 ft. overall

Beam Width: 35.5" inside rails
Depth: 12.5" at center
Oars: maple, 7.5'
Seats: three, bow and stern seats fixed, stern seat with removable back (not original but a handsome replacement); removable center seat with folding back
Oarlocks: two rowing stations (allowing one to row from the center or the bow)
Finish: spar varnish
Bidding Status : Complete
Silent Auction Guidelines - please read these carefully!
Starting donation: $7,500 -- Win it Now donation: $12,500
To be valid, bids shall be rounded up to the next $100 increment over the last bid. For example, if an existing bid is $8,600, the next bid must be at least $8,700.
Bids can be placed by emailing guideboat@ausableriver.org  When you email a bid you must include:
Your first and last name
A full current address (street number, name, PO Box if relevent, city, state, and ZIP)
Phone number where you can be contacted soon after your bid
After bidding, a staff member of the Ausable River Association will call you to verify your bid and ask your payment method. If we cannot contact you, we will not accept or post your bid.
Bidding will be tracked on this webpage, please bookmark it for convenience.
Each bidder will be assigned a unique I.D. number for the purpose of posting bids on this page. Once assigned an I.D. number, we will accept subsequent bids by email or phone without a follow up call. Posting to this page will take place from 8am to 6pm every day of the week until the auction ends. 
Auction Deadline and Details
Auction will end September 30th, 2022 at 5:00 pm or when the "Win it Now" bid is verfied. Winner will be announced once payment is confirmed.
The guideboat is auctioned as is. By submitting a bid you agree to purchase the guideboat at the bid amount by providing cash, a check, or credit card in the full amount to the Ausable River Association within five (5) days of the closing of the auction which will occur on September 30th 2022 or at the time of a $12,500 bid/donation – whichever comes first. The winner will be required to pick up the guideboat or arrange for storage with a third party within two weeks of sale or by arrangement with the Ausable RIver Association.
Please note that your donation may not be tax deductible. You should consult a tax advisor to determine the deductibility (if any) of your donation. Your deduction, generally, is limited to the excess of your winning bid over an item's fair market value (FMV). The Ausable River Association makes no assertion as to the FMV of the guideboat. The Ausable RIver Association is a public charity recognized under the IRS under Section 501(c)(3).
More Information/Viewing
Additional photos are available by contacting guideboat@ausableriver.org.
Viewing can be arranged by emailing guideboat@ausableriver.org and making an appointment on the following dates:
Sunday August 28 thru Wednesday August 31 – by appointment
Monday September 12, 9 am to 11 am – by appointment
Thursday September 15, 2 pm to 4 pm – by appointment
Tuesday September 27 or Wednesday 28 – by appointment
Questions?
Email: guideboat@ausableriver.org or call 518-637-6859 and leave a message for Kelley with your contact information.