The Ausable Sustainable Salt Initiative is a collaborative partnership to leverage science, technology, best practices, and community engagement to reduce road salt use in the Ausable River watershed. Road salt is a significant threat to both surface and groundwater within the Ausable River watershed and beyond. Ausable River Association's stream monitoring has documented elevated salt concentrations along much of the length of the Ausable River and in many of its tributaries. Our research partner, Paul Smith's College Adirondack Watershed Institute (AWI), has documented surface and groundwater salinization across the Adirondack Park. Road salt pollution is an environmental, human health, and economic concern for our region. 
Four Pillars of the Ausable Sustainable Salt Initiative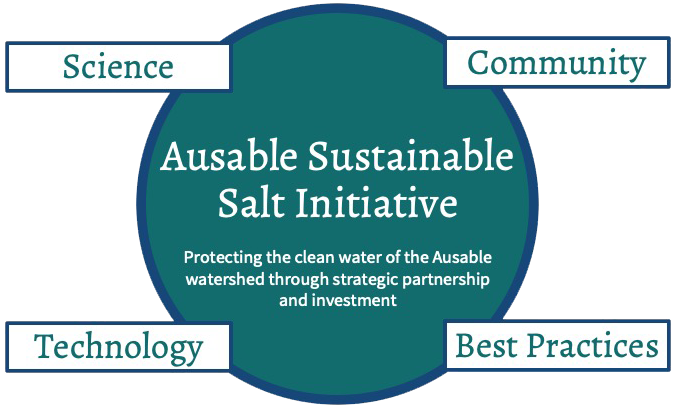 Science
AsRA's science staff, in partnership with the Adirondack Watershed Institute, is conducting rigorous scientific monitoring of Ausable River watershed lakes and streams. The science produced informs priority areas for salt reduction and assess the effectiveness of best practices implemented within the watershed.
Technology
Technological advances are leveraged to benefit scientific monitoring and the implementation of best management practices. Automated vehicle location systems, new plow technology, road weather information systems, and continuous water quality monitors are examples of the technology tools available to us. 
Best Practices
Partnership with snow and ice industry expert Phill Sexton of WIT Advisers provides practical knowledge of how to optimize and reduce salt use while maintaining safe roads, sidewalks, and parking lots. 
Community
An informed and engaged group of community members help guide and support the work of the Ausable Sustainable Salt Initiative. 
Priority Project: Save Mirror Lake
 Mirror Lake is the most impacted lake from road salt in the Adirondack Park. In 2018, AsRA and AWI released a report documenting the lack of turnover in the lake due to road salt accumulating at the lake bottom. Lake turnover is a fundamental physical process that drives much of the biology and chemistry of a lake. Interrupting this process threatens the long-term health and ecological resilience of the lake.
Priority Actions
Quantify the total road salt pollution load entering Mirror Lake so that specific salt reduction targets can be established.
Assist the Village of Lake Placid and Town of North Elba in achieving Sustainable Winter Management (SWiM) Roads Certification.
Assist businesses and property owners in achieving Sustainable Winter Management (SWiM) Site Certification.
Salt Reduction Successes
Town of North Elba adoption of Live Edge plow technology on their portion of Mirror Lake Drive.
Village of Lake Placid stormwater improvements to reduce direct discharge to Mirror Lake.
NYS DOT pilot salt reduction program along Route 86, including the portion adjacent to Mirror Lake.
5th Annual Adirondack Champlain Regional Salt Summit held in Lake Placid.
Partners