If you've read any of our recreation blogs, you can tell that there are some great winter activities to pursue in the Ausable watershed, including around Lake Placid. Let's add one more! Many people know about the Olympic Speed Skating Oval right on Main Street. There are plenty of lakes and ponds nearby that, when the conditions are right and safety precautions followed, offer some excellent fun on the ice. Here are our picks for the best places to ice skate near Lake Placid.
Mirror Lake
You don't have to go far from the Olympic Oval to find great ice skating. Many consider Mirror Lake an ice skating paradise, and for good reason. The Village of Lake Placid clears a section of the lake in front of the town beach that is ideal for public skating and pond hockey. There is also a 2-mile ice skating track that circumnavigates a good portion of the lake. Coupled with easy access and legendary views, Mirror Lake is a must-visit for your first Adirondack ice skating experience. Check out our livestream and weather station to see what conditions look like today! 
Getting there: The best way to access open skating and the 2-mile ice track is from the town beach (Mirror Lake Public Beach).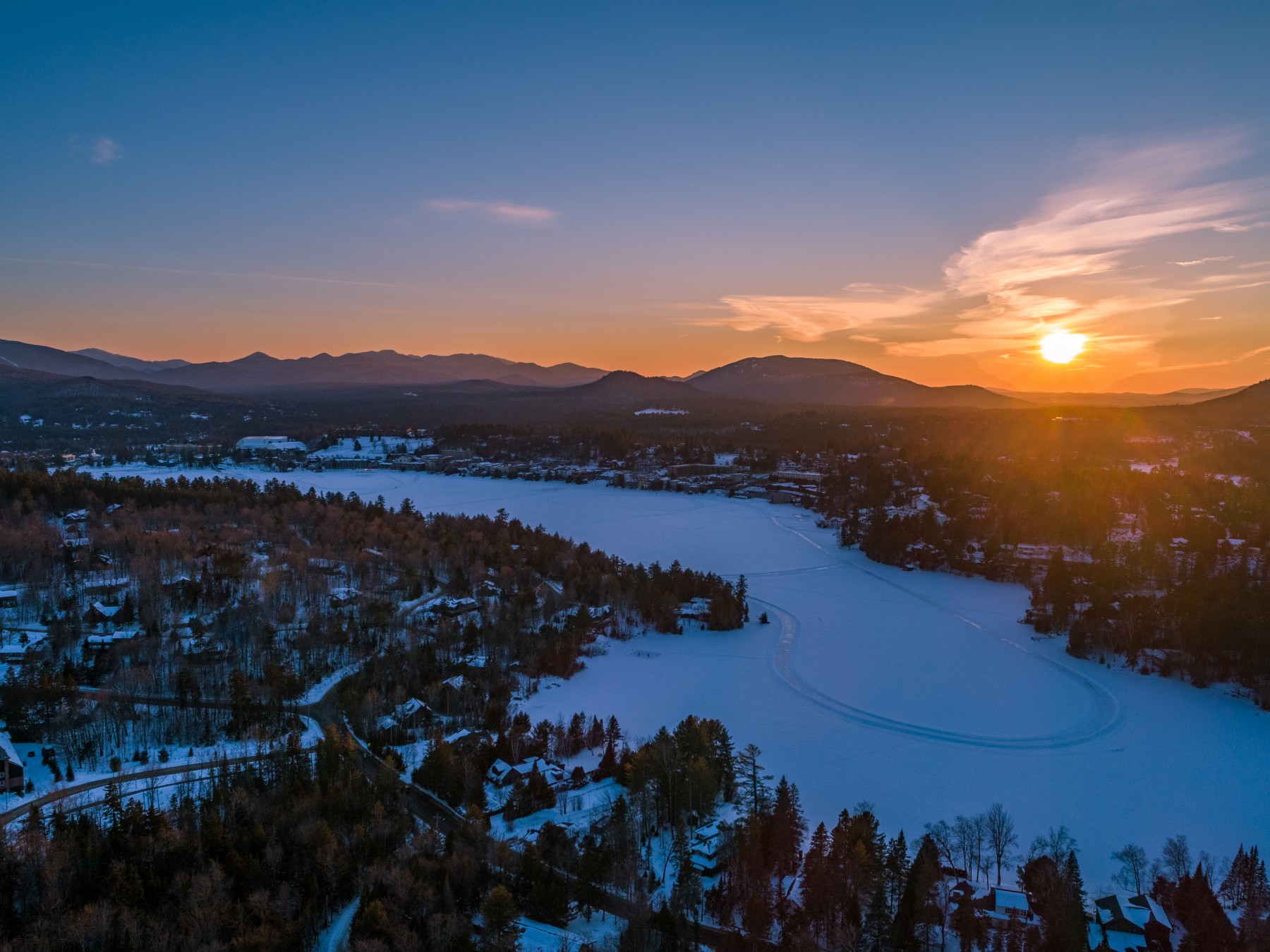 An aerial view of Mirror Lake and its 2-mile ice skating track. Photo credit: Brendan Wiltse

Upper & Lower Cascade Lake
Cascade Pass, which Route 73 cuts through on its way to Keene Valley, frequently experiences above-average wind for the area. In the right snow conditions, this wind helps keep snow off the surface of the Cascade Lakes. Following a brief thaw and temporary winter rain, freezing temperatures can create the perfect surface for ice skating. A skating trip, or even sliding around on foot on a bluebird day, is a bucket list item for visitors and locals alike.
Getting there: From Main Street Lake Placid, turn onto Route 73 and follow it 7.4 miles to the Cascade Mountain trailhead to access Upper Cascade Lake. Due to traffic, a perhaps safer option is to continue further down Route 73 to the multiple pull-offs along Lower Cascade Lake. Either way, be careful around traffic!
---
Support our lake monitoring work that help us understand the impact phosphorus, road salt, and climate change are having on our lakes. Give with confidence today!
---
Chapel Pond
Ice climbing, roadside views, great summer swimming. Chapel Pond off of Route 73 has a lot of recreational opportunities, but ice skating isn't always the first to mind. When the ice skating is good, it's a mistake not to consider the stunning scenery and easy access of this icy waterbody. Chapel Pond is more sheltered from the wind than the Cascade Lakes, so it's harder to predict when the ice will be smooth and even. If you time it correctly, though, you're in for a majestic ice skating experience.
Getting there: From Main Street Lake Placid, follow Route 73 for 24 miles, traveling through Keene and Keene Valley in the process, to the Chapel Pond parking area on your right.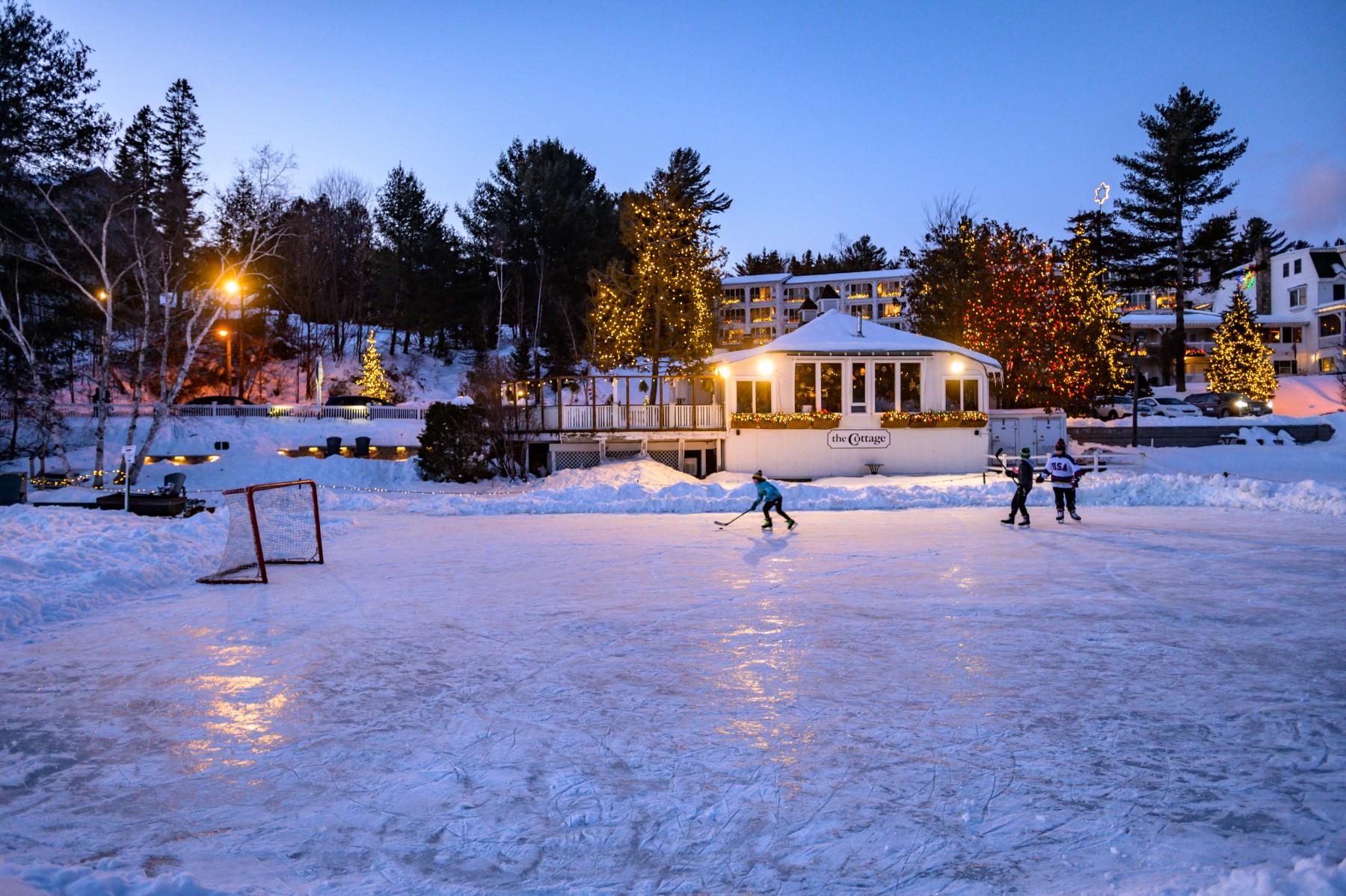 Mirror Lake offers both pond hockey and more leisurely ice skating options. Photo credit: Eric Adsit

Giant Washbowl
If you want a little more adventure, Giant Washbowl is the ice skating trip for you. This small pond looks like something out of a fantasy film etched into the side of Giant Mountain. It's only a 0.5 mile hike to get to Giant Washbowl, but you'll gain a little over 700 feet of elevation in the process. The reward – having a peaceful and picturesque pond all to yourself – is worth the climb!
Getting there: The trailhead for Giant Washbowl is almost directly across the road (Route 73) from the Chapel Pond parking area. Please never park on road shoulders along this corridor and use the DEC designated parking area on the Giant Mtn side of Route 73. Always be careful around traffic!
Copperas Pond
There's not just great ice skating off the beaten trail in Keene Valley. Wilmington Notch contains its own wilderness ponds a short hike from the road. Copperas Pond boasts a mountainous feel, short hike from the road, and even a lean-to for changing in and out of your ice skates. If you like some variety, consider exploring nearby Owen and Whey Pond. The skating may be just as good over there, and the views are certainly just as delightful.
Getting there: From Main Street Lake Placid, follow Route 86 6.3 miles to the Copperas Pond trailhead on your left. For an alternative access point, only follow Route 86 5.4 miles to the Owen Pond trailhead on your right.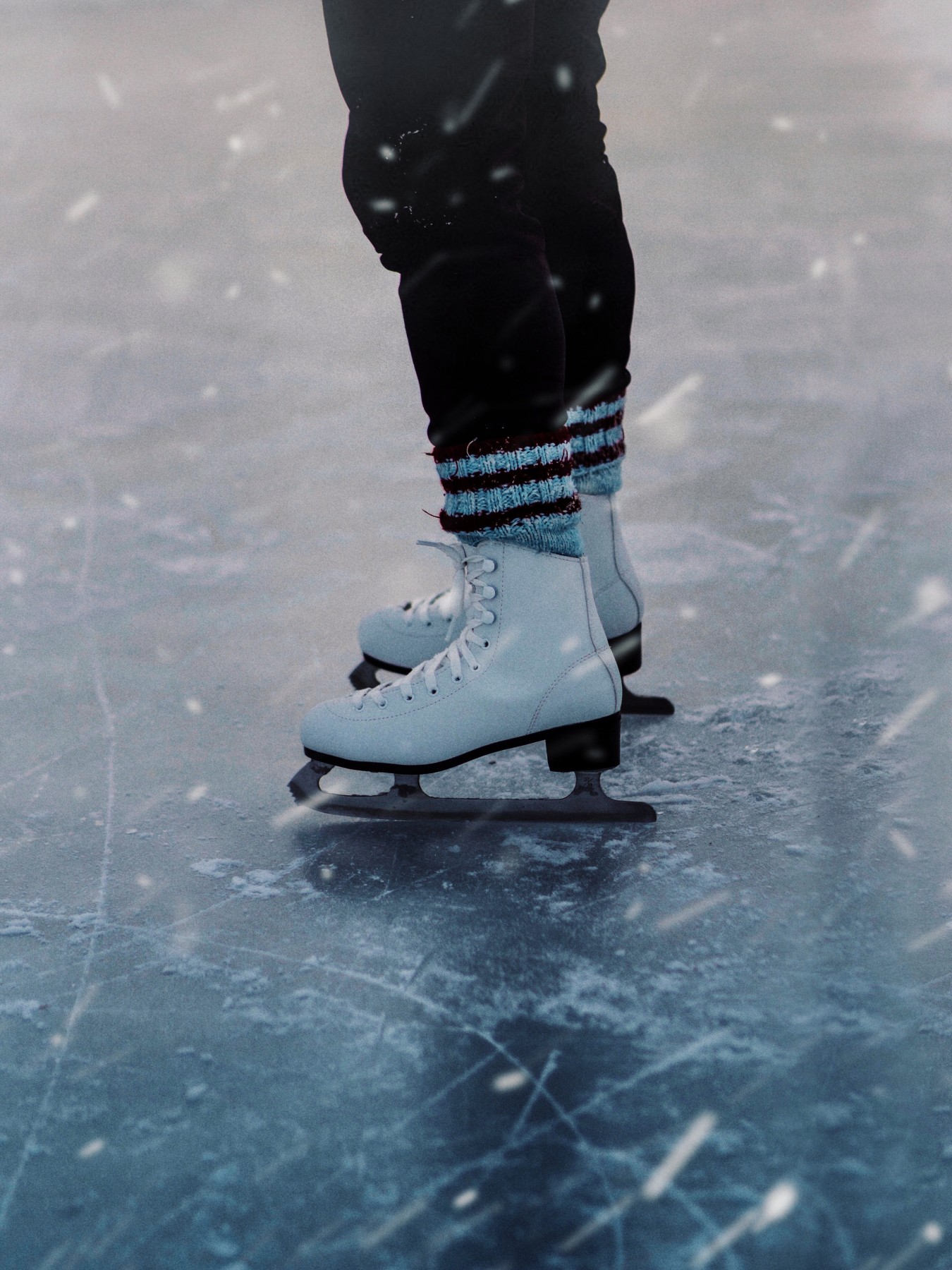 Of the different types of ice skates, figure skates (pictured above) and hockey skates are the most common. Photo credit: Gantas Vaičiulėnas
Ice Safety and More
If you don't own ice skates, you can rent some at a reasonable rate from Lake Placid Skate Rentals (Locker Room 5). This is a great option for local destinations, like Mirror Lake and Copperas Pond. If you plan to do a longer skate day on a bigger lake, consider renting nordic skates from Ausable River Association business partner High Peaks Cyclery in Lake Placid or Human Power Planet Earth in Saranac Lake. These skates are warmer, faster, and give you more glide.
It's important to remember that ice skating on Adirondack lakes and ponds comes with some risk. Practice good ice safety by only skating on clear ice that is at least 4 inches thick. There are a variety of methods to check ice thickness, and we recommend checking out our Adirondack lake ice safety blog to learn more. Even when the ice is thick enough to skate on, there can still be weak spots. Therefore, always prepare for a rescue scenario in the event that you fall through the ice. It's best to skate with a buddy and be sure you both carry a pair of ice picks around your neck for self-rescue and a throw rope for assisted rescue. This is by no means an exhaustive list of safety considerations, so make sure you do some additional research and learn how to stay safe, what to do if you fall through the ice, and what else you should carry with you and in your vehicle for safe winter adventures. Have fun on the ice!

A beautiful scene on Mirror Lake. Photo credit: Eric Adsit

---
Story written by Tyler Merriam, Donor Outreach Manager. Sign-up for our e-newsletter to get weekly updates on the latest stories from the Ausable River Association.