Mirror Lake has one of the longest ice records in New York State. Residents in the Village of Lake Placid have been recording the ice cover since 1903, with only a handful of years missing since that time. This record has appeared in national publications regarding changes in ice cover. Since 2015, AsRA has taken up the maintenance of this record as part of our ongoing work to study and understand Mirror Lake. 
Basic Statistics
Ice On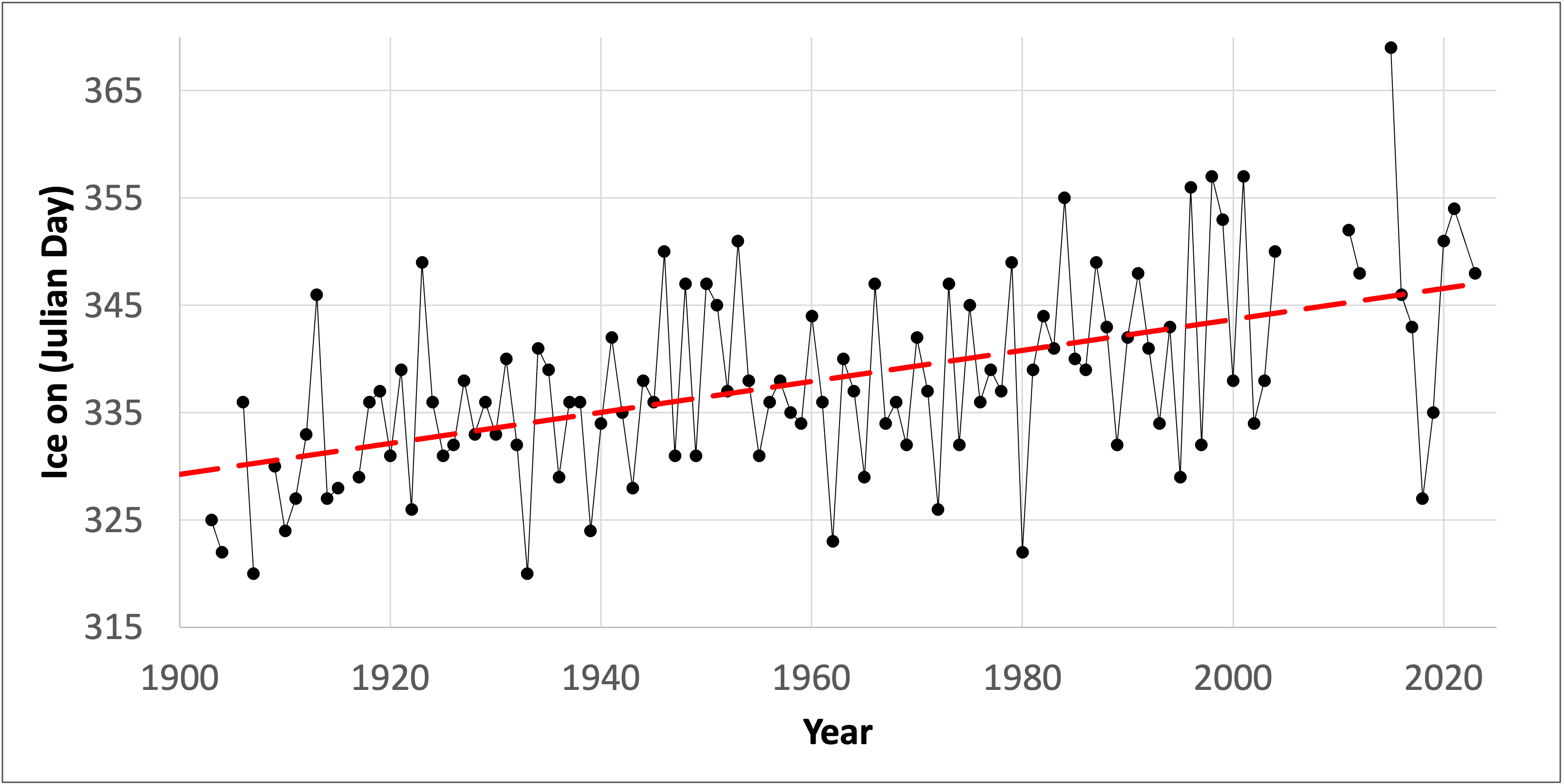 There has been a significant change in ice on over the period of record. Today, ice on occurs on average 17 days later than it did in 1903. The mean date for ice on for the entire record is December 4th. The mean since 2000 is December 11th. 
Ice Off
There is no significant change in ice off over the period of record. The mean date for ice off is April 21st.
Duration of Ice Cover
There has been a significant reduction in the duration of ice cover over the period of record. In recent years, the duration of ice cover is on average 24 days shorter than it was in 1903. The shorter duration of ice cover is driven primarily by later ice on. The mean duration of ice cover over the entire record is 140 days. The mean duration since 2000 is 124 days. The shortest duration of ice cover occurred in 2016, with just 84 days of ice cover. This is 12 days shorter than the next shortest duration, which was 96 days in 2012. Duration is counted from Ice In date of one year to Ice Out date of the next.
Research has shown that warming water temperatures and prolonged stratification are a threat to Lake Trout across their native range. The changes observed in the Mirror Lake ice record reflect similar changes observed across North America. These changes represent a potential change in the habitat suitability for cold water fish, such as Lake Trout. These changes, along with the interruption of spring turnover due to road salt, are one of several reasons why understanding the ecology of this vitally important lakes is necessary.
Ice Record
The record below was compiled and given to AsRA by Dr. Curt Stager of Paul Smith's College, much of this was provided to Dr. Stager by a book published by Jerome Thaler. There are discrepancies with the record held by the National Snow and Ice Data Center (NSIDC), these are noted below. 
1903: Ice Out - 4/2/1903, Ice In - 11/21/1903
1904: Ice Out - 5/3/1904, Ice In - 11/17/1904, Duration - 164
1905: Ice Out - 4/26/1905, Ice In - Not Recorded, Duration - 160
1906: Ice Out - 4/24/1906, Ice In - 12/2/1906, Duration - NA
1907: Ice Out - 5/5/1907, Ice In - 11/16/1907, Duration - 154
1908: Ice Out - 4/26/1908, Ice In - Not Recorded, Duration - 162
1909: Ice Out - 5/5/1909, Ice In - 11/26/1909, Duration - NA
1910: Ice Out - 4/2/1910, Ice In - 11/20/1910, Duration - 127
1911: Ice Out - 5/5/1911, Ice In - 11/23/1911, Duration - 166
1912: Ice Out - 4/26/1912, Ice In - 11/28/1912, Duration - 155
1913: Ice Out - 4/16/1913, Ice In - 12/12/1913, Duration - 139
1914: Ice Out - 4/30/1914, Ice In - 11/23/1914, Duration - 139
1915: Ice Out - 4/23/1915, Ice In - 11/24/1915, Duration - 151
1916: Ice Out - 4/27/1916, Ice In - Not Recorded, Duration - 155
1917: Ice Out - Not Recorded, Ice In - 11/25/1917, Duration - NA
1918: Ice Out - 4/30/1918, Ice In - 12/2/1918, Duration - 156
1919: Ice Out - 4/17/1919, Ice In - 12/3/1919, Duration - 136
1920: Ice Out - 4/26/1920, Ice In - 11/26/1920, Duration - 145
1921: Ice Out - 4/4/1921, Ice In - 12/5/1921, Duration - 129
1922: Ice Out - 4/19/1922, Ice In - 11/22/1922, Duration - 135
1923: Ice Out - 4/29/1923, Ice In - 12/15/1923, Duration - 158
1924: Ice Out - 4/29/1924, Ice In - 12/1/1924, Duration - 136
1925: Ice Out - 4/14/1925, Ice In - 11/27/1925, Duration - 134
1926: Ice Out - 5/7/1926, Ice In - 11/28/1926, Duration - 161
1927: Ice Out - 4/19/1927, Ice In - 12/4/1927, Duration - 142
1928: Ice Out - 5/2/1928, Ice In - 11/28/1928, Duration - 150
1929: Ice Out - 4/9/1929, Ice In - 12/2/1929, Duration - 132
1930: Ice Out - 4/30/1930, Ice In - 11/29/1930, Duration - 149
1931: Ice Out - 4/17/1931, Ice In - 12/6/1931, Duration - 139
1932: Ice Out - 5/2/1932, Ice In - 11/27/1932, Duration - 148

NSIDC lists the ice on date as 11/23/1932

1933: Ice Out - 4/24/1933, Ice In - 11/16/1933, Duration - 148
1934: Ice Out - 4/23/1934, Ice In - 12/7/1934, Duration - 158
1935: Ice Out - 4/27/1935, Ice In - 12/5/1935, Duration - 141
1936: Ice Out - 4/15/1936, Ice In - 11/24/1936, Duration - 132
1937: Ice Out - 4/29/1937, Ice In - 12/2/1937, Duration - 156

NSIDC lists the ice on date as 11/23/1937
1938: Ice Out - 4/18/1938, Ice In - 12/2/1938, Duration - 137
1939: Ice Out - 5/5/1939, Ice In - 11/20/1939, Duration - 154

NSIDC lists the ice on date as 11/15/1939

1940: Ice Out - 5/4/1940, Ice In - 11/29/1940, Duration - 166
1941: Ice Out - 4/19/1941, Ice In - 12/8/1941, Duration - 141
1942: Ice Out - 4/23/1942, Ice In - 12/1/1942, Duration - 136
1943: Ice Out - 5/3/1943, Ice In - 11/24/1943, Duration - 153
1944: Ice Out - 5/3/1944, Ice In - 12/3/1944, Duration - 161
1945: Ice Out - 4/1/1945, Ice In - 12/2/1945, Duration - 119
1946: Ice Out - 3/26/1946, Ice In - 12/16/1946, Duration - 114

NSIDC lists the ice out date as 3/27/1946 and ice on as 12/7/1946

1947: Ice Out - 4/2/1947, Ice In - 11/27/1947, Duration - 107
1948: Ice Out - 4/8/1948, Ice In - 12/12/1948, Duration - 133
1949: Ice Out - 4/12/1949, Ice In - 11/27/1949, Duration - 121
1950: Ice Out - 4/27/1950, Ice In - 12/13/1950, Duration - 151
1951: Ice Out - 4/22/1951, Ice In - 12/11/1951, Duration - 130

NSIDC lists the ice on date as 11/22/1951

1952: Ice Out - 4/19/1952, Ice In - 12/2/1952, Duration - 130
1953: Ice Out - 4/10/1953, Ice In - 12/17/1953, Duration - 129
1954: Ice Out - 4/21/1954, Ice In - 12/4/1954, Duration - 125
1955: Ice Out - 4/18/1955, Ice In - 12/27/1955, Duration - 135
1956: Ice Out - 5/5/1956, Ice In - 12/1/1956, Duration - 160
1957: Ice Out - 4/21/1957, Ice In - 12/4/1957, Duration - 141

NSIDC lists the ice on date as 11/27/1957

1958: Ice Out - 4/24/1958, Ice In - 12/1/1958, Duration - 141
1959: Ice Out - 4/26/1959, Ice In - 11/30/1959, Duration - 146
1960: Ice Out - 4/22/1960, Ice In - 12/9/1960, Duration - 144

NSIDC lists the ice on date as 12/4/1960

1961: Ice Out - 5/4/1961, Ice In - 12/2/1961, Duration - 146
1962: Ice Out - 4/28/1962, Ice In - 11/19/1962, Duration - 147
1963: Ice Out - 4/20/1963, Ice In - 12/6/1963, Duration - 152
1964: Ice Out - 4/23/1964, Ice In - 12/2/1964, Duration - 139
1965: Ice Out - 4/28/1965, Ice In - 11/25/1965, Duration - 147
1966: Ice Out - 4/25/1966, Ice In - 12/13/1966, Duration - 151

NSIDC lists the ice on date as 12/3/1966

1967: Ice Out - 4/14/1967, Ice In - 11/30/1967, Duration - 122
1968: Ice Out - 4/10/1968, Ice In - 12/1/1968, Duration - 132
1969: Ice Out - 4/28/1969, Ice In - 11/28/1969, Duration - 148
1970: Ice Out - 4/30/1970, Ice In - 12/8/1970, Duration - 153
1971: Ice Out - 5/13/1971, Ice In - 12/3/1971, Duration - 156
1972: Ice Out - 5/12/1972, Ice In - 11/21/1972, Duration - 161
1973: Ice Out - 4/13/1973, Ice In - 12/13/1973, Duration - 143
1974: Ice Out - 4/27/1974, Ice In - 11/28/1974, Duration - 135
1975: Ice Out - 5/7/1975, Ice In - 12/11/1975, Duration - 160
1976: Ice Out - 4/9/1976, Ice In - 12/1/1976, Duration - 120
1977: Ice Out - 4/20/1977, Ice In - 12/5/1977, Duration - 140
1978: Ice Out - 5/9/1978, Ice In - 12/3/1978, Duration - 155
1979: Ice Out - 4/26/1979, Ice In - 12/15/1979, Duration - 144
1980: Ice Out - 4/21/1980, Ice In - 11/17/1980, Duration - 128
1981: Ice Out - 4/10/1981, Ice In - 12/5/1981, Duration - 144

NSIDC lists the ice on date as 12/1/1981

1982: Ice Out - 4/30/1982, Ice In - 12/10/1982, Duration - 146
1983: Ice Out - 4/12/1983, Ice In - 12/7/1983, Duration - 123

NSIDC lists the ice on date as 12/3/1983

1984: Ice Out - 4/28/1984, Ice In - 12/20/1984, Duration - 143

NSIDC lists the ice on date as 12/1/1984

1985: Ice Out - 4/23/1985, Ice In - 12/6/1985, Duration - 124
1986: Ice Out - 4/8/1986, Ice In - 12/6/1986, Duration - 123

NSIDC lists the ice on date as 11/25/1986

1987: Ice Out - 4/13/1987, Ice In - 12/15/1987, Duration - 129

NSIDC lists the ice on date as 12/1/1987

1988: Ice Out - 4/11/1988, Ice In - 12/8/1988, Duration - 118
1989: Ice Out - 4/27/1989, Ice In - 11/28/1989, Duration - 140
1990: Ice Out - 4/20/1990, Ice In - 12/8/1990, Duration - 143
1991: Ice Out - 4/10/1991, Ice In - 12/14/1991, Duration - 123

NSIDC lists the ice on date as 12/6/1991

1992: Ice Out - 4/29/1992, Ice In - 12/6/1992, Duration - 137

NSIDC lists the ice on date as 11/20/1992

1993: Ice Out - 4/27/1993, Ice In - 11/30/1993 Duration - 142
1994: Ice Out - 4/27/1994, Ice In - 12/9/1994, Duration - 148
1995: Ice Out - 4/7/1995, Ice In - 11/25/1995, Duration - 119
1996: Ice Out - 4/28/1996, Ice In - 12/21/1996, Duration - 155

NSIDC lists the ice on date as 11/27/1996

1997: Ice Out - 4/25/1997, Ice In - 11/28/1997, Duration - 125

NSIDC lists the ice on date as 11/25/1997

1998: Ice Out - 4/12/1998, Ice In - 12/23/1998, Duration - 135

NSIDC lists the ice on date as 12/18/1998

1999: Ice Out - 4/15/1999, Ice In - 12/19/1999, Duration - 113
2000: Ice Out - 4/21/2000, Ice In - 12/3/2000, Duration - 124
2001: Ice Out - 4/29/2001, Ice In - 12/23/2001, Duration - 147
2002: Ice Out - 4/16/2002, Ice In - 11/30/2002, Duration - 114

NSIDC lists the ice on date as 11/28/2002

2003: Ice Out - 4/24/2003, Ice In - 12/4/2003, Duration - 145

NSIDC lists the ice out date as 4/26/2003

2004: Ice Out - 4/19/2004, Ice In - 12/15/2004, Duration - 137
2005: Ice Out - 4/14/2005, Ice In - Not Recorded, Duration - 120
2006: Ice Out - 4/12/2006, Ice In - Not Recorded, Duration - NA
2007: Ice Out - 4/25/2007, Ice In - Not Recorded, Duration - NA
2008: Ice Out - 4/21/2008, Ice In - Not Recorded, Duration - NA
2009: Ice Out - 4/12/2009, Ice In - Not Recorded, Duration - NA
2010: Ice Out - 4/8/2010, Ice In - Not Recorded, Duration - NA
2011: Ice Out - 4/26/2011, Ice In - 12/18/2011, Duration - NA
2012: Ice Out - 3/23/2012, Ice In - 12/13/2012, Duration - 96
2013: Ice Out - 4/22/2013, Ice In - Not Recorded, Duration - 130
2014: Ice Out - 4/26/2014, Ice In - Not Recorded, Duration - NA
2015: Ice Out - 4/29/2015, Ice In - 1/4/2016, Duration - NA
2016: Ice Out - 3/28/2016, Ice In - 12/11/2016, Duration - 86
2017: Ice Out - 4/16/2017, Ice In - 12/9/2017, Duration - 126

Ice first formed on the entire lake on 11/28/2017, melted on 11/29/2017, refroze on 12/4/2017, melted on 12/5/2017

2018: Ice Out - 5/4/2018, Ice In - 11/23/2018, Duration - 146
2019: Ice Out- 4/22/2019, Ice In - 12/1/2019, Duration - 150
2020: Ice Out - 4/6/2020, Ice In - 12/16/2020, Duration - 127

Ice first formed on the lake on 12/11/2020, melted later that day and the next, then froze over on 12/16/2020

2021: Ice Out - 4/9/2021, Ice In - 12/20/2021, Duration - 114

Ice first formed on the lake on 12/9/2021, melted on 12/12/2021, and then froze over on 12/20/2021

2022: Ice Out- 4/14/2022,  Ice In - 12/13/2022, Duration - 115
2023: Ice Out - 4/14/2023, Duration - 122 days