When you think of Lake Placid, beautiful mountain lakes often come to mind. One great way to enjoy them is on a stand up paddleboard (SUP). Whether you're out for some exercise, ready to soak up the sun, or simply want to drift around and relax, your search for the best stand up paddleboarding near Lake Placid ends here. Check out this list of our favorite lakes and ponds with the calmest waters and best mountain views in the area.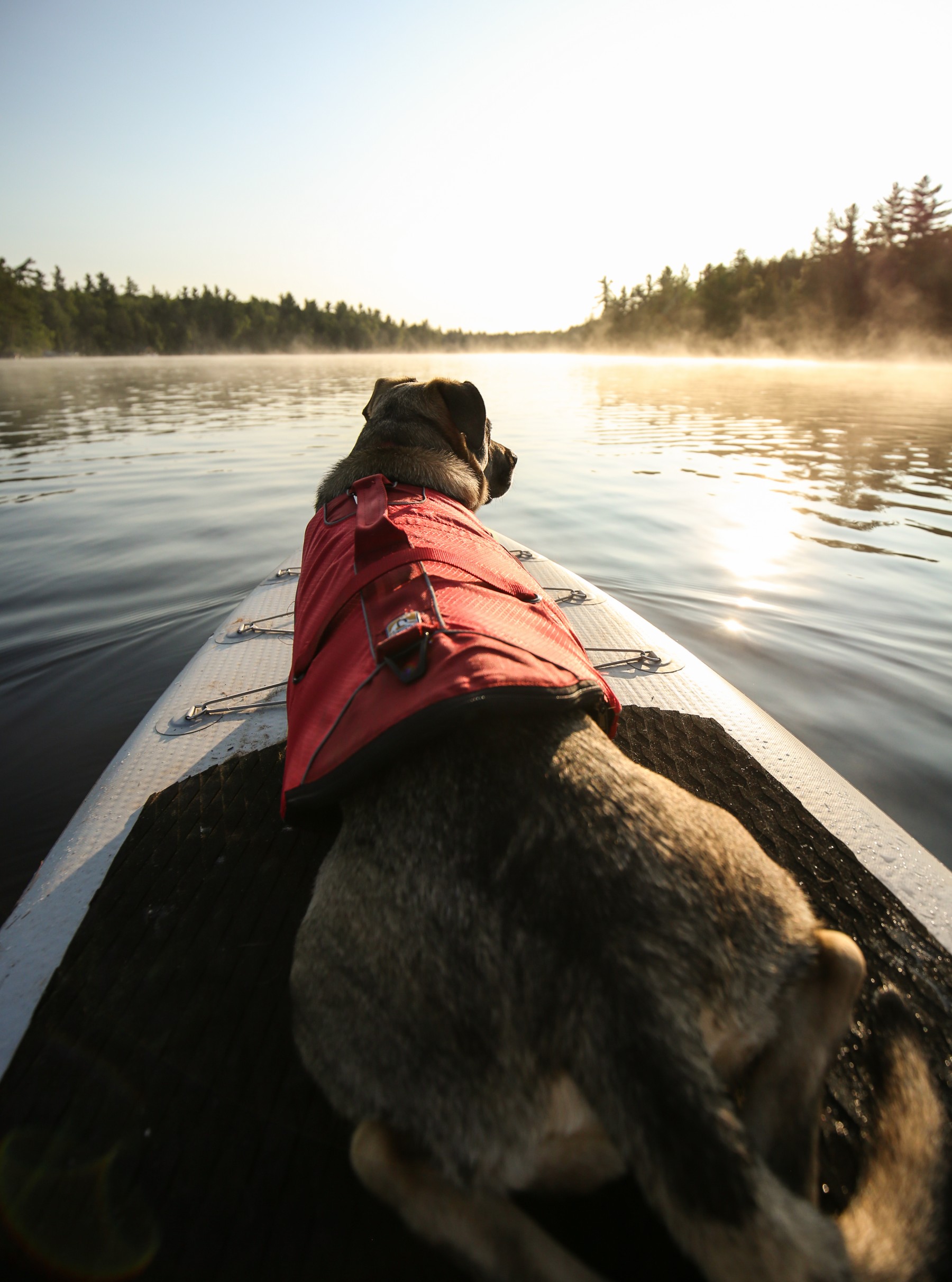 Stand up paddleboarding can be a fun activity to do with your dog, as long as they want to stay on the board.... Photo provided by Evan Williams, Pure Adirondacks Chief Pioneer.
1. Mirror Lake
Let's start with the Olympic Village's centerpiece: Mirror Lake. This picturesque body of water is free of gas-powered motorboats, making it a joy to paddle. Views of the highest peaks in New York State compliment the calm waters. Top off a relaxing day on the water with easy access to Main Street where you can enjoy great dining options and refreshing drinks.
Getting there: There are two places to launch on Mirror Lake: From the park near the town beach and from the state Department of Environmental Conservation (DEC) boat dock on the northern shore. The park near the town beach is in between Parkside Drive and Mirror Lake Drive on the southern shore of the lake. The DEC boat dock is down a short trail across the road from the Lake Placid public boat launch.
2. Lake Placid
This namesake lake is one of the most stunning in the Adirondacks. Surrounded by Moose and McKenzie Mountain to the northwest, and Whiteface Mountain to the northeast, you get a Lake Tahoe feeling simply being on the water. Hopping Bear Point on Moose Island and Whiteface Landing are nice places to stop for a swim or picnic break. Lake Placid can get windy and busy with motorboats during the day, so mornings and evenings are often the best time to paddle.
Getting there: There are two places to launch on Lake Placid: From the Lake Placid public boat launch and from the Village-owned launch in Paradox Bay. The Lake Placid public boat launch is right off of Mirror Lake Drive just north of Mirror Lake. The Village-owned boat launch is 0.1 miles down Victor Herbert Road on the left hand side while traveling northeast from Sara-Placid Road (Route 86).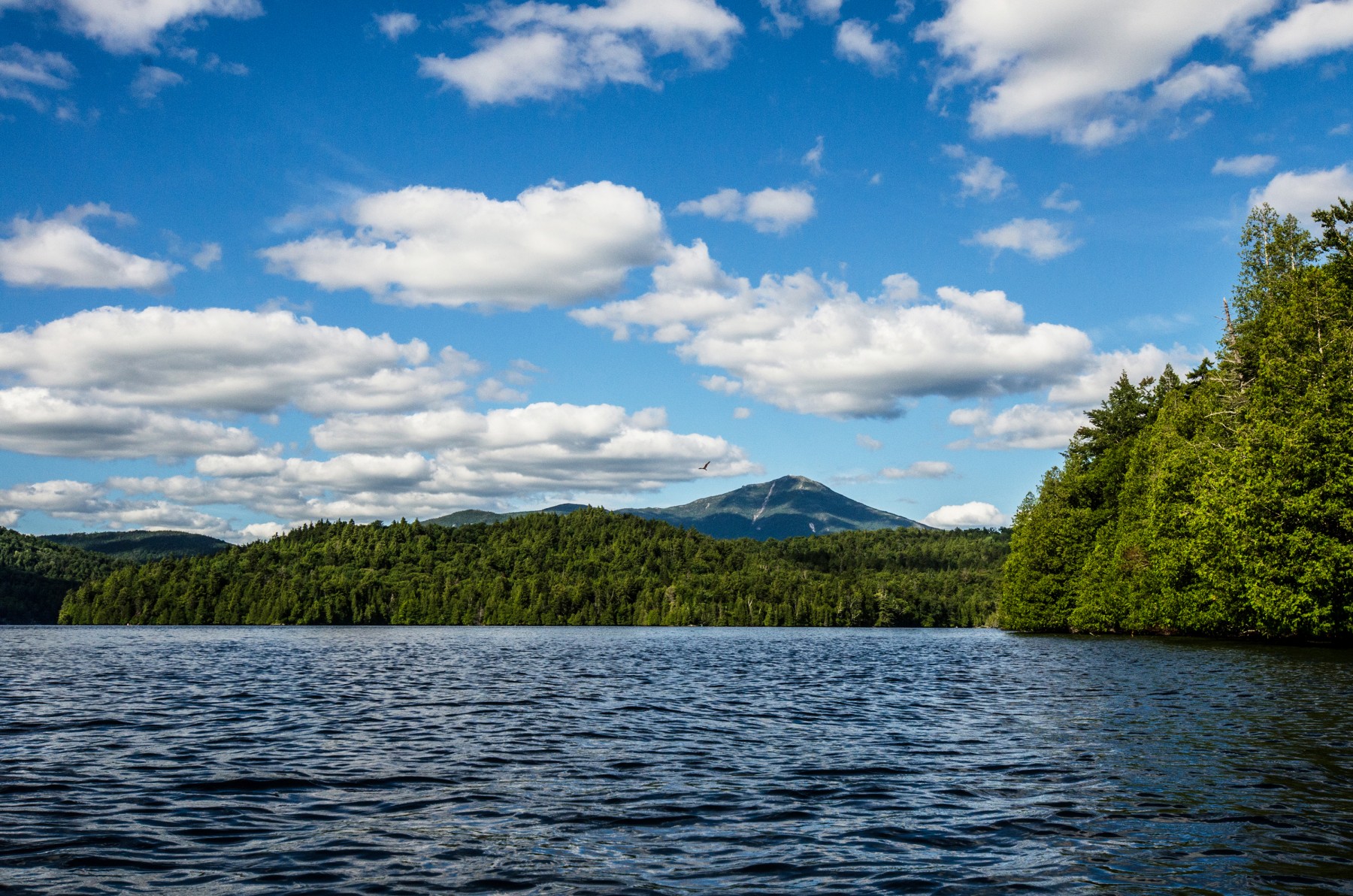 The views of Whiteface Mountain from Lake Placid are stunning. Photo by Brendan Wiltse.
3. Upper & Lower Cascade Lake
These natural lakes make a spectacular combination when the weather is right. You feel like you're paddling in an Alaskan fjord as you glide across the water between the steep rock faces of Pitchoff and Cascade Mountains. Route 73 runs alongside these lakes, but you take little notice of this road as you float below it on the water. While you're on the water, be sure to turn your eyes toward Cascade Mountain for a stunning view of its namesake waterfall.
Getting there: From Main Street Lake Placid, turn onto Route 73 and follow it 8.3 miles to the parking area between Upper and Lower Cascade Lake. If this parking lot is full, consider going to a less busy lake or pond to minimize overuse.
4. Taylor Pond
Taylor Pond sits north of Lake Placid nestled between Catamount Mountain to the south and Silver Lake to the north. It is an impounded water body created by a large earthen dam. There is a small day use fee to access the lake, but the surrounding views and beautiful shoreline make the fee worth it. There is also a drive-in campground at the launch site and lean-tos around the lake that can be reserved for a multi-day SUP adventure.
Getting there: From Main Street Lake Placid, follow Route 86 for 12 miles to the "four corners" intersection in Wilmington. Continue straight on Bonnieview Road for another 6 miles to the T-intersection with Silver Lake Road. Turn left and drive 3.7 miles to the Taylor Pond Campground entrance on your left.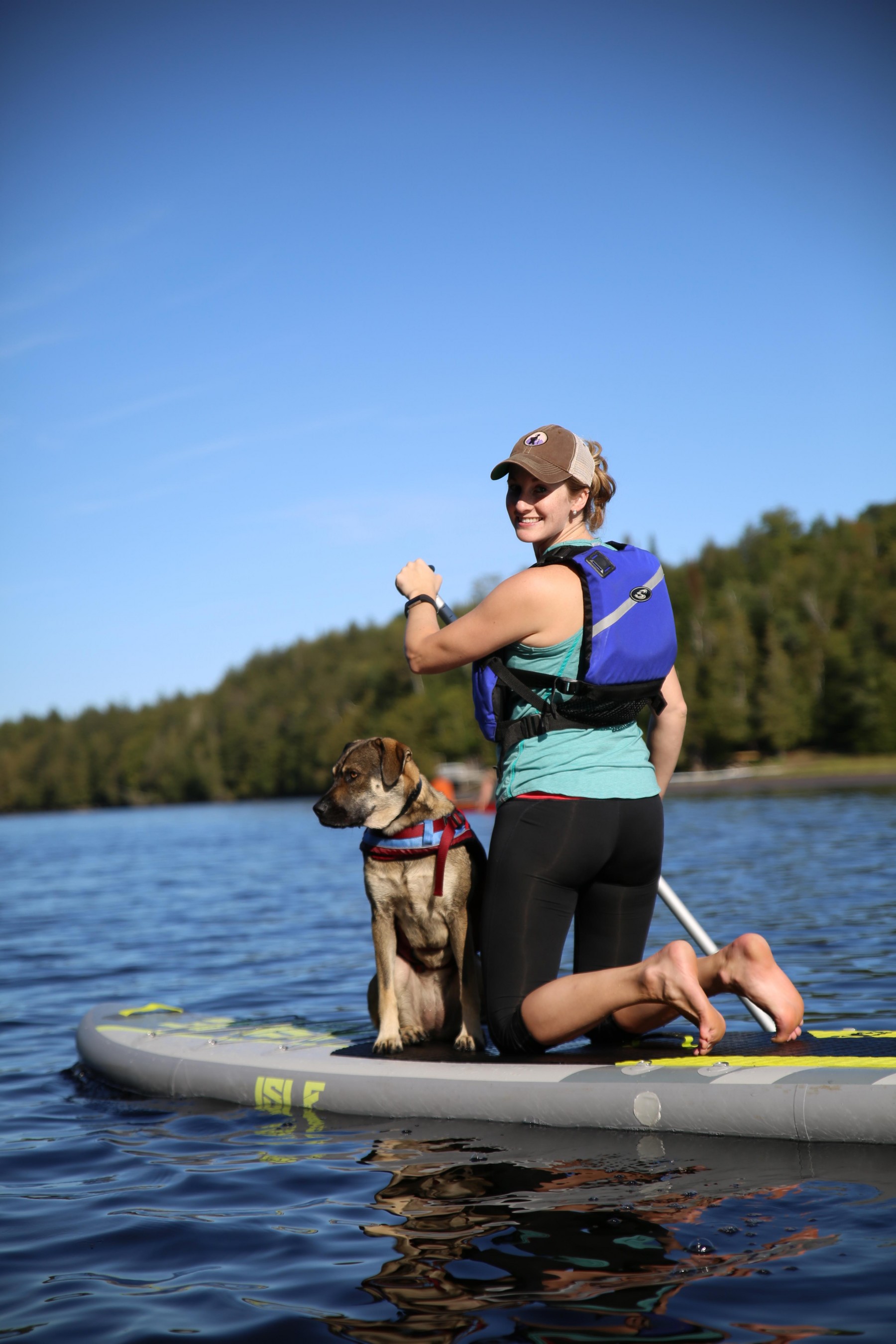 Make sure you, and your pupper, always wear a personal flotation devise (PFD). Photo provided by Evan Williams, Pure Adirondacks Chief Pioneer. 
5. Lake Everest
Lake Everest is an impoundment of the Ausable River in the Town of Wilmington. The lake offers some of the best wildlife viewing opportunities of these five trips. The town beach and park area at the start and finish of this trip make the experience even more enjoyable. The best part? As you paddle, follow the self-guided Ausable River Paddling Nature Trail to learn more about the plants, animals, and ecology of the lake and river.
Getting there: From Main Street Lake Placid, follow Route 86 11.7 miles to the Wilmington Town Beach entrance on your right.
Stay Safe and Maximize Fun
Before launching your paddleboard, make sure you have what you need for a safe and fun day on the water. Check the weather before you head out to avoid strong winds and lightning. Bring a water bottle and some snacks to keep your energy levels up. Wear a personal floatation device (PFD) at all times and use a SUP leash to keep your paddleboard close if you fall off. Apply sunscreen or cover up with sun protective clothing. Bring a hat and sunglasses to help keep your face safe. Keep a small dry bag close by to store items such as a rain jacket, map, safety whistle, and headlamp if paddling close to dark.
If you don't own your own stand up paddleboard you can rent one at several stores and marinas in Lake Placid, such as High Peaks Cyclery. Additionally, Adirondack Lakes and Trails Outfitters in Saranac Lake also rents SUPs. Lastly, ensure that you don't transport aquatic invasive species into any of these waterbodies by using the clean, drain, dry method. Clean off visible aquatic plants, animals, and mud from all equipment before leaving the water access. Drain water from the drain plug, if applicable, and other water containing devices before leaving the water access. Dry everything for at least five days or wipe with a towel before reuse. Visit the Explore portion of our website to learn more about other great paddling opportunities in the Ausable watershed.
---
Sign-up for our e-newsletter to get weekly updates on the latest stories from the Ausable River Association.

---
Top photo provided by and used with permission from Evan Williams, Pure Adirondacks Chief Pioneer.