As a GIS & Science Communications Fellow with the Ausable River Association (AsRA) and Lake Champlain Sea Grant, one of the best parts of my position is getting people outside to connect with the Ausable River and the Lake Champlain basin.
Since 2019, AsRA has been offering free opportunities for people to connect with the Ausable through its Guided Watershed Tours program. The goal of this program is to educate and inspire responsible stewardship in residents and visitors alike. AsRA offers tours that are accessible to a spectrum of ability levels. Whenever possible, gear such as kayaks, canoes, binoculars, hiking poles, and snowshoes, are provided at no cost to those attending. This allows us to include people who otherwise wouldn't be able to participate in these activities.
Over the five years AsRA has run the tours, hundreds of people of all ages have attended and learned about a diverse range of topics throughout the Ausable watershed and beyond. I took over managing the program last year and I am excited to be overseeing another year of tours.
Our 2023 tours kicked off in August with Riverwalking the West Branch Ausable. For this program, participants donned a pair of waders and boots and discovered the Ausable River from a unique vantage point—wading in the river. Guest Naturalist, Helene Gibbens (Certified Nature Therapy Guide and founder of Adirondack Riverwalking), led participants through a multi-sensory experience of the river. After the tour, a participant described it as a "perfect" experience.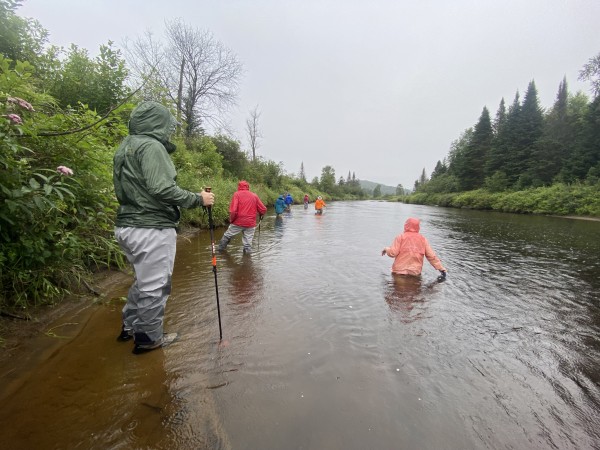 Riverwalking tour participants, well, riverwalking!
Our next two tours took place as part of Adirondack Water Week. This annual celebration seeks to highlight organizations, partners, and communities that are making efforts to protect clean water for future generations. As a celebration of water during this week, we hosted two guided paddles to get people out on the waters we love and work to protect.
The first program we hosted during water week was an Aquatic Plant Paddling Tour in partnership with the Adirondack Park Invasive Plant Program (APIPP). APIPP's Aquatic Invasive Species Coordinator Brian Greene led participants on a leisurely paddle of Lake Placid to look at both native and invasive aquatic plants. In addition to Brian sharing his expert plant knowledge, participants on this paddle were able to observe an aquatic invasive species pull by a professional removal crew. The crew has been hard at work on Lake Placid for many years and it was great to talk with them and hear about their experience with this important work.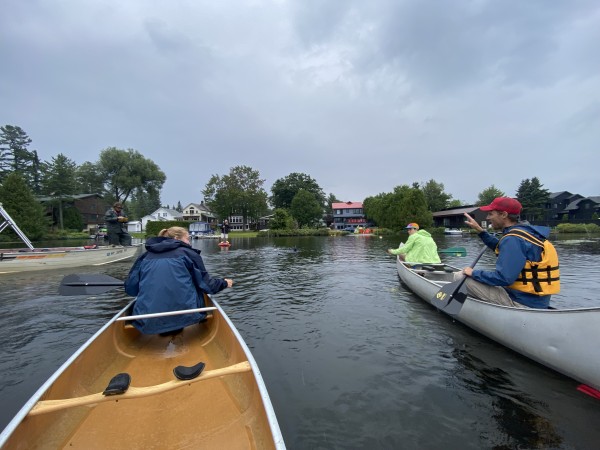 Guest Naturalist Brian Greene describing a native aquatic plant to tour participants.
Our second program during water week was a Nature Paddle on Lake Everest led by AsRA staff. Thanks to a great partnership with the Town of Wilmington, we can provide boats, paddles, and lifejackets to tour participants at no cost – allowing those who don't own this equipment to get out paddling. On this trip, we guided participants through the Ausable Paddling Nature Trail learning about the history of the region and using our senses to locate and identify birds, insects, fish, and mammals that call the Ausable home. One participant summed up what they (and I) loved about the tour "it was free, informative, and a lot of fun."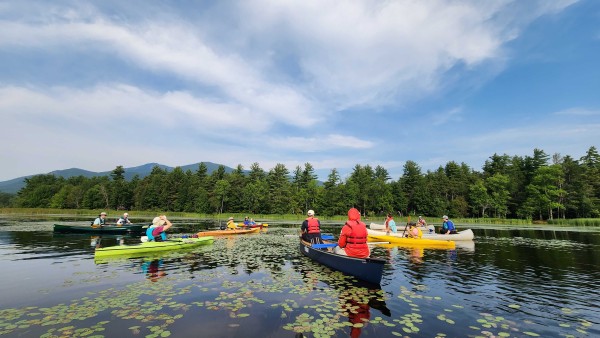 Tour participants learning about the ecology of a wetland on Lake Everest.
Interested in attending one of AsRA's Guided Watershed Tours? We are hosting more tours through the end of 2023. Come listen to birds, look at mushrooms, learn about river restoration, and more with us! Click here to learn about our upcoming tours and to register for them. 
A big thank you to the United States Environmental Protection Agency, NEIWPCC, and the Lake Champlain Basin Program who help to fund AsRA's Guided Watershed Tour Program. Thanks as well to our guest naturalists who share their wealth of knowledge with our tour participants.
---
 Story written by Carolyn Koestner, GIS and Science Communications Fellow. Sign-up for our e-newsletter to get weekly updates on the latest stories from the Ausable River Association.
Sign-up for our e-newsletter to get weekly updates on the latest stories from the Ausable River Association.