On May 2nd, I completed the first year of my two-year GIS & Science Communications fellowship with the Ausable River Association (AsRA) and Lake Champlain Sea Grant (LCSG). LCSG's fellows program began in 2015 and offers the opportunity for early career professionals to work and grow at a host organization within the Lake Champlain Basin. My fellowship focuses on communicating the threats facing water resources in the Ausable and Lake Champlain Basins and the work AsRA and LCSG are doing to address them. I've learned so much in the first half of my fellowship and have been part of some amazing work. Here are some of the conservation efforts I'm proud to have supported in my first year.
GIS (Mapping)
One of the key components of my role is to support the work of AsRA and LCSG with my mapping expertise. Visualizing data through maps can be a helpful way to communicate place-based work. Over the past year, I've assisted our program staff with a variety of projects—from showing detections of Brook Trout eDNA across the watershed, to showing where on the East Branch Ausable River AsRA is restoring next, to giving landscape context to our water quality monitoring work.
Now that I'm more familiar with AsRA and our work, I have begun working on some larger projects. I'm close to putting the final touches on a virtual tour of AsRA's river restoration work. Keep an eye out for that—I'm really looking forward to sharing it. Once that is finalized, I'll be working on a similar project, highlighting AsRA's culvert replacement work.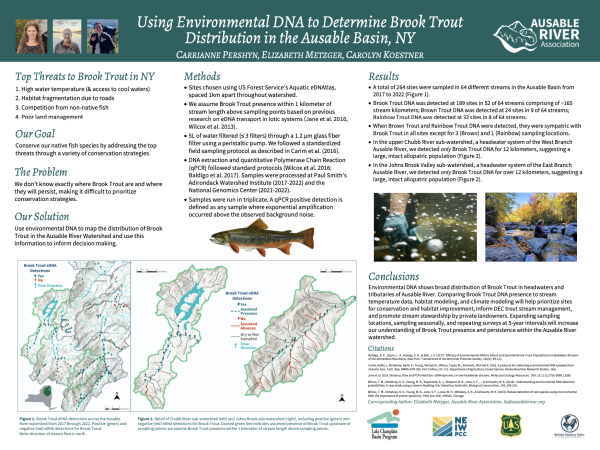 Poster displaying AsRA's eDNA work featuring maps I designed.
Communications
I am a part of AsRA's small but mighty communications team. While my coworker Madison Stroud handles most of the management of our print publications, I oversee our digital communications. Across social media, our website and our weekly e-Newsletter, I work to keep our messaging consistent, effective, and up to date. 
Engaging with the Public
While a lot of my communications work happens behind a computer, I've also had the opportunity to get involved with in-person outreach. I've represented AsRA and LCSG at a number of events, from river cleanups to K-12 youth education programs to mall takeovers to fishing competitions.
Last June, I took over the management of our popular watershed tours and have been leading the program ever since. In 2022, we held 15 tours on a variety of topics that were attended by over 150 participants. My involvement with the tours has given me the opportunity to write my first grant for AsRA, the largest grant I've ever written. We were thrilled that we were recently awarded this grant from the Lake Champlain Basin Program and can continue to host tours for another year. I'm working hard to plan another great set of tours this year. Stay tuned for an announcement about dates and topics.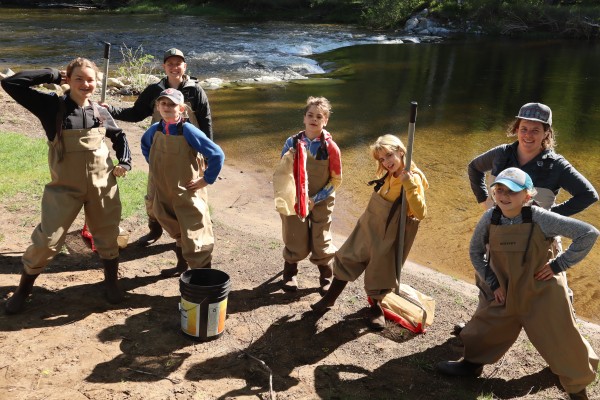 That's me, back left, assisting with a youth education program during the second week of my fellowship.
Tech Support
Since joining AsRA, I've somehow become the tech support person. While I wouldn't say that I know a ton about technology, I'm not afraid to jump in and try to fix something (or spend a few hours on YouTube learning how to fix it). Though often frustrating, this work can be incredibly satisfying.
Figuring out how to improve or better use our existing technology has also become a facet of my position. Mostly recently, I earned my drone pilot's license and am looking forward to figuring out better ways to use AsRA's drone to support our river restoration work.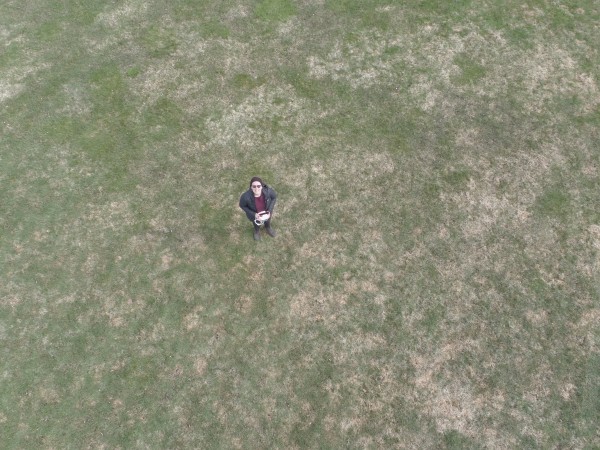 A drone-fie (selfie taken with a drone).
Assisting with Field Work
One of the reasons I chose to enter the field of environmental science was my love of the outdoors and being outside. While my position is mostly office-based, I really enjoy the opportunity to join our staff in the field and give them an extra hand with their work. When I do, it also helps me understand our programs and communicate this work to the public.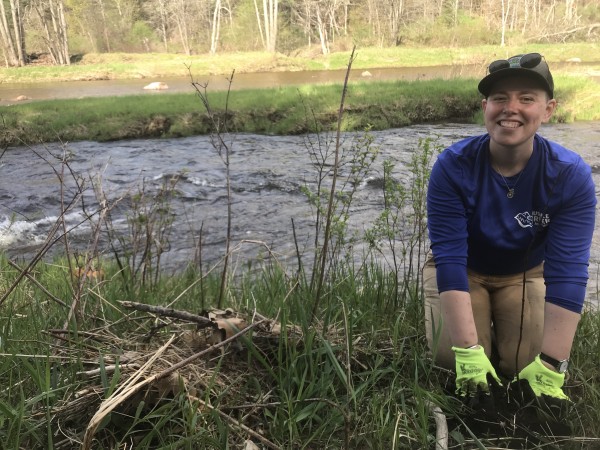 That's me planting a tree at one of our riparian restoration sites.
That's a wrap on year one! I've learned so much over the past year and look forward to seeing what the second half of my fellowship holds.