Late this summer, the Ausable River Association (AsRA) teamed up with Dr. Kevin Rose and his lab group from Rensselaer Polytechnic Institute (RPI) to deploy a new high-frequency sensor array in Mirror Lake – part of a new partnership between the two organizations. Dr. Rose is an expert in lake ecology and environmental sensor networks. The sensor array is designed to understand patterns in water quality – including conductivity, temperature, dissolved oxygen, and chlorophyll. Years of excess road salt applications have increased the conductivity of Mirror Lake, especially in its deeper waters. AsRA is working with the Village of Lake Placid, the Town of North Elba, Paul Smith's College Adirondack Watershed Institute (AWI), and local business leaders to implement salt reduction strategies using new technologies that can precisely track application rates and, with rigorous monitoring, can compare reductions in application with improvements in water quality.
The string of conductivity and temperature sensors connected to the buoy track the density of the water, which controls deep mixing. Additional sensors enable us to track oxygen levels at multiple depths. One of the fears of road salt application is that it prevents seasonal deep mixing in the lake. Most un-impacted lakes in the region mix in both the spring and fall, which brings oxygen from the surface to deep waters. Mirror Lake has stopped mixing in some years, leading to a draw-down of deep-water oxygen. In turn, low oxygen (termed hypoxia) and no oxygen (termed anoxia) conditions threaten cold-water fish habitat and can release nutrients from lake sediments, leading to algae growth.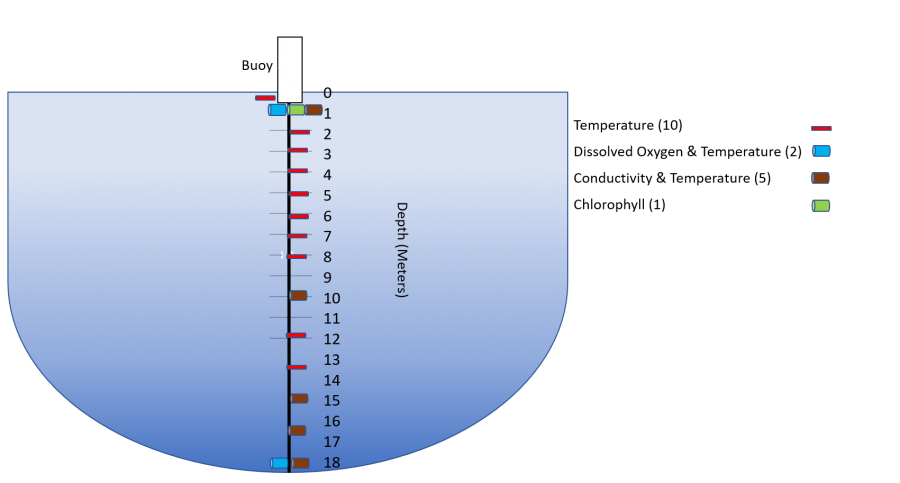 The high-frequency sensors are all internally logging and internally powered, designed with state-of-the-art circuits to minimize power consumption. This new state-of-the-art sensor array streamlines our monitoring efforts enabling us to track water quality year-round, including all winter under ice. AsRA's ongoing bi-weekly sampling complements these sensors by providing measurements they can't.
An added benefit of the sensor design is that it is minimally visible from the surface. Right now, there's little evidence that this high-tech sensor array is busy at work, collecting measurements every ten minutes, every day of the year. In future months, we plan to develop public information that explains more about the Mirror Lake Sustainable Salt Initiative, what is being measured, why, and how the community can help conserve the lake. With this new collaboration with RPI, we look forward to many years of high-quality data being collected, and new insights to enable us to better conserve this precious resource!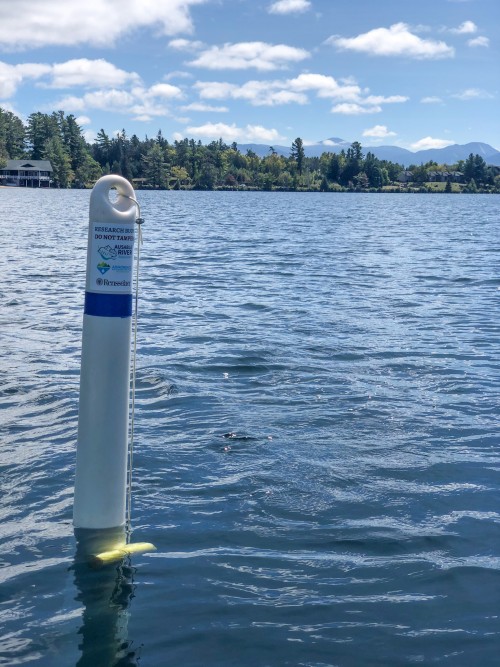 Sensor array diagram and details courtesy of Dr. Kevin Rose and Jonathan Stetler, RPI. Mirror Lake buoy image courtesy of Brendan Wiltse, PhD., AWI. Top photo generously provided by Larry Master, www.masterimages.org. 
---
Story written by Kelley Tucker, Executive Director. Sign-up for our e-newsletter to get weekly updates on the latest stories from the Ausable River Association.