You've seen them, right? Driving along the Ausable River in April or May, the people in short, brightly colored kayaks or canoes paddling toward rapids? What are they doing? Why are they on a flooded river during these cold and rainy spring months? It might seem risky, but these folks don't actually have a death wish. Instead, most whitewater paddlers are highly experienced recreationists who have spent years honing their skills.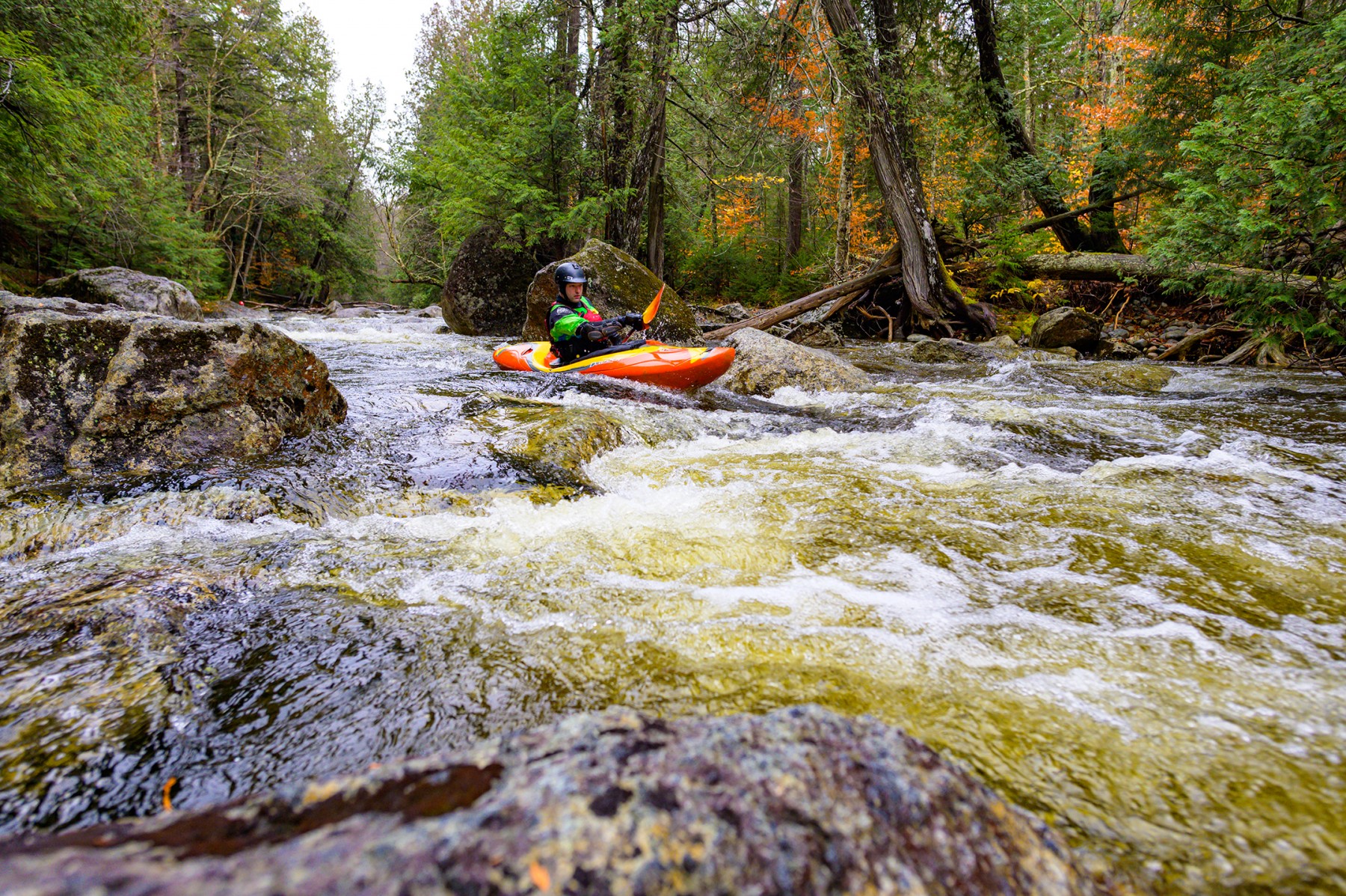 Whitewater boats are relatively short which makes them easy to turn.
History of whitewater paddling
Whitewater paddling is the activity of taking a human-powered boat down rapids. People have been taking this challenge for years. It started with a simple need to get downstream on for transportation purposes. It wasn't until the mid-1940s that whitewater boating took shape as a recreational sport. In the 1950s, new materials, such as aluminum and fiberglass, made the sport more viable. As with any organized activity, terminology and technique soon followed. By the early 1960s, the whitewater boating community had their own professional organizations, magazines, competitive races, and more.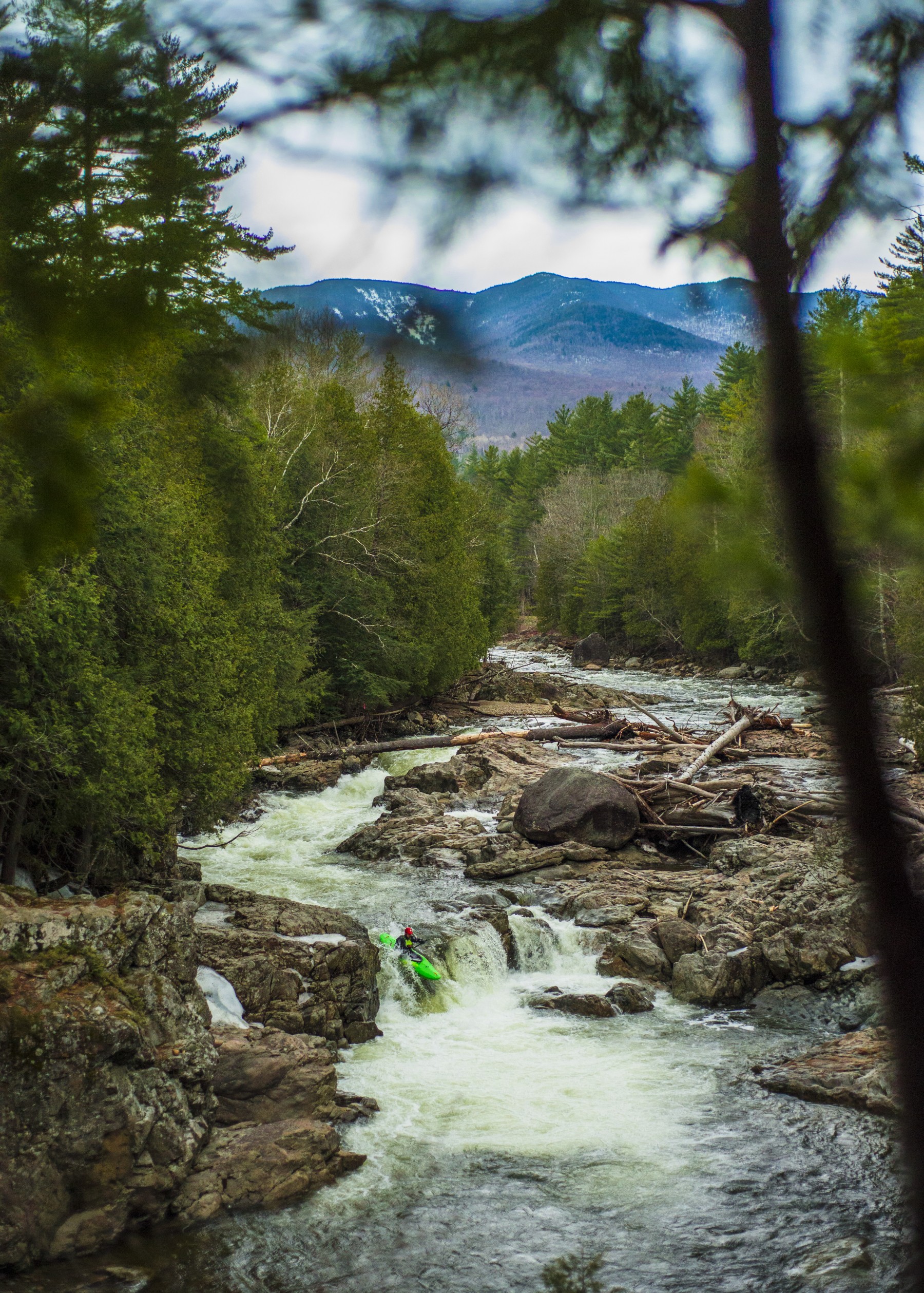 The backdrop of many Ausable whitewater locations is stunning.
As paddling skills and technology advanced, whitewater boating continued to expand. In 1972, modern slalom canoeing was introduced into the Olympics. That same year, the movie Deliverance popularized whitewater canoeing. Throughout the 1970s canoe and kayak manufacturing companies mass-produced whitewater-specific boats, and expert paddlers used these boats to paddle rivers previously thought un-runnable. The introduction of plastic as a canoe and kayak material in the late 1970s further revolutionized the sport by making boats stronger and less expensive. This momentum carried into the 1980s as participation increased fourfold and new sub-sports emerged. From the 1980s to today, whitewater paddling has continued to evolve, similar to other outdoor sports such as rock climbing, skiing, and mountain biking.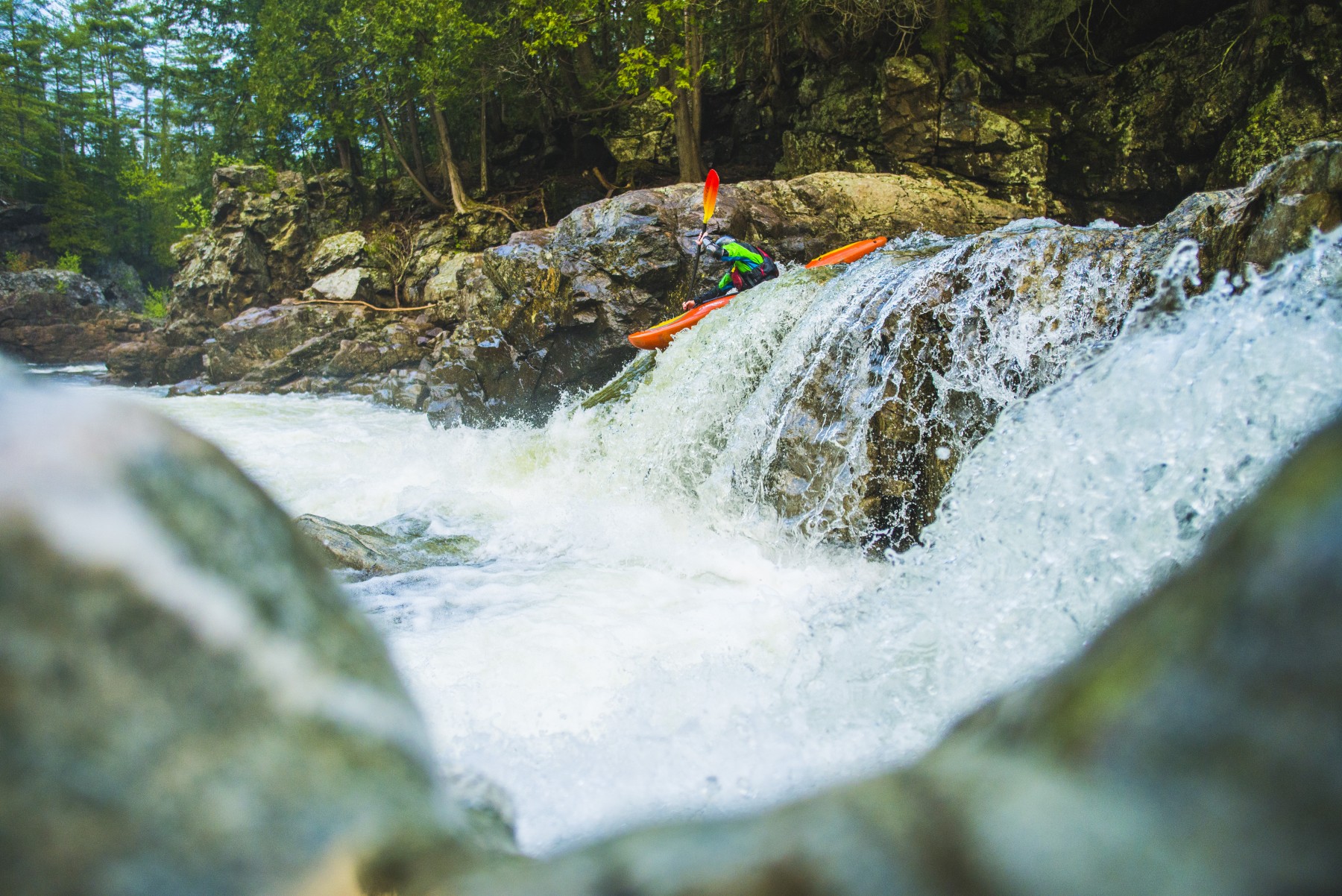 Brightly-colored equipment and clothing make whitewater boaters easy to spot for safety purposes.
What does it take to paddle whitewater?
Experienced whitewater boaters spend hours learning how to safely enjoy whitewater. They learn how to flip and exit their boat in calm pools or lakes. From there, they learn how to roll their boat upright when they flip, a mandatory safety skill. They also learn swiftwater rescue skills such as how to use a throw rope to pull a capsized paddler to shore. The latest equipment required to perform all of these activities safely is technical and expensive, especially in northern latitudes such in New York, where the weather and water are cold during peak season. At a minimum, a whitewater paddler in April will need a whitewater boat, paddle, life jacket, helmet, spray skirt or deck to keep water out, and specific clothing for cold water, such as a dry suit. Whitewater boats are different than recreational boats. They have additional safety features like air-filled bags to help them float and plastic or wood braces in the middle, so they don't collapse if stuck on a rock. All told it can cost upward of $3,000 to buy all the necessary equipment, though novice boaters can still get into the sport for much less by buying used equipment and paddling during warmer weather.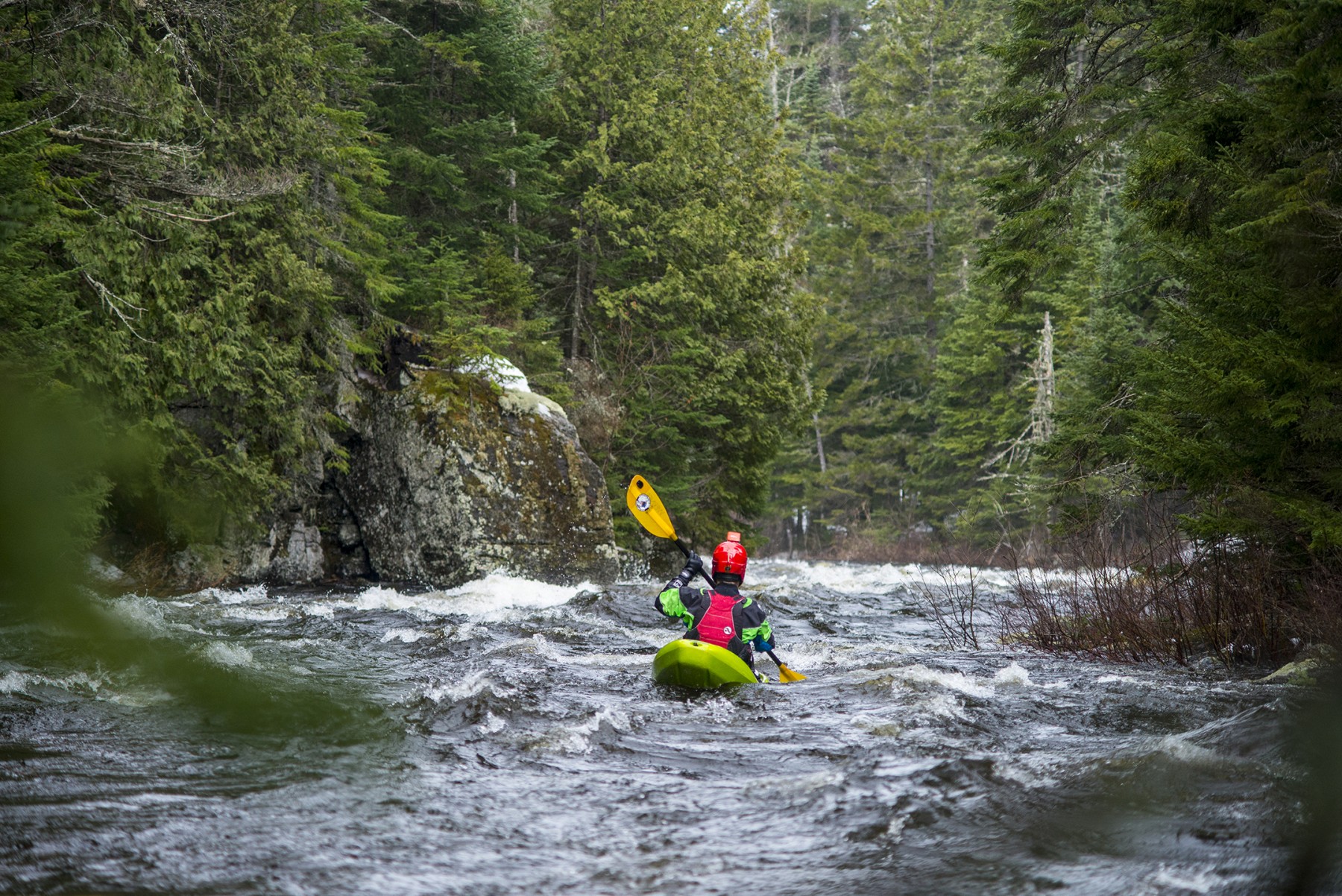 Easy reaches of whitewater can be just as enjoyable due to picturesque Adirondack landscapes.
After they master the basic skills and acquire the necessary equipment, whitewater boaters can transition to moving water. The difficultly of whitewater rivers is organized by six levels, referred to as "classes," and displayed as Roman numerals. Class I is the easiest and is characterized by fast moving water with riffles and small waves. Class VI is the hardest and is characterized by extreme difficulty and life-threatening consequences. Whitewater paddling novices will begin on Class I and advance at a reasonable pace set by their instructor, someone typically certified to teach by British Canoeing or the American Canoe Association. Only the world's best whitewater boaters consider running Class VI rapids. Most of the whitewater in the Ausable River watershed is Class I-IV, but it can still take years for some whitewater boaters to comfortably and safely enjoy these streams. The commitment is worth it, however, and those who persevere are rewarded with excitement, challenge, and magnificent scenery.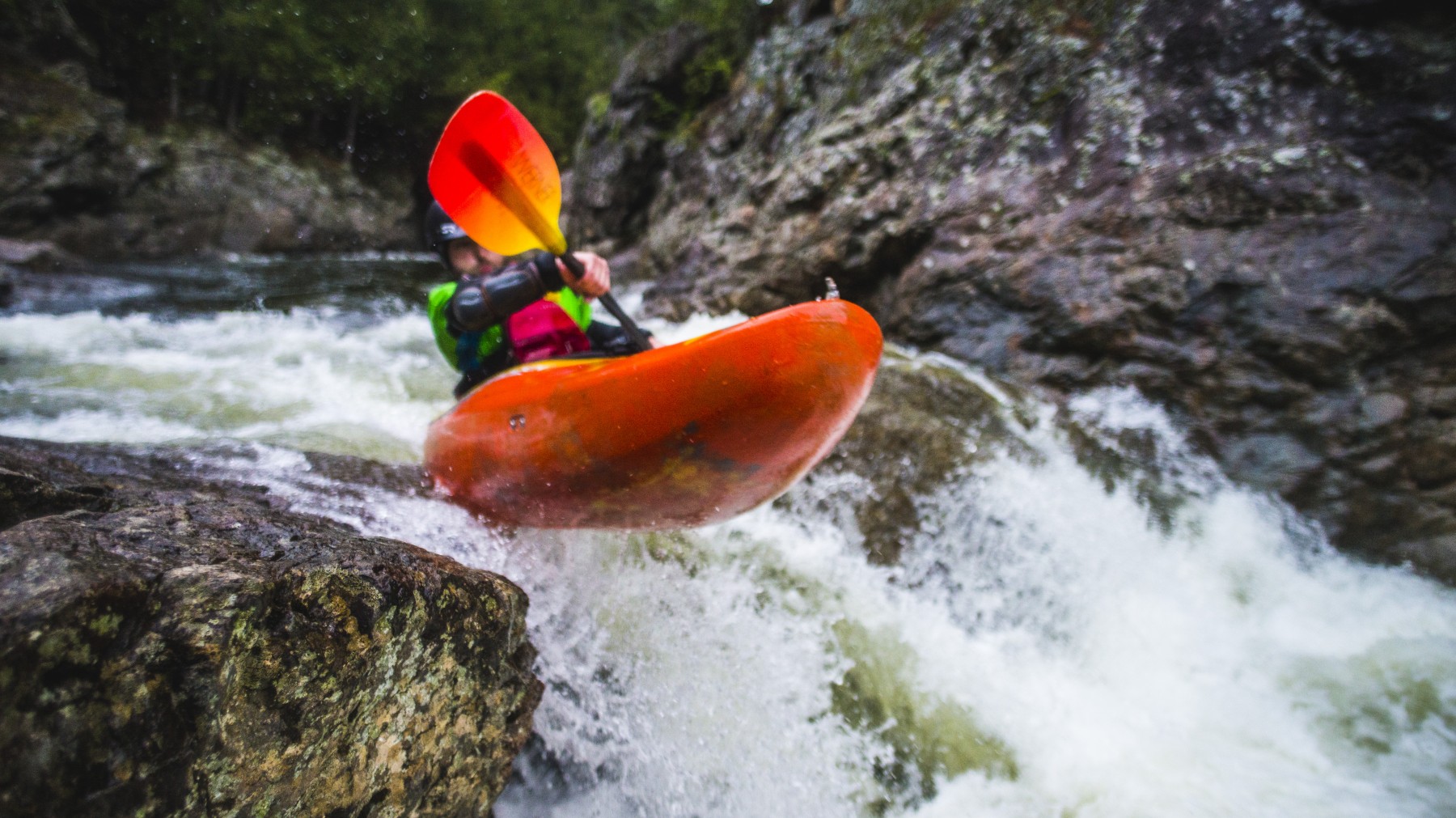 Advanced whitewater boaters often launch themselves off river features, such as rocks and ledges, using specific paddle strokes. 
Where do people whitewater paddle?
The Ausable watershed has some of the best whitewater in New York, as do adjacent regions like the Boquet River watershed. Even though the season of high water is short, there is something for just about every ability level. The East and West Branch Ausable River have Class I, II, and III rapids, such as between Keene and Upper Jay, that local colleges and schools sometimes frequent for their whitewater classes. More experienced boaters often prefer to move upstream to sections of the river with more gradient, such as between Adirondack Loj Road and the Ski Jumps (Class III), or Wilmington Notch (Class IV). Expert boaters frequently take part in a sub-sport of whitewater boating, referred to as "creeking." When people think of whitewater boating, they often envision "river running." This refers to larger Class I-III rivers with few obstructions, such as downed trees and big rocks. Creeking, by contrast, refers to steep and low-volume tributaries. Examples of this type of whitewater are Black Brook (Class IV) and John's Brook (Class V). It is important to remember that these streams and rivers may look tame in the summer but are very different during spring floods.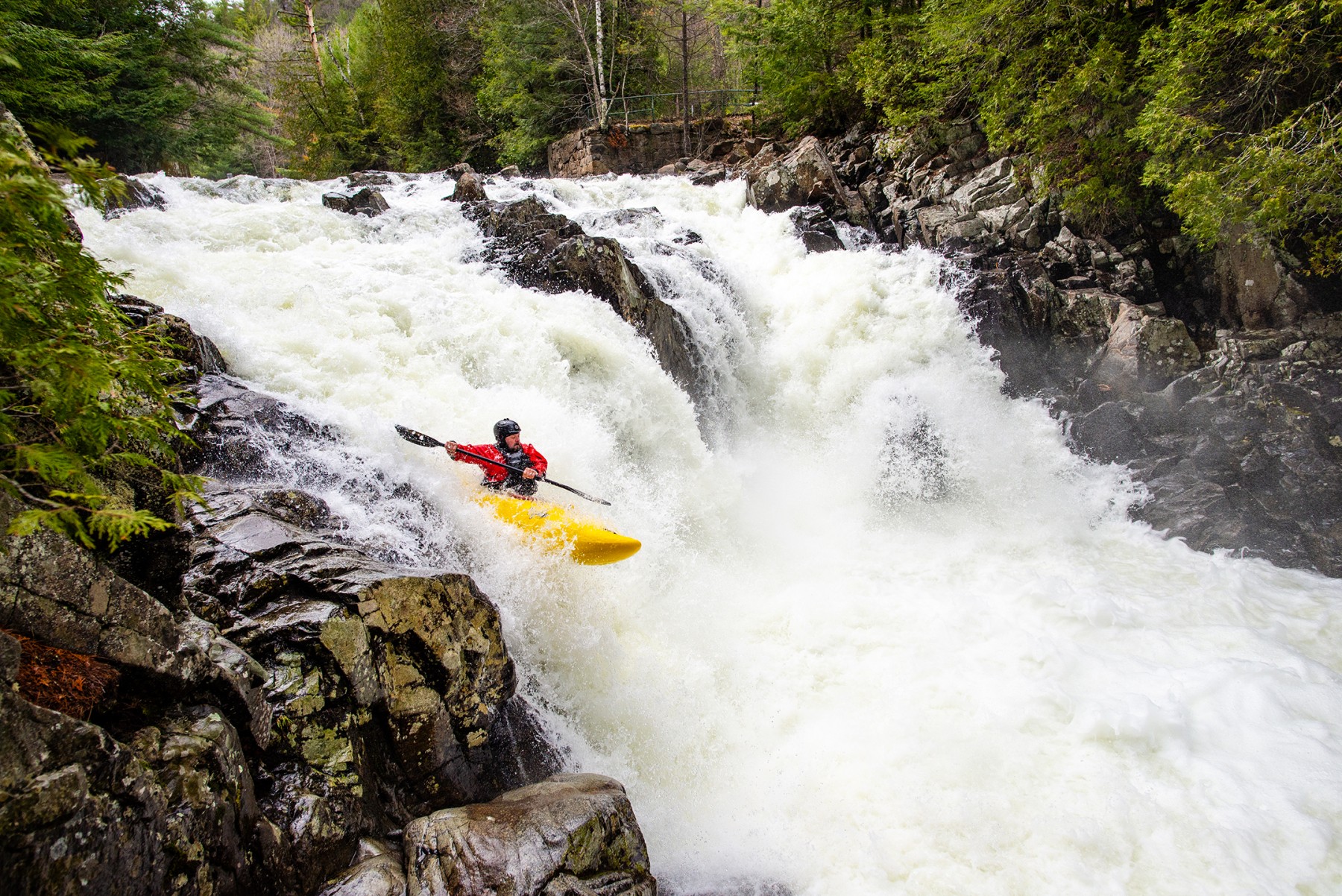 The Ausable and Boquet watersheds have a variety of whitewater for all ability levels. 
Other Paddling Experiences
Whitewater paddling is not for everyone. To enjoy it safely you need hours of proper training, a variety of specialized equipment, and a group of experienced people with whom to paddle. Those who have made the investment, however, have something to look forward to during mud season. Luckily, there are plenty of paddling options in the Ausable watershed that don't include whitewater. Check out our Explore page to learn more about how you can enjoy responsible, low-impact recreational opportunities protective of Ausable waterways and adjacent lands.
---
 Story written by Tyler Merriam, Donor Outreach Manager at AsRA. All whitewater photos above are courtesy of Eric Adsit and used with permission.
Sign-up for our e-newsletter to get weekly updates on the latest stories from the Ausable River Association.