Packing for an outdoor adventure can be overwhelming, especially if you are new to it. Am I bringing enough? Am I bringing too much? Is there something I'm forgetting about?
Back in the 1930s, a group of rock climbers were struggling with these same questions and decided to create a simple gear list that they could refer to when packing for an outing. Since then, the "10 Essentials" list has been used widely throughout outdoor recreation communities to help people prepare for fun and safe outdoor adventures.
Here are the 10 Essentials you should bring on every Adirondack (& beyond) adventure:
An up-to-date map that doesn't rely on batteries is the minimum for this one. Having a compass and knowing how to use it is also very important. Additionally, some sort of GPS device can be helpful to have.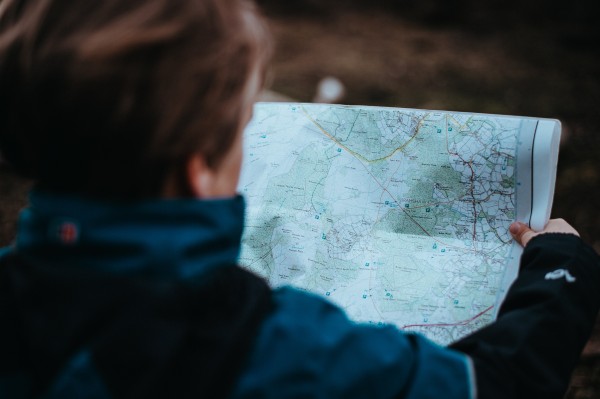 Bring a non-battery powered map along with you on any adventure and know how to read it. Photo credit: Annie Spratt
2. Insulation
Have a variety of layers that you can take off and on as needed during the day and that can also keep you warm throughout the night in a worst-case scenario. Nighttime temperatures, even during the height of summer, can get cold. Think about the material your layers are made of - cotton absorbs moisture and can increase the risk of hypothermia. Opt for moisture wicking materials, like wool or polyester, instead. Also think about bringing clothes that can keep you dry during a rain event and/or warm in wind.   
3. Light
Lack of a light source after dark is one of the most common reasons for rescues in the Adirondacks. Thankfully – it's a problem with an easy fix. No matter how short your adventure is, always bring a flashlight or a headlamp with you. And be sure to bring extra batteries and possibly an extra light source, there's nothing worse than bringing a light source with you only to try and use it and have it not work. Do not rely on your cellphone's light; cell phone lights aren't very bright and will leave you back in the dark in just a short period of time as it drains your battery quicky.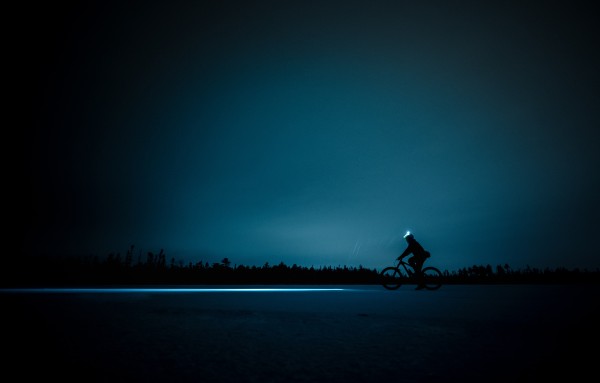 Nighttime adventures, whether planned or unplanned, are more enjoyable and safer with a reliable light source. Photo credit: Tim Foster
4. First Aid Supplies
Outdoor trips often take you away from immediate medical help and away from cell phone service. Carrying a first aid supplies, either in a homemade kit or a pre made one, can make a huge difference when something goes wrong and you are far away from help.  Be sure to pack any essential medication that you take and to keep your kit in something that will keep it dry should your pack get wet. Knowing how to use what is in your kit is also important; consider taking first aid class for the first time or brushing up on skills you learned long ago.
5. Emergency Kit
A failure in your gear, like a snapped snowshoe strap or broken glasses, can make for a bad and possibly dangerous day. Carry back ups and repair parts (duct tape works miracles) that can help you mend your gear back together enough to get out of the woods. Taking along a multitool can be a game changer when you need to make on the fly repairs to broken gear in the backcountry. In your emergency kit, also bring along a way to signal for help, whether that be a whistle, a bright colored cloth, or a mirror.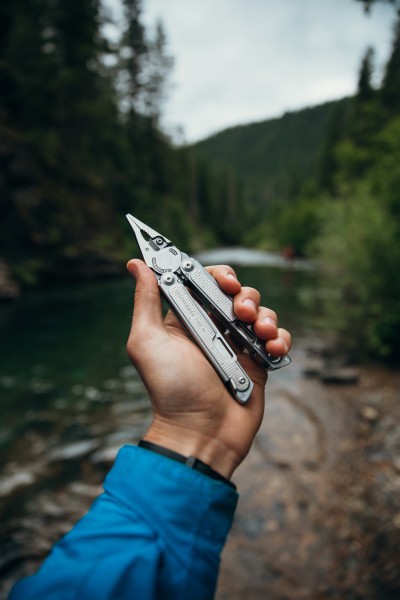 An example of a multitool that can be helpful to have when gear breaks in the backcountry. Photo Credit: Carter Yocham
6. Fire
If you need to spend an unexpected night or more outside, having a fire can make your stay much more comfortable. Bring along something that makes a flame - waterproof matches, a lighter, or a strike igniter. Think about also bringing along some sort of fire starter that will make getting a fire going easier. One of my favorite fire starters is dryer lint – it's very flammable, lightweight, free, and readily available in most homes.   
7. Nutrition
Food is fuel. Eating a good meal the night before and the morning of can make big difference during your trip outdoors. For your journey, bring along calorie dense (high in carbs and fat) food and bring extra. You trip could take longer than expected or you may come across someone who needs it and you'll be very glad you had it. Be sure to carry out any trash generated by your food. I will often repackage food at home into reusable containers to cut down on waste before going out.
8. Water
At a minimum, bring along two liters per person for a day excursion. Of course, weather and your plan for the day will impact how much you should bring. Going for a 10+ mile hike on a really hot day? You'll probably want to bring more water. It's a good idea to also bring along a way to treat water should you run out and need to get more while still outside. In addition to having a way to treat water on trail, I check my route for the day to see what water sources, if any, could be available should I need them. In general, water tends to be less available at higher elevations than at lower elevations, especially if it's been a dry summer, so plan accordingly.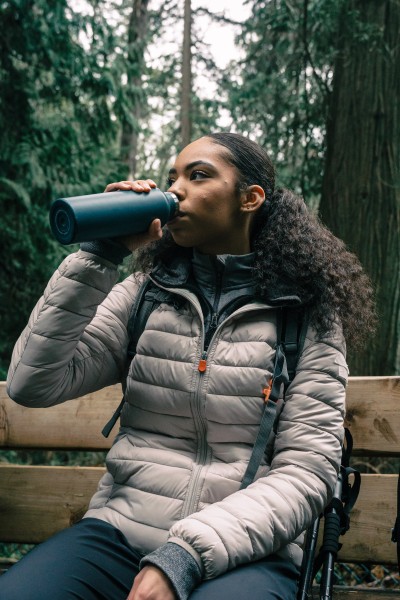 Drinking water is also a good opportunity to take a break while outdoors. Photo Credit: PNW Production
9. Sun and Insect Protection
Bringing along ways to protect yourself from the sun (hat, sunglasses, sunscreen) and insects (bug spray, bug net) will not only make your trip more enjoyable but it will make it safer as well. And anyone who has made the mistake of venturing out during peak bug season or has come back with a gnarly sunburn knows that these items can be worth their weight in gold.
10. Emergency Shelter
When I took my first wilderness first aid class a few years ago, the instructor began the class by telling us no matter how short of an excursion we were going on to always be prepared to spend the night in the woods. Those words have stuck with me ever since and echo in my mind every time I pack to head out, especially in the spring and fall season.  Bring along a tent, a tarp, and/or a space blanket with you – if something happens and you need to spend an unexpected night outside, you'll be very glad you brought them along.
We acknowledge that the cost of outdoor gear can be a barrier for many. Good gear doesn't have to cost an arm and a leg. Check out used gear options or borrow gear for free from a friend or a gear library. Here at the Ausable River Association, we are working on acquiring more gear for participants in our programs use for free so that everyone can join us. 
---
 Story written by Carolyn Koestner, GIS and Science Communications Fellow. Sign-up for our e-newsletter to get weekly updates on the latest stories from the Ausable River Association.
Sign-up for our e-newsletter to get weekly updates on the latest stories from the Ausable River Association.