Thanks to support from private donors and public grants, every year we expand our educational programming. AsRA's staff engages kids and adults, residents and visitors in our efforts to protect the healthy streams, clean water, and diverse habitats of the Ausable watershed. Our goal? To inspire responsible stewardship, among individuals and communities, of streams, lakes, wetlands, and aquifers – the fresh water that supports all life.
AsRA's strength as an organization comes from our science and field-based approach. We know our watershed – its lakes, streams, and wetlands, their health, and their ability to support the diverse array of wildlife and human communities that rely on them. We use that same strength – scientific intimacy with a subject, infused with a passion for sharing knowledge – to inspire understanding in people through our educational efforts. While we dream of a dedicated educational staffer in the near future, right now, every staffer at AsRA contributes to our education efforts. We think there's nothing more exciting and engaging for kids and adults than to learn about water quality or fish habitats from the scientist who measures it or to understand the structure of a new culvert or the results of a restored stream from the designer. And more and more, we are taking members, youth, visitors, residents, and elected officials into the watershed to enjoy it – hiking, paddling, and biking. And of course, we also engage in traditional education efforts: science fairs, farmers markets, displays at conferences and workshops, in schools, with students, teachers, and through other opportunities.
2019 has been an exceptional year; we've extended our capacity to provide education to the public – young and old – that helps them steward our essential water resources. Here's a sample of our projects.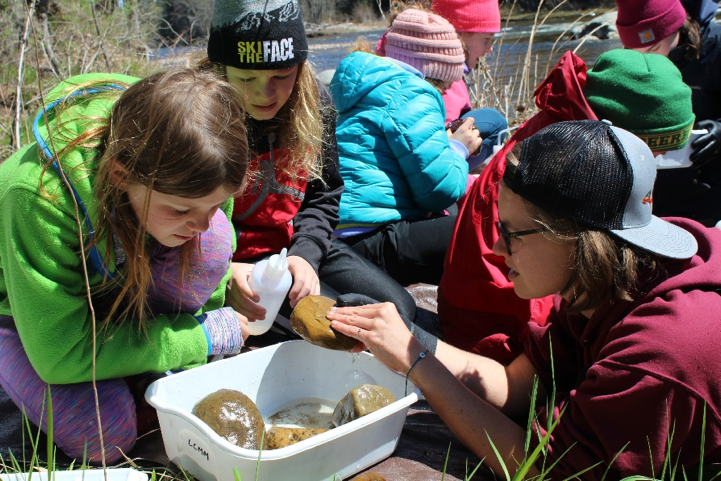 In early May, three of our staff spent a day in the field with the 4th grade class from Keene Central School to assist them in a river research project. The class of 25 students divided into three teams, learning about river health through biology, chemistry, and the physical habitat of the river. Students sampled macroinvertebrates, checked dissolved oxygen, nitrates, phosphates, and turbidity, assessed erosion, water speeds, particle sizes, litter, pollution, riverbank vegetation, and more. The three teams then scored the river's health based on these criteria at two different sites on the East Branch Ausable River.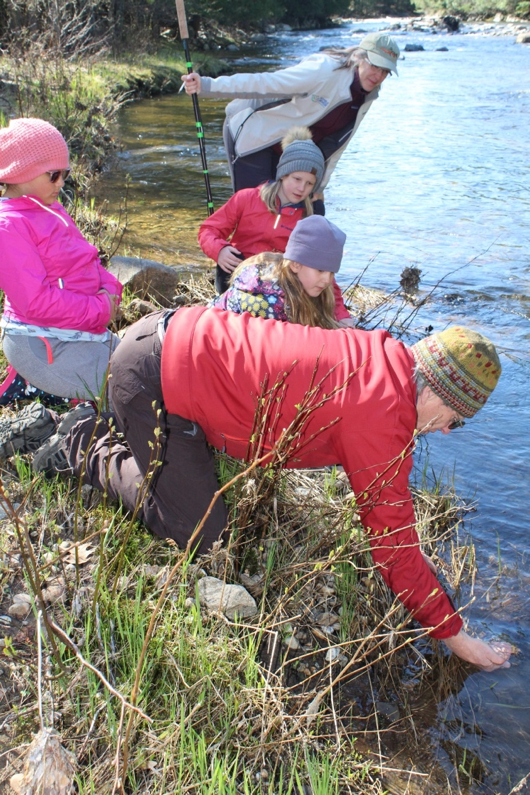 Having AsRA's river steward (first photo shows River Steward, Liz Kamb, with students), our field biologist, and our executive director (photo above, Executive Director, Kelley Tucker stands at back while students discuss water clarity with their teacher) along gave all three teams direct access to knowledgeable experts in each field.
Perhaps our greatest success this year is the expansion of our capacity to train young scientists by giving them the opportunity to work side-by-side in the field with experienced professionals. These one-on-one interactions, though not the widest impact, are an investment in young people that we feel confident will make a difference. (One example: AsRA's first River Steward who worked with us fresh out of college in 2010, is now the Director of Government Relations for the Adirondack Council.)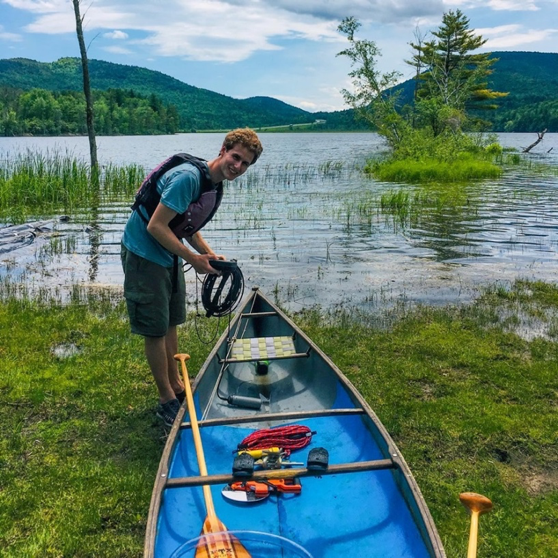 Davi Bendavid (above), a sophomore at Colgate University, partnered with us through the Colgate University Upstate Summer Field School. He spent eight weeks with us working on a variety of independent and guided research projects, including water quality monitoring, eDNA collection, and riparian vegetation assessments.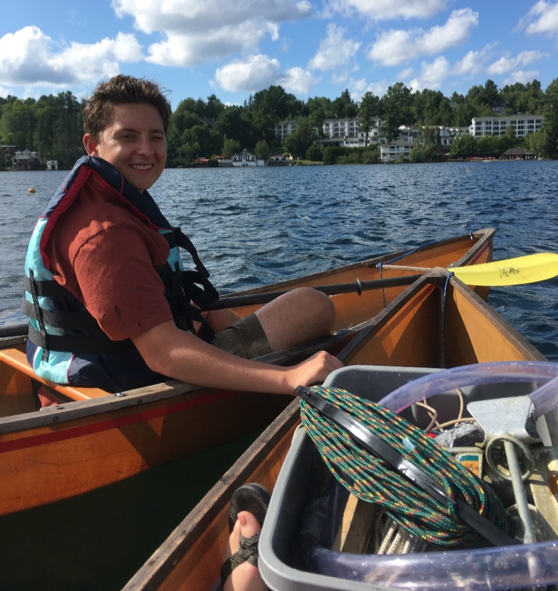 High school student, Eric Salley (above) – from the Fox Lane High School Science Research program, sought out AsRA and partnered with us to do field research on brook trout habitat use and mapping using eDNA. His advanced high school science program is preparing him for a desired career in research.
We also had a unique opportunity this year, working with the Wild Center, to contribute to an incredible teach the teacher opportunity. Kelley provided hands-on field tours of two field sites that have improved stream connectivity, health, and resilience in the Ausable watershed and serve as laboratories for student learning. Teachers from across New England, along with a local teacher that works regularly with AsRA to give kids field-oriented learning opportunities, got to visit sites, ask questions and imagine targeted programming.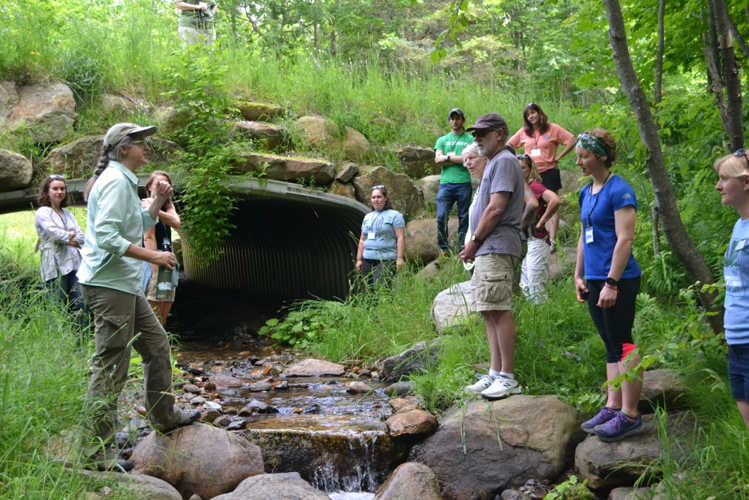 We were also able to continue our Discovering the Ausable: An Aquatic Stewardship Program in partnership with the Adirondack Mountain Club and with additonal funding provided by the New York State Department of State under Title 11 of the Environmental Protection Fund. This week-long, interactive middle-school aquatic stewardship program is a five-day, four-night adventure in camping and aquatic stewardship for teens age 13-16. Participants explored the Ausable River watershed while learning about aquatic ecology and participating in water quality experiments. Campers have fun with peers while developing paddling skills and learning the intricacies of physical, chemical, and biological sampling techniques.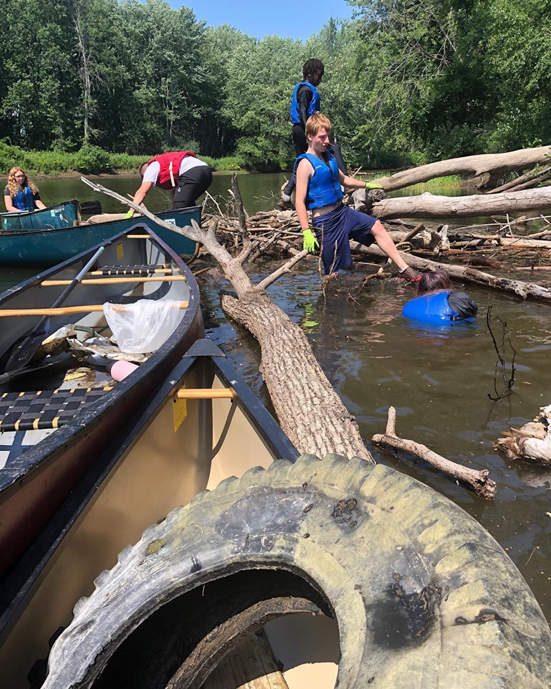 The paddling river clean-up day during our Teen Aquatic Stewardship Program is one of the best days of the year. These kids seek out trash with gusto and make a tangible difference for the river (photo credit: Tyler Socash, Adirondack Mountain Club).
Within each of these programs, AsRA staff provided education and stewardship activities that exposed students, teachers, residents, and visitors to hydrology, climate change, ecology, and biology; to methods for surveying streams, monitoring water quality, and creating biological inventories; and to the wonder of freshwater streams, lakes, their inhabitants, and the incredible value they provide to our communities.
---
Sign-up for our e-newsletter to get weekly updates on the latest stories from the Ausable River Association.