One of our goals at the Ausable River Association is to connect people and communities to the watershed. We do that by facilitating inclusive, low impact recreation in streams and on lakes, in forests, and alongside floodplains and wetlands – all to experience the beauty of these places and biodiversity of their inhabitants. As part of our guided watershed tours this year, we hosted three plant and fungi identification programs. In September, we partnered with Paul Smith's Visitor Interpretive Center to host a wild Edible plant walk led by local plant expert Patricia Banker. A week later, we gathered at Owl's Head Lookout in Elizabethtown to learn about fungi native to Ausable watershed forests from mycologist Susan Hopkins. We met at Catamount Mountain in November to learn how to identify trees from Adirondack guide and naturalist Ed Kanze. After attending each of these programs, here are my key takeaways for anyone looking to get into learning their plants and fungi:
 Get a Good Field Guide
Each guest naturalist said that having a good field guide was critical to their learning. If possible, get the most local guide you can. Often, field guides are written for an entire region, like North America or the East Coast. You will find pages upon pages of species inside that don't grow in the Adirondacks, leaving you disappointed when you finally ID the tree you've been obsessing over only to discover the fine print indicating the species doesn't grow north of Georgia. For this reason, among others, many naturalists will often point out their least favorite field guides, which I've found to be equally helpful in narrowing my choices.
Guest naturalist Ed Kanze's trunk with a library of guidebooks before the start of a tree ID walk. 
2. Learn from an Expert
Field guides are a great resource but using them can be tricky. If possible, find someone who is knowledgeable in your subject of interest and go outside with them. Learn from them. There's just no replacement for learning what something is while looking right at it - photos and drawings can only do so much. Many species are also commonly identified by what they are growing near, so learning how they fit into the landscape is vital.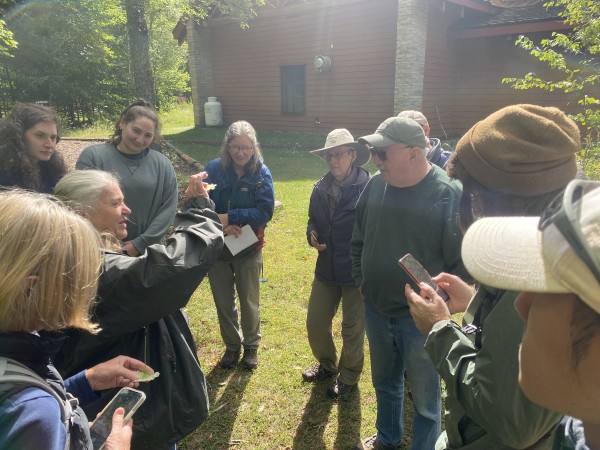 Tour participants learn to identify Queen Anne's lace from guest naturalist Patricia Banker.
 3. Practice, Practice, Practice
Our guest naturalists didn't become experts in a day. Most of them have been learning and honing their skills for decades. Be patient and persistent in your learning journey. Learn a few species well and expand from there. Visiting the same area multiple times, year after year, can increase your familiarity and understanding of the species that grow in that particular area.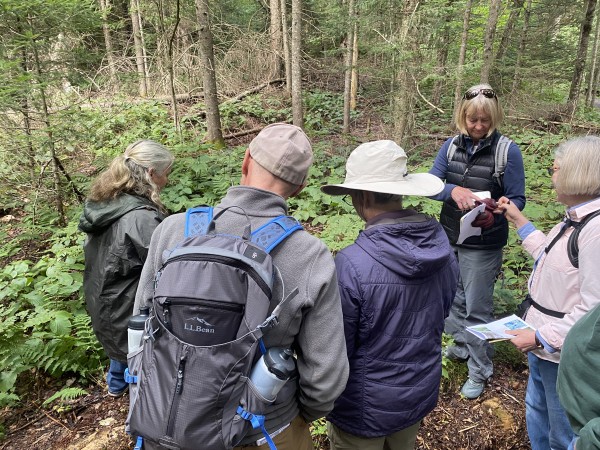 Tour participants working to identifying a plant along the trail.
4.  Don't Expect to Travel Far
I don't think we walked more than a mile in two hours on any of these tours – there's just so much to look at! Learning to ID plants and fungi requires a shift in mindset, often one that involves slowing down. I have never walked so short a distance over such a long period of time, but I don't think I've ever seen so much.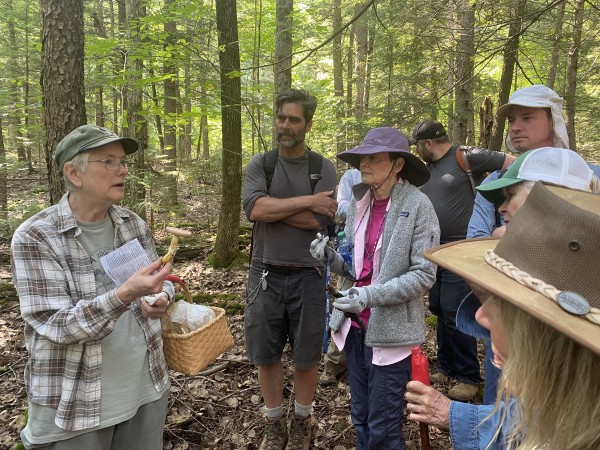 Expert mycologist Susan Hopkins identifying a fungi specimen found along our walk.
 5. Something Will Always Break a Rule
As much as we might crave hard and fast rules, nature doesn't work that way. While there are some good general rules to learn when learning to ID, always be prepared for something to break that rule, whether it's a fern that disobeys a rule that applies to all other ferns, or a specimen of Black Cherry that looks different from all the other Black Cherries due to its specific growing conditions, be prepared for the outliers.
Diversity of specimens brought by guest naturalist Susan Hopkins to teach tour participants.
We hope that these tips help you get started on your plant and fungi identification journey - it's never too late to start the journey to knowing your watershed. Interested in learning to ID from an expert? Keep an eye on our guided watershed tours page, every year we offer programs like the ones described above.
Thank you to our Guest Naturalists for leading these programs and to all of the participants for their enthusiasm and engaging with the topics. A special thank you to the Lake Champlain Basin Program, NEIWPCC, and the United States Environmental Protection Agency for funding these tours.
---
 Story written by Carolyn Koestner, GIS and Science Communications Fellow. Sign-up for our e-newsletter to get weekly updates on the latest stories from the Ausable River Association.
Sign-up for our e-newsletter to get weekly updates on the latest stories from the Ausable River Association.