January 4, 2019
After years of effort, the 125-year-old dam on the lower West Branch Ausable River has been demolished. The decaying dam and the still waters of its massive impoundment are gone. In their place, the river tumbles freely through a magnificent gorge of steep bedrock. Multiple cascades oxygenate flowing water as it sorts the river's natural sediment and reestablishes its structure of alternating riffles and pools, rebuilding habitat. Fish move freely upstream and down, able to discover cooler, sheltered waters and sources of food previously denied them. The Rome Gorge is a stunning natural phenomenon and an important addition to the health of the wider Ausable River system. It's an example of AsRA's persistent, quiet, and successful advocacy for the river and the communities that love and rely on it.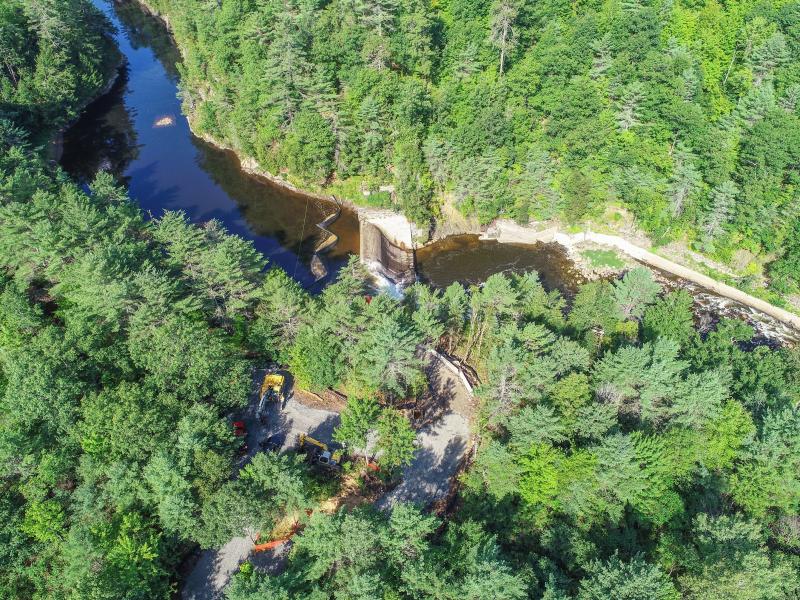 Built in 1893-94, and rebuilt in 1936, the Rome Dam provided process water and mechanical power for the J. & J. Rogers Company pulp and paper mills. It was large by Ausable standards: 103 feet wide and 38 feet tall. The dam impounded 49 acre feet of water and sediment; three acre feet equals almost a million gallons. For some residents, the dam was a reminder of the days when Au Sable Forks was a prosperous industrial center. The J. & J. Rogers Company provided the economic foundation for that prosperity for 150 years, starting in the 1830s. But with the closure of the Rogers Company in 1971, the dam fell into disrepair. By 2011, when Tropical Storm Irene unleashed her fury on the Ausable River watershed, the dam was already severely compromised.
Assessing the safety of the Rome Dam, and planning for its removal if the structure was confirmed to be hazardous, was a priority in the Town of Jay's NY Rising Community Reconstruction (NYRCR) plan, a project led by the Governor's Office of Storm Recovery (GOSR) in the aftermath of Tropical Storm Irene. AsRA was a member of the NYRCR planning committee that identified assessment of the dam as essential to community flood resilience. In 2015, with funds from GOSR, the town contracted with the Vermont-based engineering firm Milone & MacBroom, Inc. (MMI) to assess the Rome Dam. That assessment revealed significant deterioration in the structure: cracks in the spillway, seepage undermining the abutments, inoperable and collapsed intake penstocks, and sediment and large woody debris lodged in the intake structure. New York State had listed the dam as structurally unsound for many years. The additional damage after Irene confirmed the risk of dam failure Lower West Branch Runs Free by Kelley Tucker 5 was high. The evidence was overwhelming. On March 9, 2017, after a thorough review and a public hearing, the Town of Jay Board unanimously passed a resolution to remove the Rome Dam.
Removal was complicated by the dam's location in a steep gorge, making access along the state-designated Wild, Scenic, and Recreational River challenging. MMI engineered the deconstruction, AsRA provided local coordination and permitting support, Reale Construction led the demolition, and Essex County provided oversight. Funding was provided through the Governor's Office of Storm Recovery. Thanks to thorough planning and efficient staging, the dam's deconstruction went smoothly and without significant delays; the time-consuming piece of the puzzle was the removal of years of sediment – sand, cobble, and boulders – that had accumulated in the impoundment behind the dam. Over 30,000 cubic yards of material was removed – half of that to a site established by AsRA so it can be reused in river restoration efforts on both branches of the river.
Work began in mid-August and was completed by mid-November. It will take the river a year or two of high and low flows to re-establish its channel structure fully. AsRA will monitor the progress of the river's adjustments to assess whether further restoration will be needed.
Dams can provide benefits for some people and for some opportunistic wild species, but they are detrimental to a stream's health. They interrupt ecosystems up and downstream, reduce fish and wildlife habitat, and cut populations of aquatic species off from their normal range of movement. In a system such as the Ausable, prized for its water quality and as a destination for anglers, healthy, connected habitat is essential. More fundamentally, dams change the form and function of a stream. They disrupt water flows and block the movement of vital nutrients and sediments. When a dam blocks a stream, its natural alternating sequence of slope-controlling, oxygenating riffles and deep, cool, habitat-rich pools is drowned by an oversized impounded pool where sediment is trapped – more each year. Water quality is degraded. Impounded water, more likely than not, warms one or two degrees more than moving water. Upstream, sediment backs up; over the years, as material accumulates, the channel may begin to braid, creating multiple low-flow channels where there once was one.
Downstream, the remainder of the river is starved of sediment. Without material to build and rebuild its structure, downstream reaches can lose features essential to habitat. The loss of form and function leaves a stream vulnerable. Incapable of efficiently transporting water and sediment, its ability to manage disturbances – flood flows and ice, for example – is diminished. Impaired water quality, lost habitat and connectivity reduce the recreational value of a stream. Removing a dam can be a first step to restoring the form and function of a stream and the ecosystem benefits – clean water, a recreational fishery, resilience in floods – most valued by communities.
In recent years, dam experts, scientists, and ecologists have explored whether dams can do less damage to ecosystems while offering the human services they provide. Newer structures can allow some sediment passage and fish passage, but, in the end, the goals of dams contradict the goals of ecosystem health. For example, hydropower generation is viewed by many people as a greener option to extraction-based energy sources. And it is true, traditional hydropower – using dams either large or small – avoids some of the high carbon emissions from fossil fuels and some of the human hazards and waste issues associated with oil, gas, coal, and nuclear power. But traditional hydropower has its own costs. Beyond the serious implications for stream health, wildlife habitat, and water quality, dams contribute significantly to climate change through the emission of methane from reservoir surfaces, turbines, and spillways. Also, on a river such as the West Branch Ausable, power generation, while feasible, may not be reliable due to fluctuating flows, especially low summer flows. And the amount of power generated may never justify the expense of a modern hydropower facility.
In the past 20 years, dam removal in the United States has moved from being a fringe notion to a mainstream effort undertaken by communities large and small. Most often dams are removed to protect communities from decaying structures that are no longer operational and, increasingly, to restore rich stream ecosystems and regain passage for native fish. With the deconstruction of the Rome Dam, AsRA and its partners achieved both of these goals.