Thick buffers of native trees, shrubs, and grasses along streambanks are essential to water quality and to the health of small brooks, lakes, and large rivers. They shade and cool surface waters, filter runoff from developed areas, and provide shelter, forage, and food for wildlife. Their root systems hold streambanks secure, preventing excess erosion. They protect groundwater and absorb flood waters.
Locally native riparian plants are also essential to the delicate and diverse habitats of our watershed. Over hundreds of years, they have grown up in the patterns of climate, light, and soil conditions of our region, adapting to the natural disturbances, frost and thaw cycles, insect damage, animal browse, and ice specific to our region. Further, they've evolved and become interdependent with the other plants, animals, insects, and fungi, and these complex relationships keep the Ausable ecosystem healthy and stable.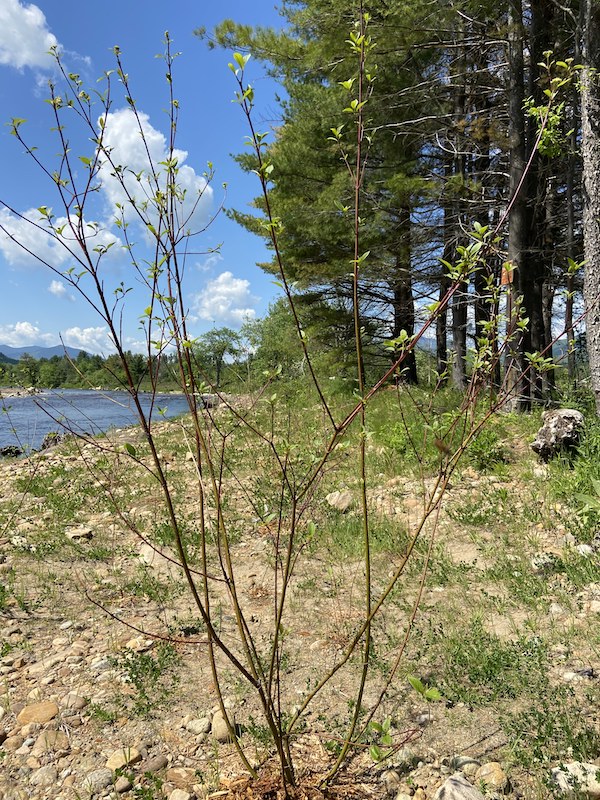 A newly planted red-osier dogwood on the West Branch Ausable River.
In the ten years since Tropical Storm Irene, we've planted thousands of trees and hundreds of acres of grasses and shrubs along the river. We've learned many lessons along the way about the importance of healthy riparian buffers and how to build them up from scratch. Here are a few tips for establishing a riparian buffer of your own.
Look to locally established riparian habitats for guidance 
The first step in preparing for a successful riparian planting is to know your site. Take the time to identify existing vegetation on and near stream banks. Use field guides, mobile apps, or contact the Ausable River Association or your local garden club for help conducting a quick survey to determine what native species are established already. This will inform your choice of which species to plant and provide your best chance of success. If the site you are working with has been denuded by flooding, ice, or other disturbance, look to nearby vegetated sites that are similar in topography and land use and are recovering from disturbance. The species growing well in these habitats may be ideal choices for your planting project.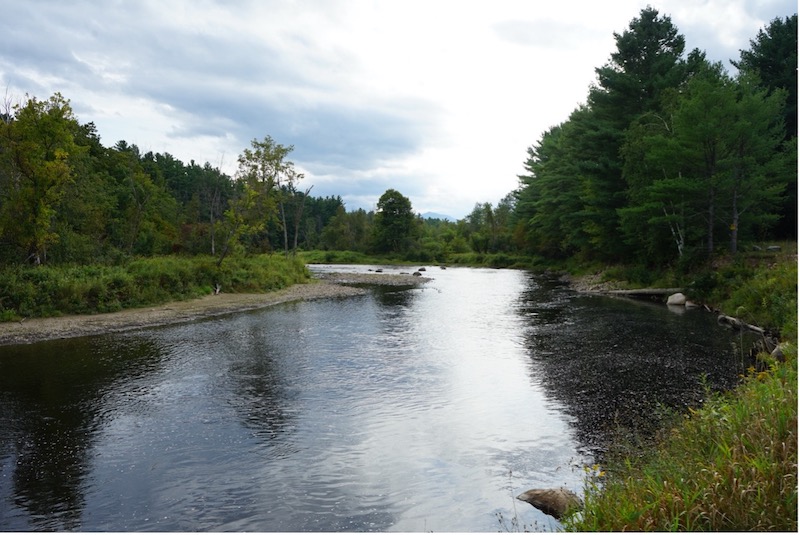 A restored section of the West Branch Ausable River with extensive riparian vegetation and bird habitat.
Source NATIVE seeds, trees, and shrubs as locally as possible
Native trees, shrubs, and flowering plants are adapted to local microclimates. Plants with locally adapted genetics will therefore be more suitable for and successful in local planting projects. Plants procured from catalogs or distant nurseries will likely take more time to get strong root systems established. When planning planting projects, think about sourcing your planting material as locally as possible. Make sure to ask whether the plants are native, or better yet, go to the nursery with a list of native species you are interested in.
---
Support our biodiverse habitats work for wildlife and their habitats. Give with confidence today!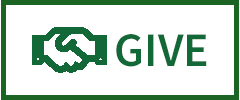 ---
Caring for plants during their most vulnerable stages will aid in the establishment of healthy roots
In the first few weeks and months after planting, riparian trees and shrubs will be at their most vulnerable. After harvest from the nursery, transport, and transplanting, their root systems will be especially susceptible to dry and hot conditions. Both fall and spring plantings are susceptible to having leaves and buds browsed by deer and other animals. In some areas, deer exclusion fencing will benefit young trees in their first 3-5 years after planting. To enhance the chances for the success of new trees, we've employed watering and tree tubes at our sites.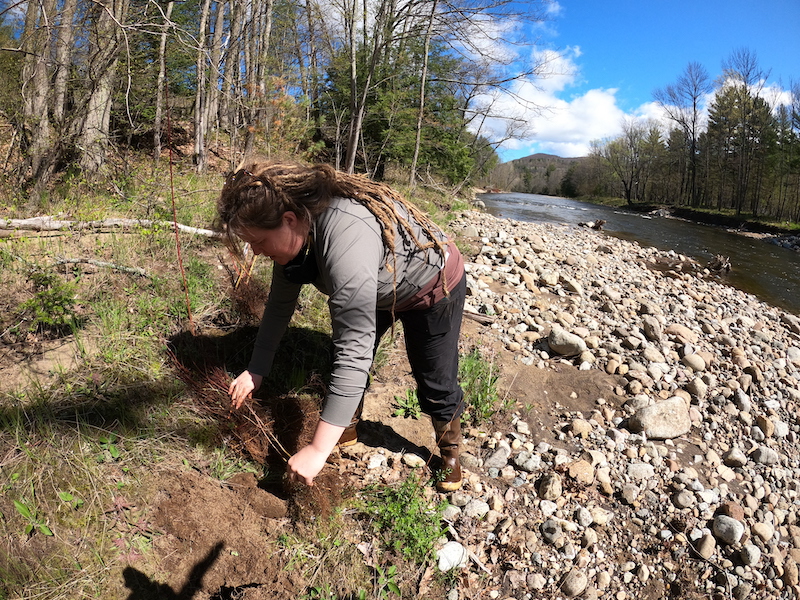 Caring for trees with water and mulch can give them a boost in early season growth.
Funding for this work is provided by Lake Champlain Basin Program, the New England Interstate Water Pollution Control Commission, and Northern New York Audubon Cullman grant program.
Some regional native plant nurseries
Intervale Conservation Nursery Burlington, VT
NYSDEC Tree Nursery Saratoga Springs, NY
Flowering Meadow Nursery Jay, NY
Ernst Conservation Seeds Meadville, PA
Vermont Wetland Plant Supply Orwell, VT
Sources: New York Flora Atlas, Ernst Conservation Seeds.
---
Story by Carrianne Pershyn, Biodiversity Research Manager.  

Sign-up for our e-newsletter to get weekly updates on the latest stories from the Ausable River Association.