This spring, Mirror Lake completed turnover. Turnover, also known as mixing, is an essential natural process that occurs in most lakes in the spring and fall of each year. Turnover is driven by temperature and temperature defines the density of water in lakes and even in a drinking glass. Water has a unusual property – it is densest at 4°C (39.2°F). With the increased sunlight and warming temperatures of spring, the cold surface waters of the lake increase in temperature. As they approach 4°C, aided by spring wind action, the dense cold, oxygen-rich water sinks and mixes with the deeper water. Mixing is important for a healthy like as it infuses the lake with oxygen and redistributes other nutrients that are vital to aquatic life such as lake trout.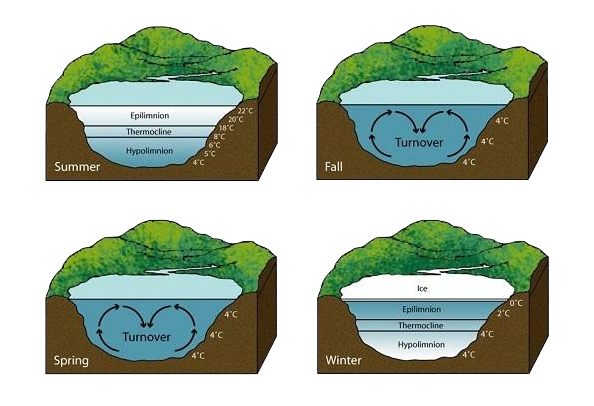 Diagram of the process of turnover typical for a lake in the Ausable River watershed. Photo courtesy of  National Geographic. 
The 2021-2022 winter was relatively cold, with multiple snowstorms that kept temperatures well below freezing until mid-March. Ice first formed on Mirror Lake on 12/9/2021, melted the next day on 12/12/2021, and then completely froze on 12/20/2021. The ice covered the lake for 115 days and melted on 4/14/2022. After ice off, there were multiple mixed precipitation events and a heavy snowfall that wiped out power across the Adirondacks. This storm also produced strong winds and coincided with the crucial turnover period for Mirror Lake.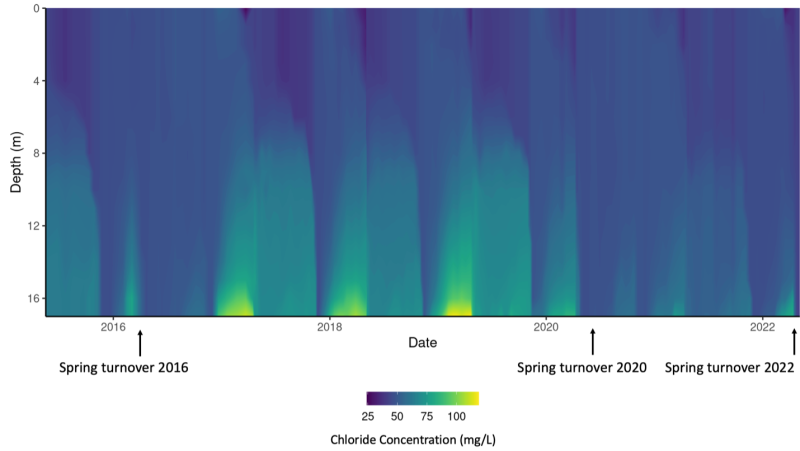 Chloride concentration (milligrams per liter, or mg/L) by depth (meters) from May 2015 to May 2022 in Mirror Lake, with spring turnover activity noted. Lighter colors denotes higher chloride concentration. Graph courtesy of Brendan Wiltse. 
High rates of road salt use in the years leading up to our focused testing of the lake in 2015 interrupted natural spring turnover on Mirror Lake. The Ausable River Association (AsRA) has recorded the disruption in 2017, 2018, 2019, and 2021. The high concentration of salt in the water is denser than the water that normally moves through the lake, so it settles to the bottom. When the ice goes out for the year and surface waters begin to warm, readying to turnover, this heavier salt-infused water at the bottom of the lake can prevent mixing. In response to the repeated disruption of spring turnover on Mirror Lake, the Salt Use Reduction Initiative (SURI) was launched in 2020. This program provides information and tools to ensure the best science, practices, and information is available to encourage reductions in road salt usage by municipalities and home and business owners.
---
Support our water quality work for clean water. Give with confidence today!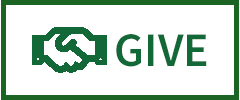 ---
Observations of spring turnover on Mirror Lake have been recorded in 2016, 2020 and 2022 by AsRA. The chemistry data from 2021 indicate lower sodium and chloride levels documented at the bottom of the lake (see the above graph). The 2021 average hypolimnion (bottom waters) chloride concentration was 52 mg/L (milligrams per liter). In years prior, average chloride concentrations were in the 70 mg/L range, with the highest chloride concentration recorded at 125 mg/L. A more in-depth analysis of the chloride concentrations will be available in our 2021 Mirror Lake Technical Brief scheduled for release in the summer of 2022.
In 2022, lake turnover was likely the product of multiple factors. Evidence suggests there was a reduction in chloride buildup at the bottom of the lake. This fact may be the result of weather conditions, outreach to the community as part of SURI, and effective efforts by the town and village highway departments, in part supported by SURI, to reduce their road salt use while protecting public safety. Moving forward, our goal is to reduce salt levels in the lake further to achieve a consistent annual spring turnover. Although spring turnover occurred in 2022, it's important that we continue efforts to heal Mirror Lake – the gem of Lake Placid – and keep it healthy for generations to come.
Our science partners in this work are Paul Smith's College Adirondack Watershed Institute and Rensselaer Polytechnical Institute. We are deeply appreciative to our funders who continue to make this work possible: the Lake Champlain Basin Program, New England Interstate Water Pollution Control Commission, the New York State Department of State, Mirror Lake Watershed Association, the North Elba Local Enhancement and Advancement Fund, Adirondack Foundation-Nancy Adams Sweet Family Fund and Holderied Family Community Fund, Cloudsplitter Foundation, the Village of Lake Placid, the Town of North Elba and many generous private donors.
---
Story by Leanna Thalmann, Water Quality Associate. Top photo by Lija Treibergs.
Sign-up for our e-newsletter to get weekly updates on the latest stories from the Ausable River Association.