Monitoring water quality is critical to ensuring the health of Ausable streams and lakes. Each year AsRA's staff monitors 30 stream sites and 12 lakes. Two of those lakes, the stunning Cascades Lakes, are a focus of our long-term monitoring efforts.
The Cascade Lakes are located on Route 73 in North Elba and are about 10 minutes from Lake Placid. These two long, narrow, deep lakes are situated at the base of Cascade Mountain and offer paddling, swimming, and fishing opportunities. Lower Cascade Lake reaches 40 feet (12.1m) deep at its southernmost end, and the middle of Upper Cascade Lake has a maximum depth of 62 feet (19.2m). Lower Cascade Lake is connected to the Upper Cascade Lake through a small inlet stream, which makes the lakes very similar to each other.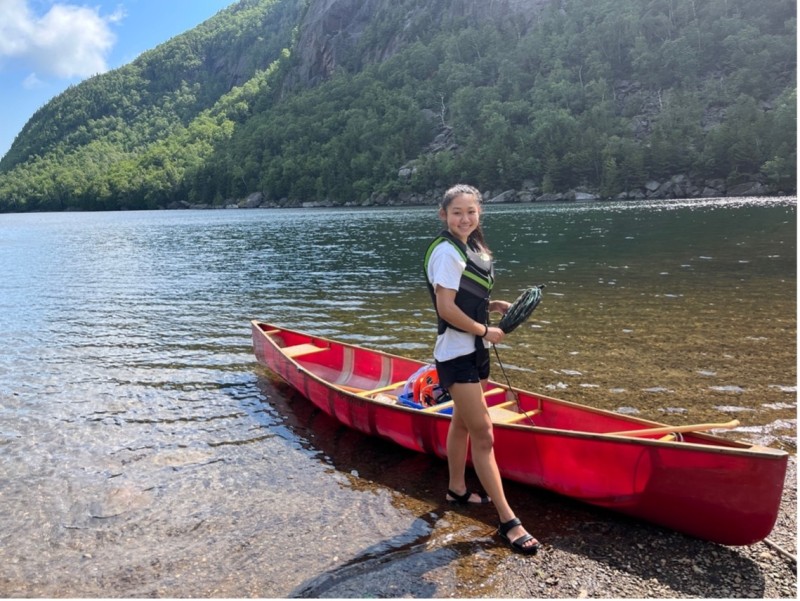 Our 2022 Colgate University Upstate Summer Field School 2022 Intern, Cat Wang on Lower Cascade Lake after sampling via canoe.
AsRA's Water Quality Associate, Leanna Thalmann samples Upper Cascade Lake on a monthly basis from May through September. She collects surface and deep water samples that are processed at the Adirondack Watershed Institute (AWI) Lab. She also takes a vertical profile, measuring temperature, dissolved oxygen, specific conductance, and pH at 1-meter intervals from the top to the bottom of the water column. You can view last year's water chemistry data below.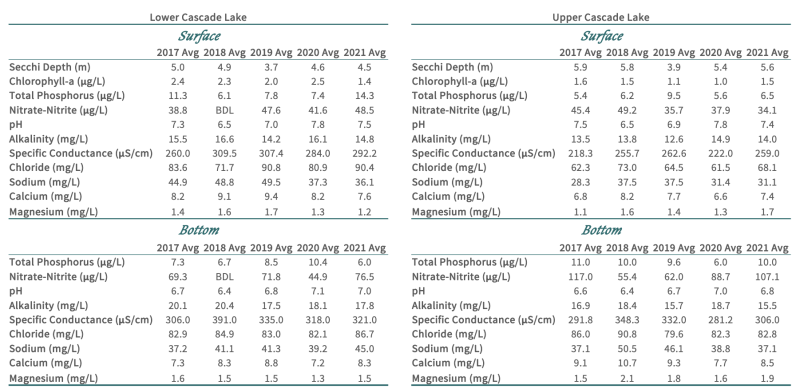 Lower and Upper Cascade Lakes water chemistry from 2017 to 2021.
---
 Support our water quality work for clean water. Give with confidence today!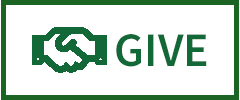 ---
 Upper Cascade Lake is the smaller of the two Cascade Lakes. Its surface area is 26.4 acres (9.7 ha) and it has a maximum depth of 62 feet (19.2 m). The lakes have low nutrient concentrations and are classified as oligotrophic. pH is circumneutral and acid neutralizing capacity is adequate, indicating that the lakes have low sensitivity to acid deposition.
The primary threat the Cascade Lakes is road salt runoff. The average surface chloride concentration from 2017-2021 was 65.9 mg/L in the Upper Cascade Lake. In 2015, the Upper Cascades Lake's surface water chloride concentration was 44.8 mg/L which is 186 times higher than normal lake chloride concentrations1 . In 1984, sampling by the Adirondack Lake Survey Corporation (ALSC) measured the surface water chloride concentration at 27.5 mg/L, indicating that the concentration is increasing and highly influenced by the winter maintenance practices on 1.45 km of roadways in the watershed2. The 2015 ALAP report stated that the Upper Cascade Lake has the highest concentration of sodium and chloride in the program at that time1.
The Upper and Lower Cascade Lakes are very similar in nutrient concentrations, average pH, and acid neutralizing capacity, but the Lower Lake has a higher chloride concentration. The Lower Cascade Lake's average (2017-2021) chloride concentration 83.5 mg/L. This is likely due to the additional road mileage in the watershed, the Lower Cascade Lake has 1.95 km of roadways in its watershed2 . The water that travels across the roadway carries road salt and other pollutants directly into the lakes.
These twin lakes hold trout populations. Brookies and brown trout have been caught in both lakes and lake trout in Upper Cascade. The shallows offer pumpkinseeds and sunfish in both lakes, with yellow perch in Lower Cascade. Sampling by the ALSC in 1984 found the following fish species: round whitefish, brown trout, brook trout, splake, lake chub, golden shiner, and white sucker. Round whitefish are a state listed endangered species and are believed to be endemic to Upper Cascade Lake. Possession of round whitefish is illegal, as is the use of baitfish in Upper Cascade Lake.
Part of our Clean Water program at the Ausable River Association is to study the water quality, biology, and conduct aquatic invasive species surveys to detect changes and be able to respond in a timely matter. With your support, we hope to continue our clean water work including water quality monitoring to inform and engage the public and keep Ausable River waters pristine.
1 Laxson*, C.L., Yerger, E.C., Regalado, S.A., and D.L. Kelting. 2016. Adirondack Lake Assessment Program: 2015 Report. Paul Smith's College Adirondack Watershed Institute. Report No. PSCAWI 2016-04. 181p.
2  Langen, T.A., Twiss, M., Young, T., Janoyan, K., Stager, C., Osso, J., Prutzman, H., Green,B., 2006. Environmental impacts of Winter Road Management at the Cascade Lakes and Chapel Pond. Clarkson Center For The Environment Report #1.  
---
 Story by Leanna Thalmann, Water Quality Associate.
Sign-up for our e-newsletter to get weekly updates on the latest stories from the Ausable River Association.