The West Branch Ausable River is one of the premier fly fishing destinations on the east coast. The river is a must-visit location for anglers looking for pristine fly-fishing experiences. On opening day for fishing in the Adirondacks, you can find novice and expert anglers alike walking the scenic shoreline and wading the pristine waters of the Ausable as they eagerly seek their first trout of the season. To get you ready for your next fly fishing adventure, here are our picks for the best flies for the Ausable River.
Ausable Wulff
The Ausable Wulff is perhaps the best-known fly for the Ausable. This pattern was developed by Francis (Fran) Betters, the legendary fly tyer, angler, and instructor who put the West Branch Ausable on the map as a premier fishing destination. This dry fly, adapted from a pattern by master fly fishing instructors Joan and Lee Wulff, is an Adirondack classic. It's used to imitate a variety of mayflies and several other insects. The Ausable Wulff can be used in contrast with another Betters' pattern, the Ausable Haystack. They both imitate differing insect flight stages: recently hatched and drying off for the Haystack, and about to take flight for the Wulff.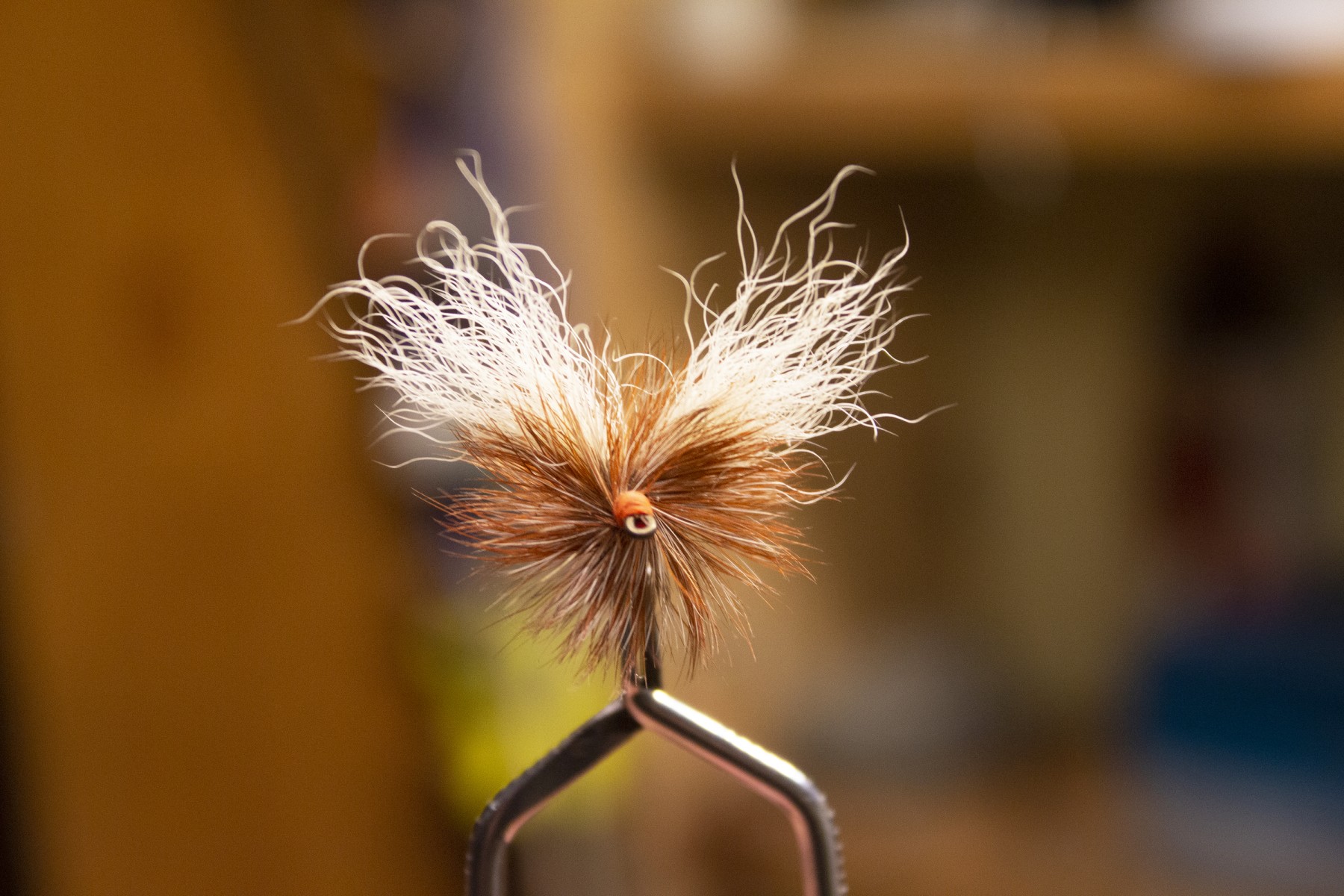 The Ausable Wulff has an iconic dun pattern, which means it looks like an insect about to take flight.
Ausable Ugly
The Ausable Ugly is a quintessential local wet fly (subsurface) pattern developed by a long-time fly fishing guide, Richard Garfield. Dry flies tend to be visually appealing, and are often easier to fish, but wet flies are usually more effective. The Ausable Ugly is the case-in-point, as it's one of the most effective trout-catching patterns of all time. It's used as a representative of many different nymphs, and the larger patterns mimic small baitfish. This makes the Ausable Ugly an incredibly versatile fly year-round, and you don't need to look far for the proof.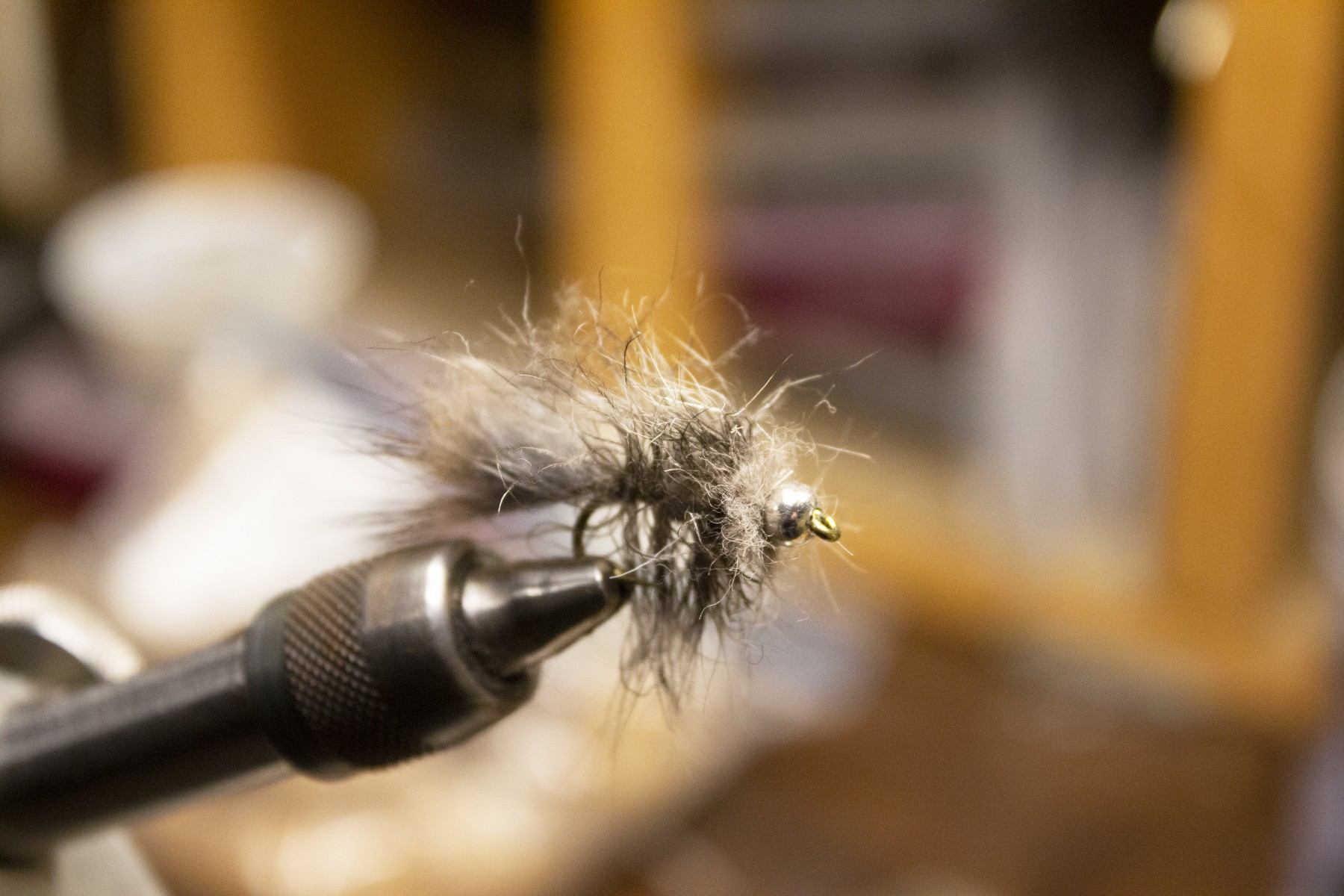 The Ausable Ugly is a fish catching pattern representing many forms of aquatic life when fished in differing presentation methods.
Ausable Usual
Many anglers claim that the Ausable Usual is the most versatile fly for the West Branch. Another fly developed by Fran Betters, the Ausable Usual is an especially buoyant dry fly that excels at mimicking a high-floating bug, hatching fly, or fly that's sitting atop the surface. Trout prefer an easier meal, and a food source sitting on the water to dry off is an easy target. Like many of the other flies on this list, the Ausable Usual is tied from inexpensive materials. In this case, the material is snowshoe hare fur.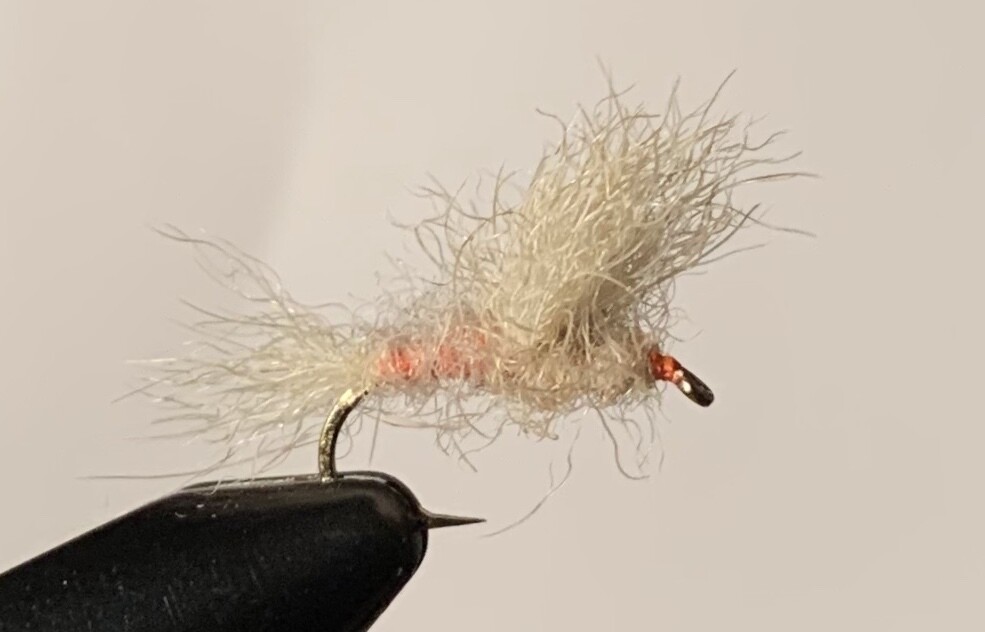 The Ausable Usual is about as versatile as flies come. Photo generously provided by the Hungry Trout Fly Shop.
---
Help us connect brook trout habitat by replacing or retrofitting undersized, collapsing, or deteriorated culverts. Give with confidence today!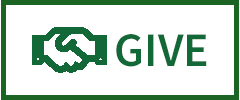 ---
Ausable Bomber
The Ausable Bomber is yet another pattern developed by Fran Betters. This fly excels as a topwater searching pattern and, due to its one vertical forward wing, works well for skittering. Skittering, also called skating, is when you cast the fly out onto the water and let it land quietly on the surface. Then, you strip in the fly both quickly and slowly while shaking the tip of your rod at the same time. This technique mimics the kicking and fluttering of a fly making its way across the surface of the water.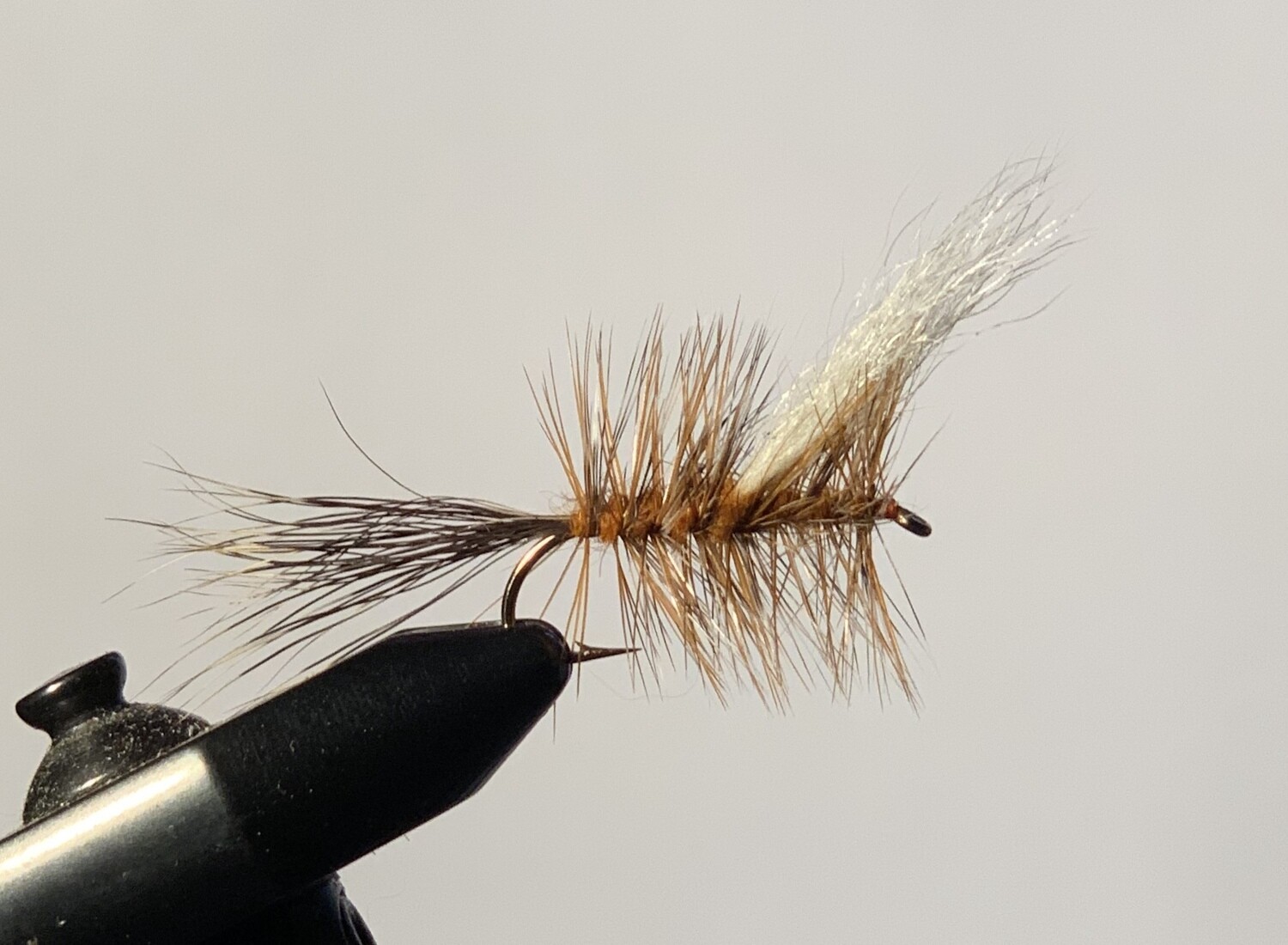 The Ausable Bomber was originally used to catch salmon, but it's equally effective for trout. Photo generously provided by the Hungry Trout Fly Shop.
Ausable Caddis
The Ausable Caddis is designed to imitate one of the most plentiful Adirondack insect species: the caddisfly. There are a variety of Caddis patterns due to the thousands of species of these insects in North America. The Ausable Caddis, again designed by Fran Betters, is unique in that it is technically a dry fly but also acts as a wet fly by adding material to the center of the fly. This is helpful because it mimics various stages of the caddisfly lifecycle, from recently hatched underwater and floating upward, to dry and ready to take off from the surface.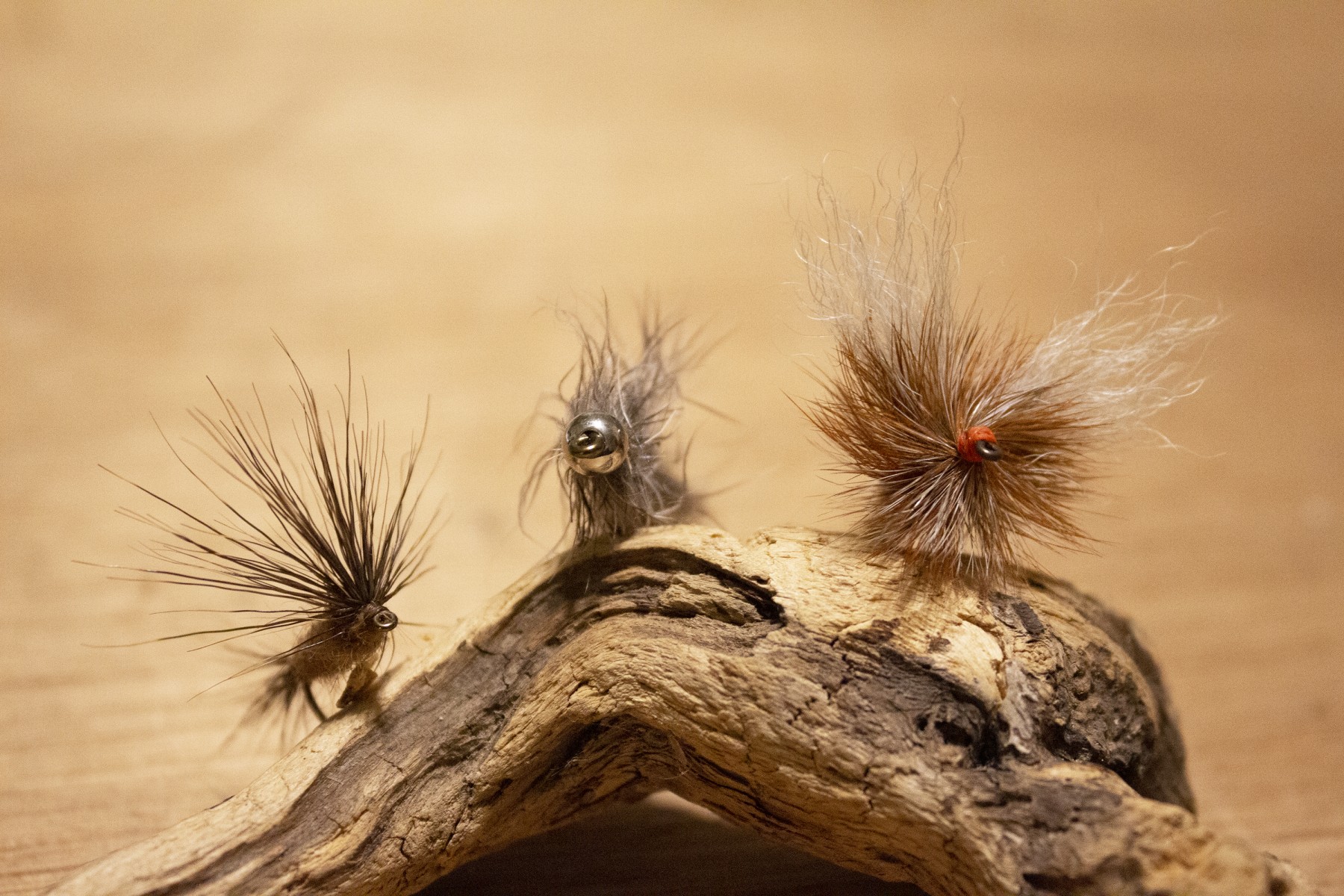 The purpose of fly tying may be to catch fish, but it's also an art form in itself.
Stonefly Nymph (Girdle Bug)
As mentioned above, wet flies are usually more effective, mainly because trout do the majority of their feeding under water. Nymphs, or pupa, spend most of their time submerged near or under rocks. Wet flies have a softer hackle, heavier hooks, and materials that sink. Stonefly nymphs are a favored food item for trout, and there are few nymph flies that work as well as the Girdle Bug. For this fly, and the others on this list, be sure to use a West Branch Ausable River hatch chart to maximize seasonal effectiveness.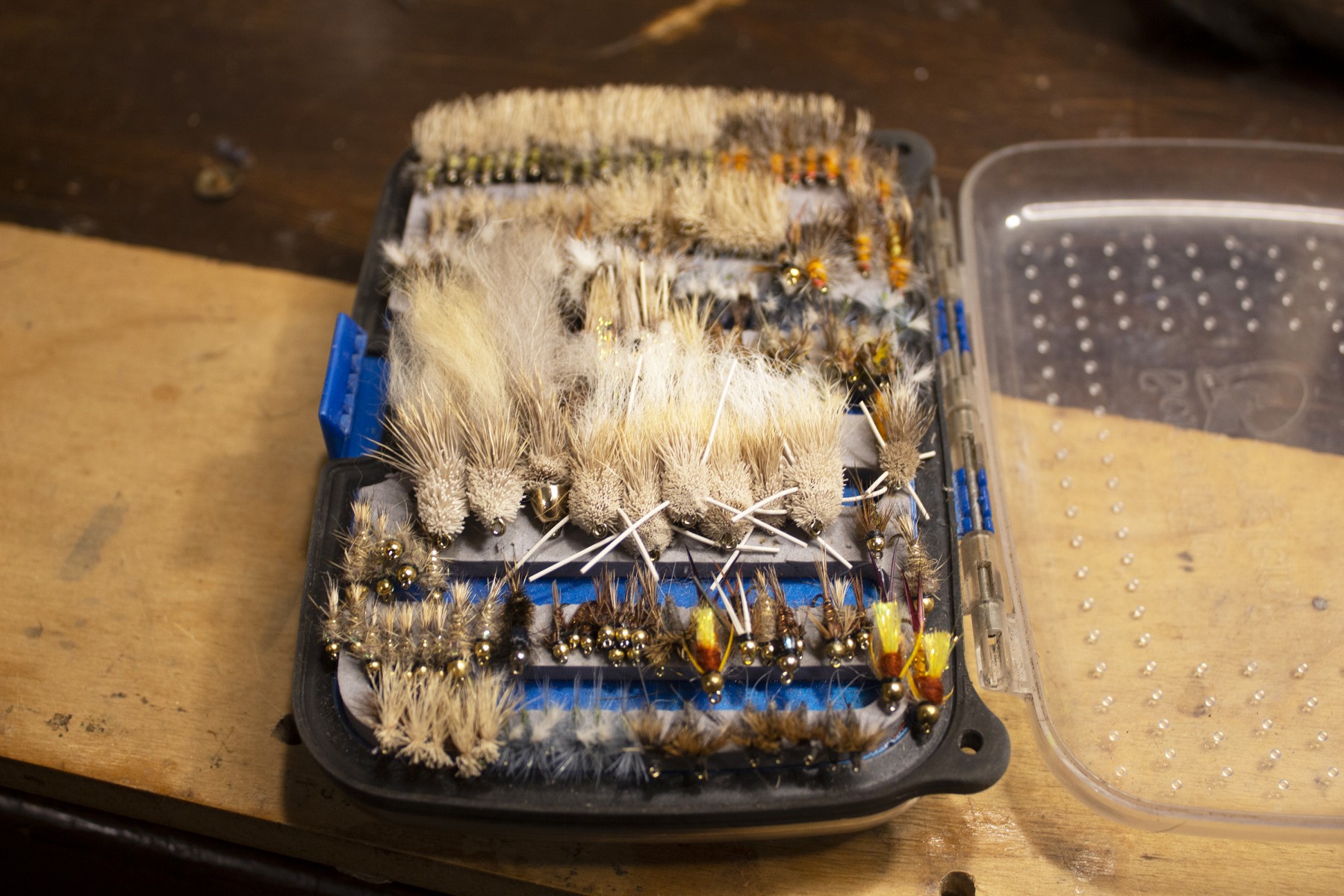 What's in your fly box?
Responsible Angling
Now that you know the best flies to use on the Ausable River, make sure you fish as responsibly as possible. Make sure you purchase a New York State fishing license online or from a local retail shop. Stay up to date on New York statewide and special regulations for the West Branch Ausable River. Use wader wash stations to ensure you don't transport invasive species to and from water sources. During the hot summer months when water temperatures are warm, practice fishing methods that are safer for heat-stressed trout. Lastly, support brook trout conservation methods, such as water temperature monitoring, river and stream restoration for habitat connectivity, environmental DNA mapping, and riparian tree planting. See you on the river!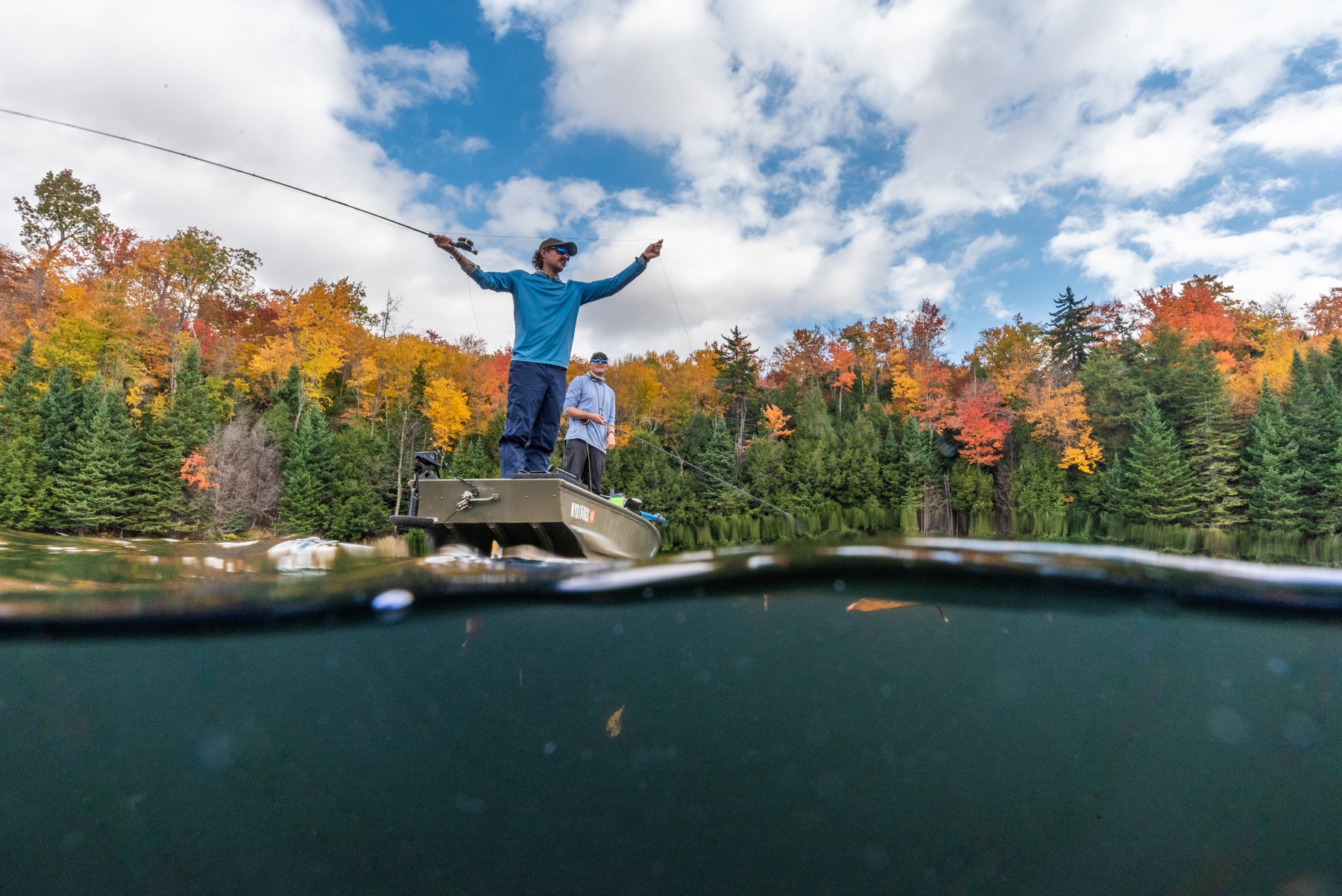 With cooler temperatures and brilliant foliage, autumn is one of the best times to fly fish in the Adirondacks. Photo generously provided by Brendan Wiltse.
A big thank you to the expert outfitters and guides who contributed to this article and support the Ausable River Association: Evan Bottcher of the Hungry Trout Fly Shop, Tom Conway of Ausable River Two Fly Shop, and Richard Garfield of Fly Fish the Adirondacks. To learn more or hire expert fly fishing guides, we recommend you reach out to any of these professionals.
---
Story written by Tyler Merriam, Donor Outreach Manager. Sign-up for our e-newsletter to get weekly updates on the latest stories from the Ausable River Association.