Open season for trout may have ended in New York on October 15 but catch and release stays open year-round on portions of the West Branch Ausable River. Even in the fall, anglers travel to fish the seven miles of river considered some of the best fishing in the eastern United States. Minimal crowds and easy access make this a great time of year to try fly fishing for the first time or hone your skills in an undisturbed environment. Earlier this fall we shared our picks for the best flies for the Ausable River. Now, let's take it a step further. Here are some tips for narrowing in on the best fly rod for the Ausable River.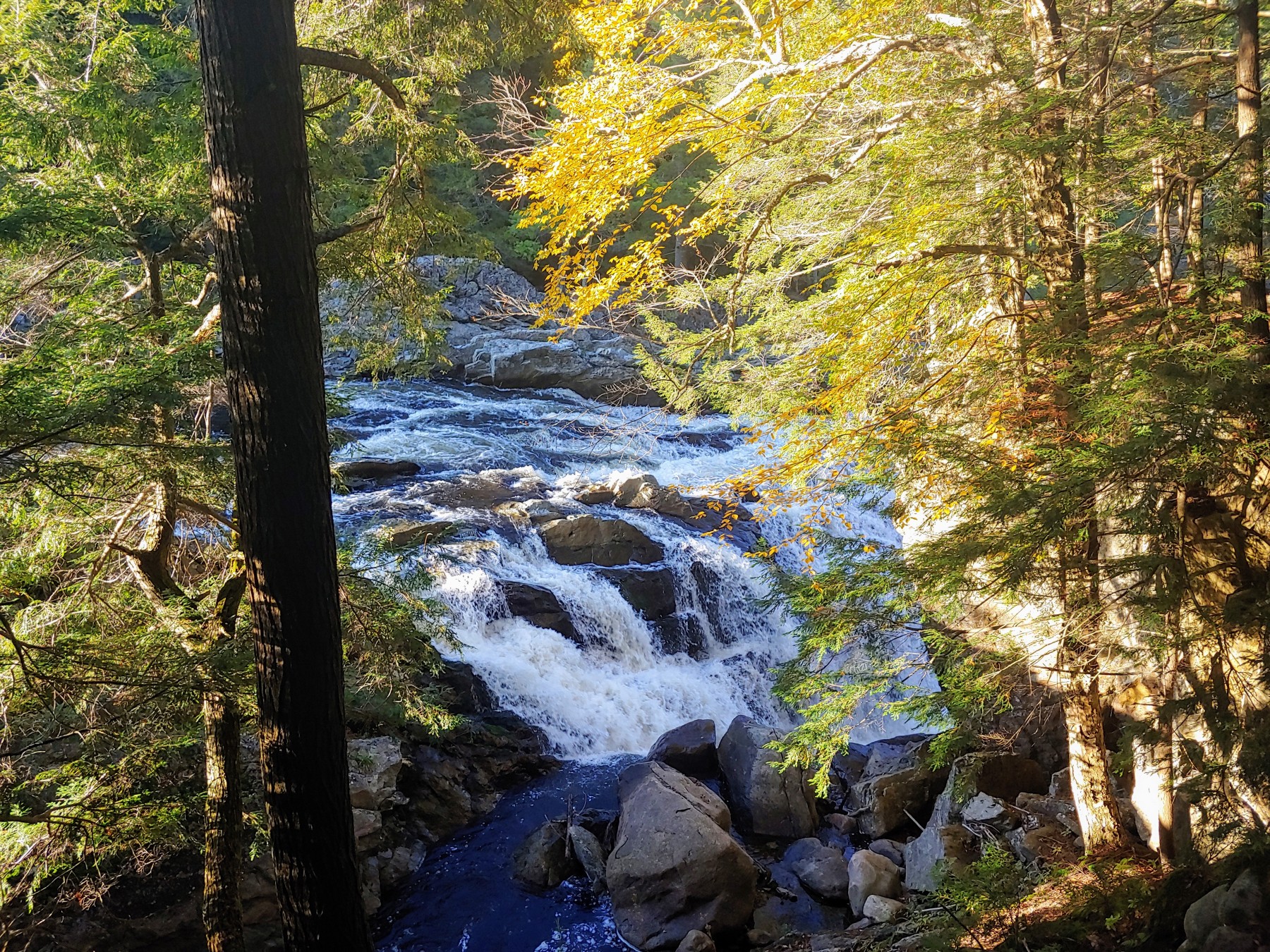 The Ausable River cascades from its 5,000 foot headwaters to Lake Champlain, a mere 100 feet above sea level. Photo generously provided by Phil Brown.
Fly Rod Basics
A fly rod has three main purposes: casting, controlling the line, and landing the fish. Different conditions require different methods of achieving these goals. Every fly rod performs differently in casting, line control, and landing the fish. Therefore, it's helpful to know what categories of weight, length, and action, the three main considerations when selecting a rod, will maximize your angling experience. Anglers typically fish for trout in the Ausable River, particularly brook trout, rainbow trout, and brown trout. Many would consider brook trout the prize species, as it is native to the Ausable. Brown trout, however, are generally considered more challenging to catch. Either way, anglers of all skills can aim for any of the three trout species with similar styles of fly rods.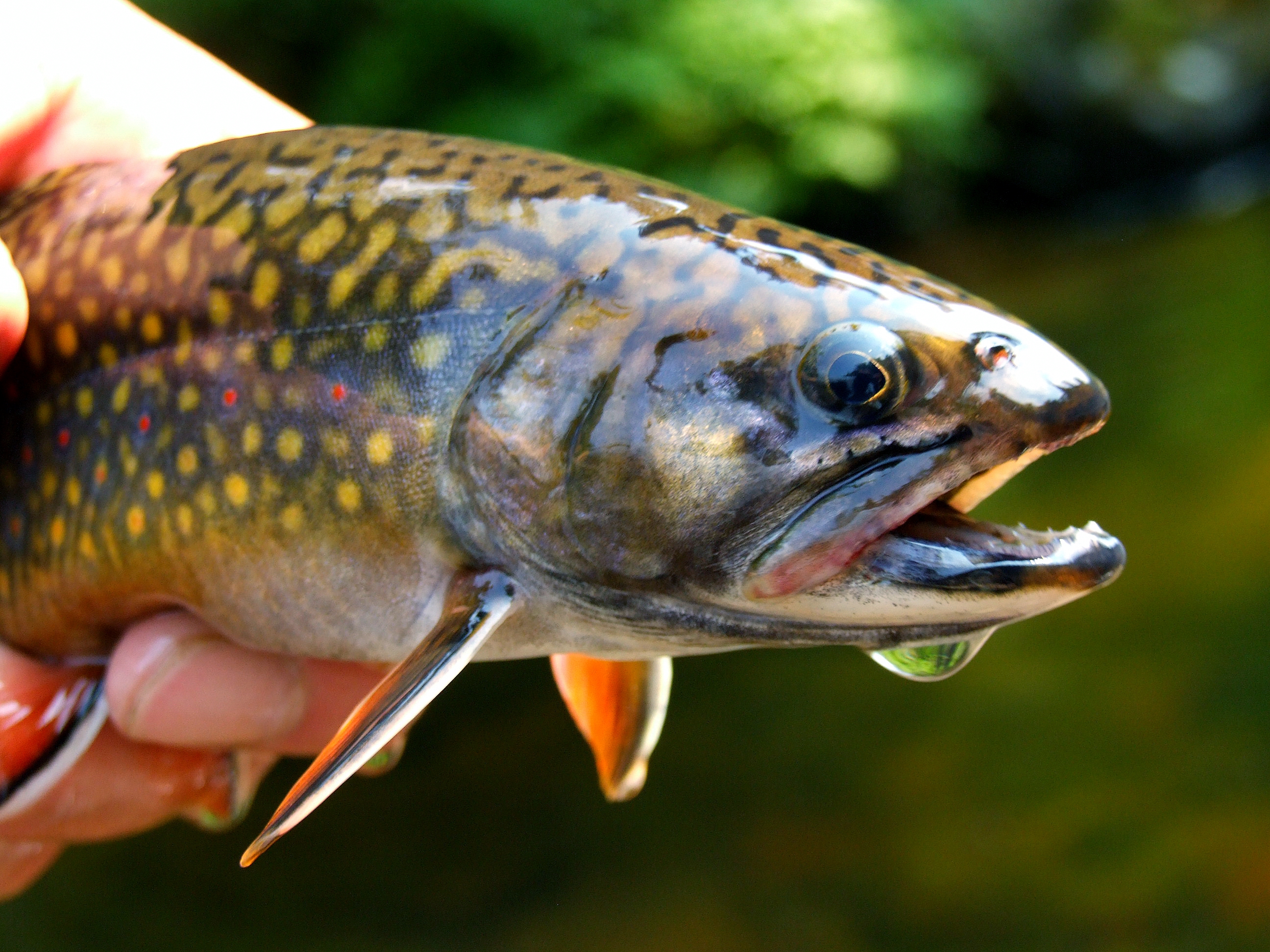 Brook Trout, the prized species of the Ausable. Photo generously provided by Richard Garfield. 
Rod Weight
Fly rod weight is measured in units called grains, which references the weight of the fly line being casted. A line weight of 1 to 3 is on the lightest side, and ideal for small fish in tiny streams. A line weight of 12-14 is on the heaviest side, and ideal for large fish in big water. The weight of the fly line actually casts the fly, so having the correct grain is important. A weight of 3 to 4 is the best for the Ausable River and its tributaries. If you're fishing for smaller brook trout in minute streams, use a slightly lower weight. If landing a big fish in that perfect West Branch pool is your goal, choose a slightly higher weight.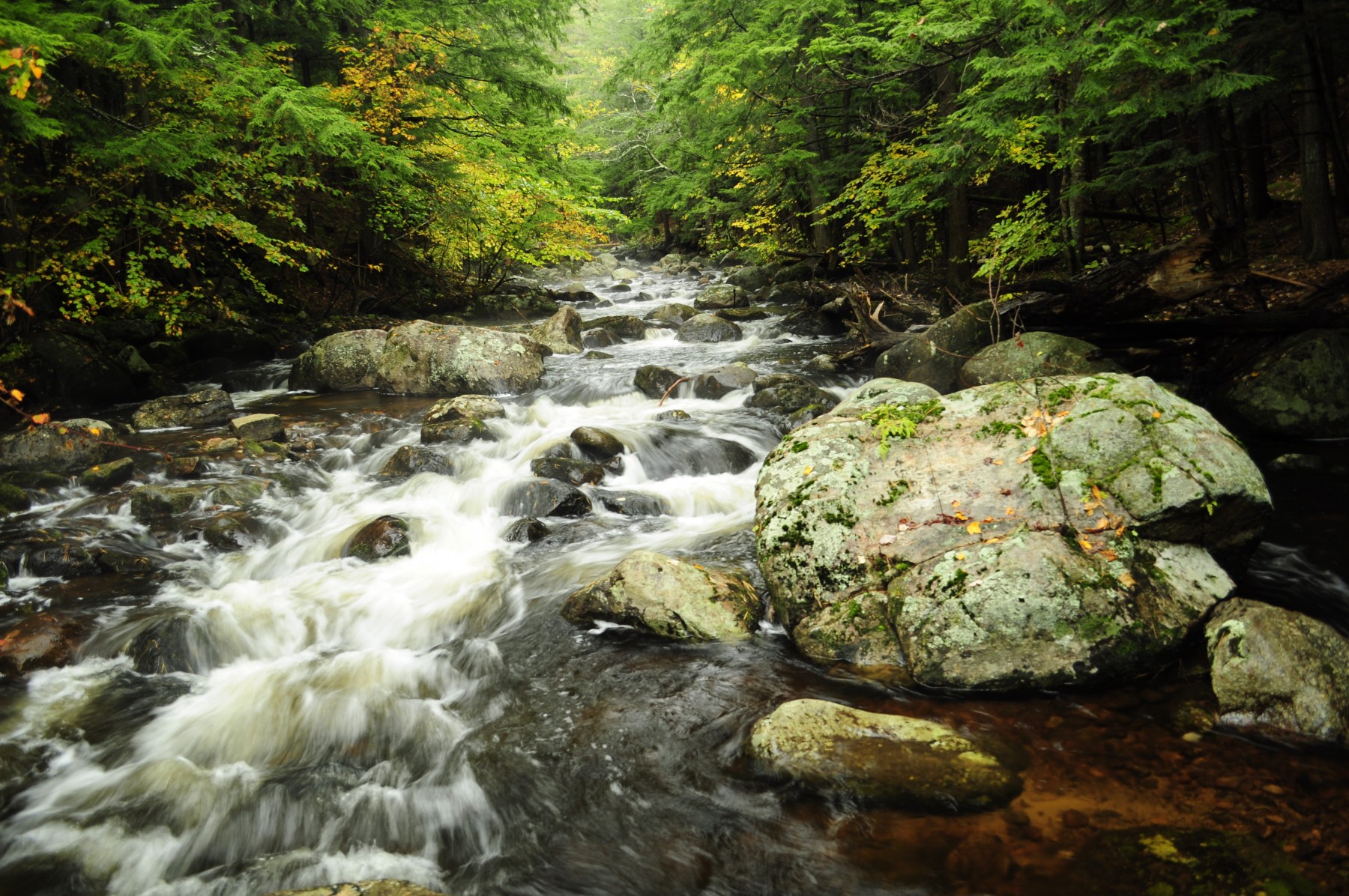 Brook trout need clean, cold water to thrive. Ausable tributaries provide thermal refuges during hot summer months. Photo generously provided by Richard Garfield.
Rod Length
Fly rod length is another consideration, and a fairly simple one at that. Lengths vary from 6 feet on the short end to 15 feet on the long end. Use a shorter rod to make smaller casts, fish for smaller fish, or when fishing on small streams and brooks. Use a longer rod to make farther casts, fish for larger fish, cast heavier lines, or when fishing in windy conditions. The longer the rod, the better the line control. Fly rods between 9 and 11 feet work well for the Ausable, but many consider a 10 foot rod is the best. 10 to 11 foot rods are also ideal for Czech nymphing, a popular fly fishing method of short, controlled casts that works well in the Ausable. Fly rods from 7.6 to 8 feet work best on small Ausable tributaries where brook trout thrive.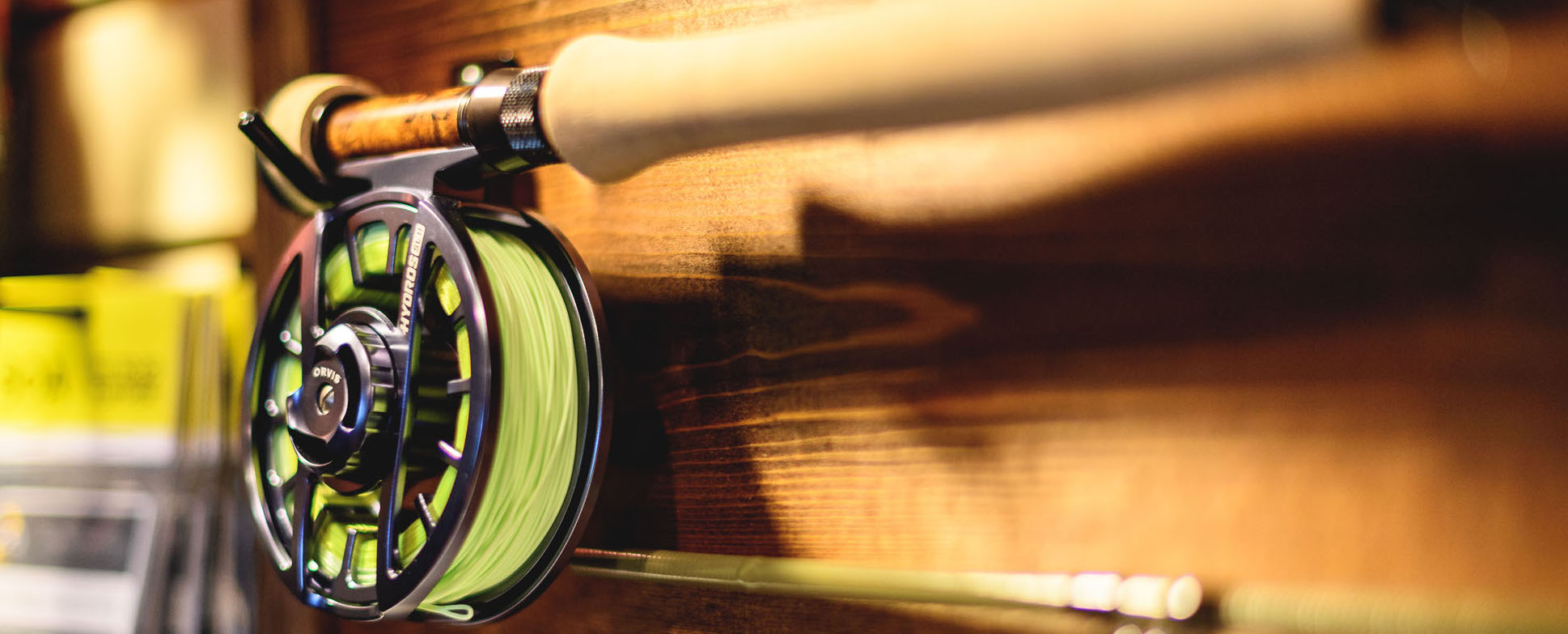 There are a lot of great, local stores to shop for fly fishing gear. See our list below. Photo generously provided by The Hungry Trout Fly Shop.
Rod Action
The last consideration is action. Action refers to how flexible a fly rod is. There are three basic types of fly rod action: fast action, moderate action, and slow action. Fast action rods are the stiffest, which gives the angler the most amount of power but also makes it difficult to cast. Moderate action rods are the most versatile, and often the best for someone who wants to invest in a single rod. Slow action rods are the most flexible and work well for beginners and anglers looking to fish small streams. A moderate action rod is suitable for the Ausable and its tributaries. It will give you close and accurate casts on the West Branch, and also perform satisfactorily in the small brooks that make up its headwaters.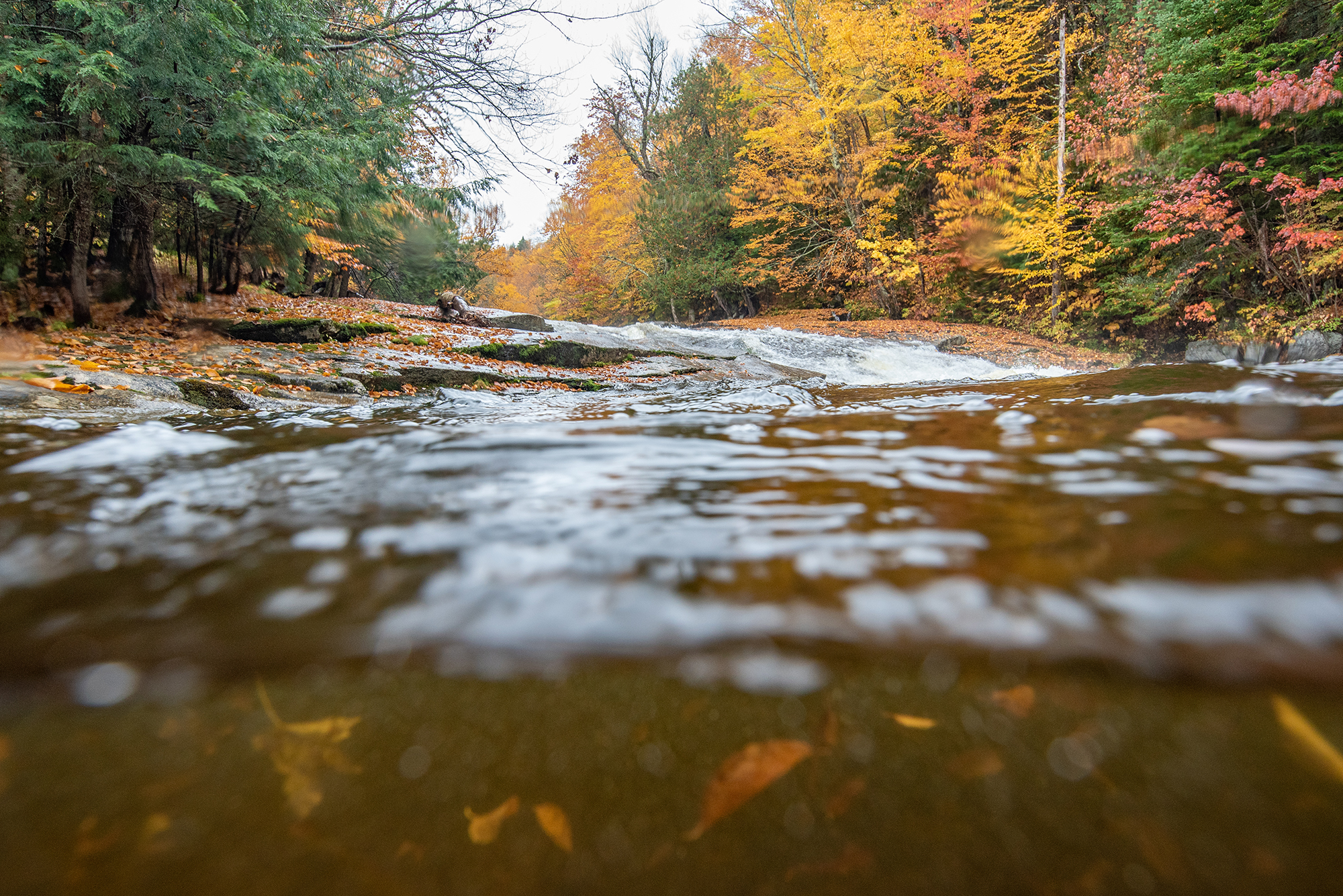 Where is your next catch hiding? Photo of John's Brook and top photo generously provided by Brendan Wiltse.
There are a variety of other considerations when selecting a fly rod, such as brand, material, and cost. We'll leave it up to the experts to explain these differences. Reach out to one of our supporting business partners and guides to learn more about the perfect fly rod for your next Ausable River fly fishing adventure: Fly Fish the Adirondacks, Ausable River Two Fly Shop, The Hungry Trout Fly Shop, High Peaks Cyclery, and Wiley's Flies.
Responsible Angling
Now that you know the best fly rod for the Ausable River, make sure you fish as responsibly as possible. Make sure you purchase a New York State fishing license online or from a local retail shop. Stay up to date on New York statewide and special regulations for the West Branch Ausable River. Use wader wash stations to ensure you don't transport invasive species to and from water sources. During the hot summer months when water temperatures are warm, practice fishing methods that are safer for heat-stressed trout. Lastly, support brook trout conservation methods, such as water temperature monitoring, river and stream restoration for habitat connectivity, environmental DNA mapping, and riparian tree planting. See you on the river!
---
Story written by Tyler Merriam, Donor Outreach Manager. Sign-up for our e-newsletter to get weekly updates on the latest stories from the Ausable River Association.