Get out and explore the watershed! There's so much to see and do along the Ausable River corridor. If you and your housemates are feeling cabin fever or just want a change of scenery, pack a lunch and a thermos of hot cocoa and take a ride along the river. One adventure may take you to Monument Falls and the West Branch Ausable River, another to the Ausable Marsh and the shores of Lake Champlain. Today, we're exploring the waterfalls and mountains in Keene Valley.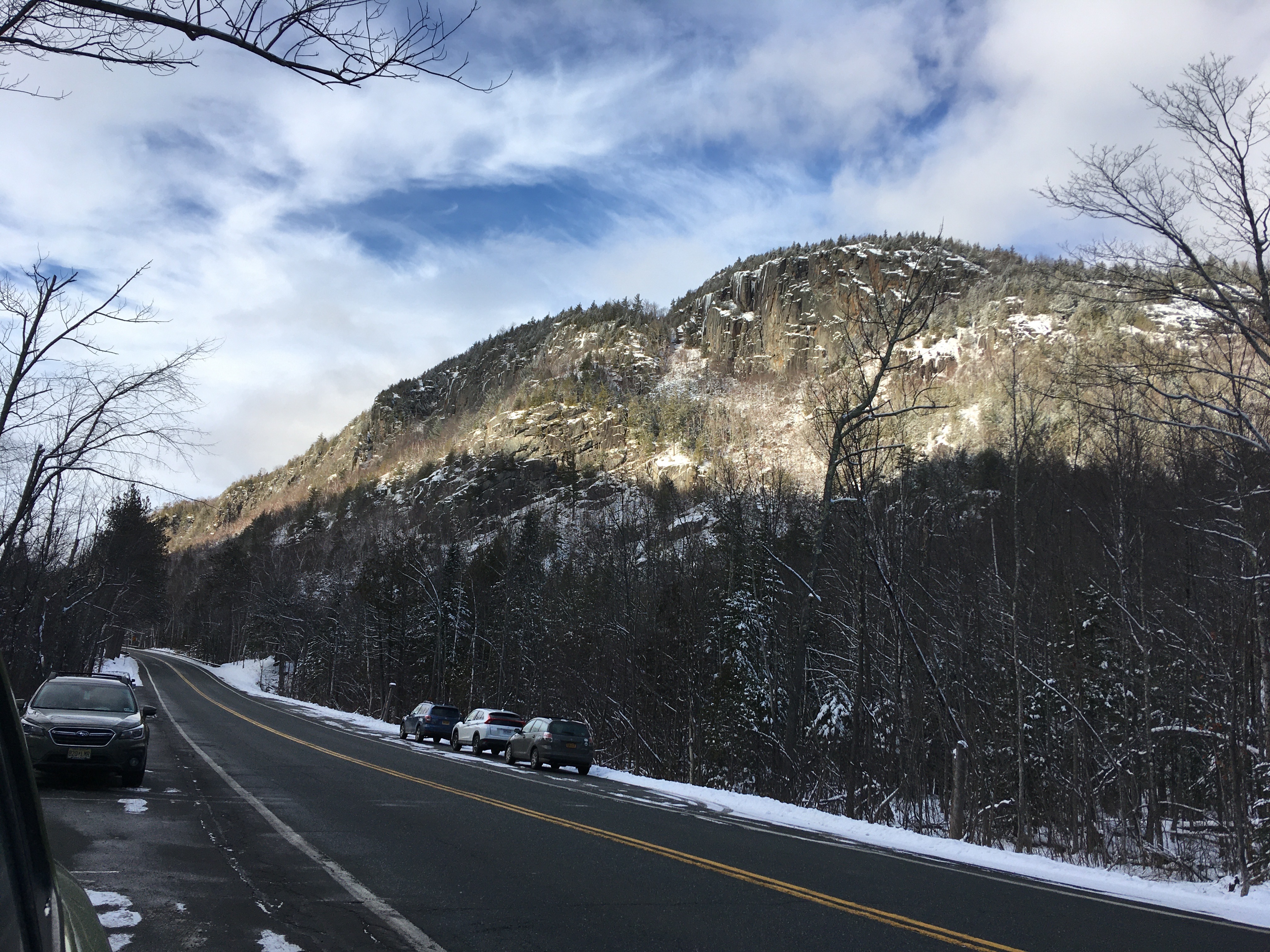 On our drive from the offices in Wilmington, it is clear that winter still has a firm grip on the watershed. Much of the East Branch Ausable River is completely covered in ice and snow. Here and there small windy patches of open water emerge, only to disappear 15 yards downstream.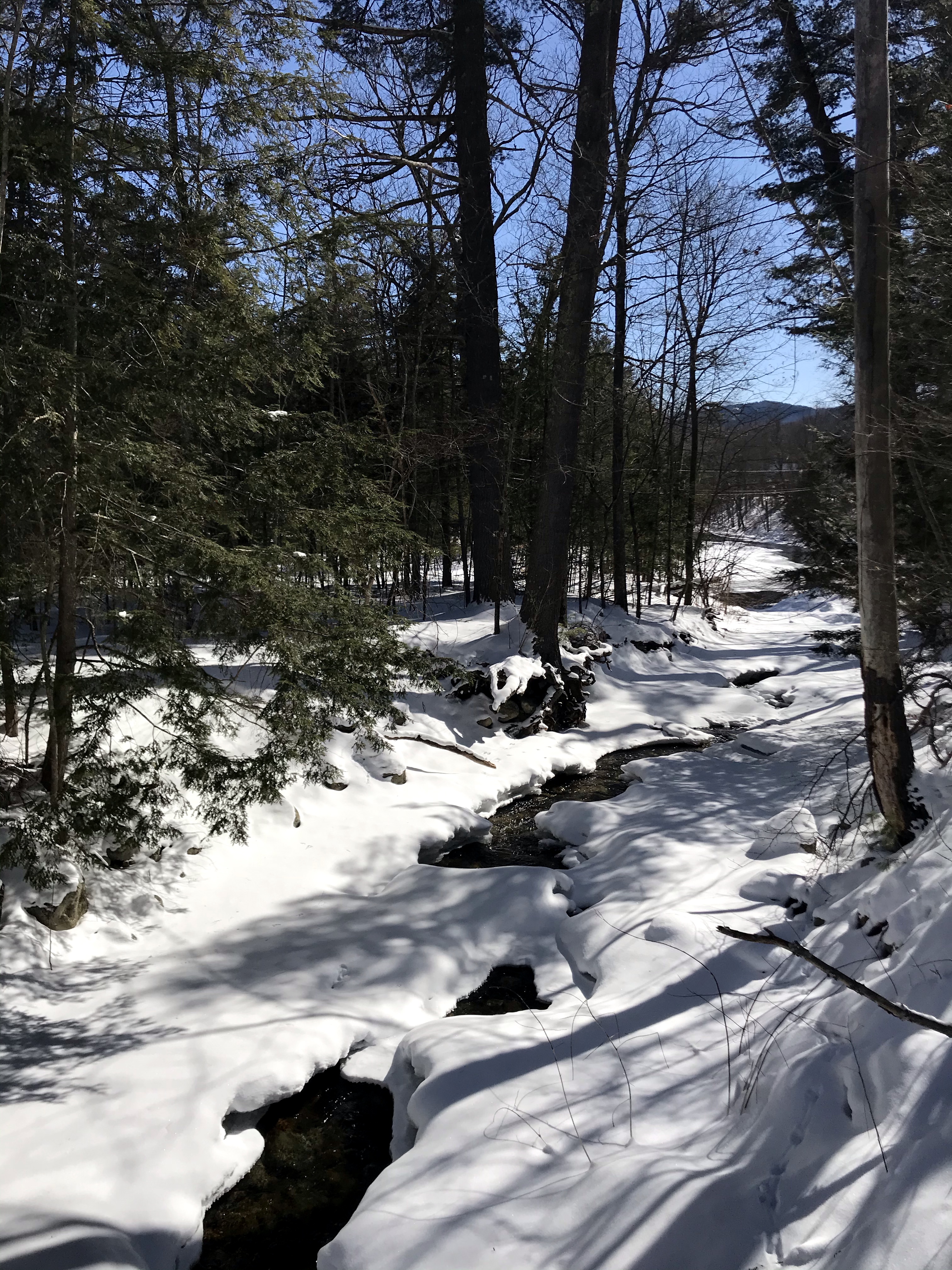 Between Wilmington and Keene, there are plenty of spots to pull off the road to stretch your legs and take in the scenery. Blue skies make the snow-covered evergreens pop more than usual today.
We stop to inspect a number of stream crossings, to look at the snow cover, or see if the recent warm spell has melted things out yet. Some streams are open, and others still have full blankets of insulating snowpack.
We think about how fish survive under all that ice and snow, and see evidence of wildlife above the snowpack. Many critters have been traveling on the blanketed waterways – closer inspection with binoculars reveal tracks from snowshoe hares, mink, deer, and ravens.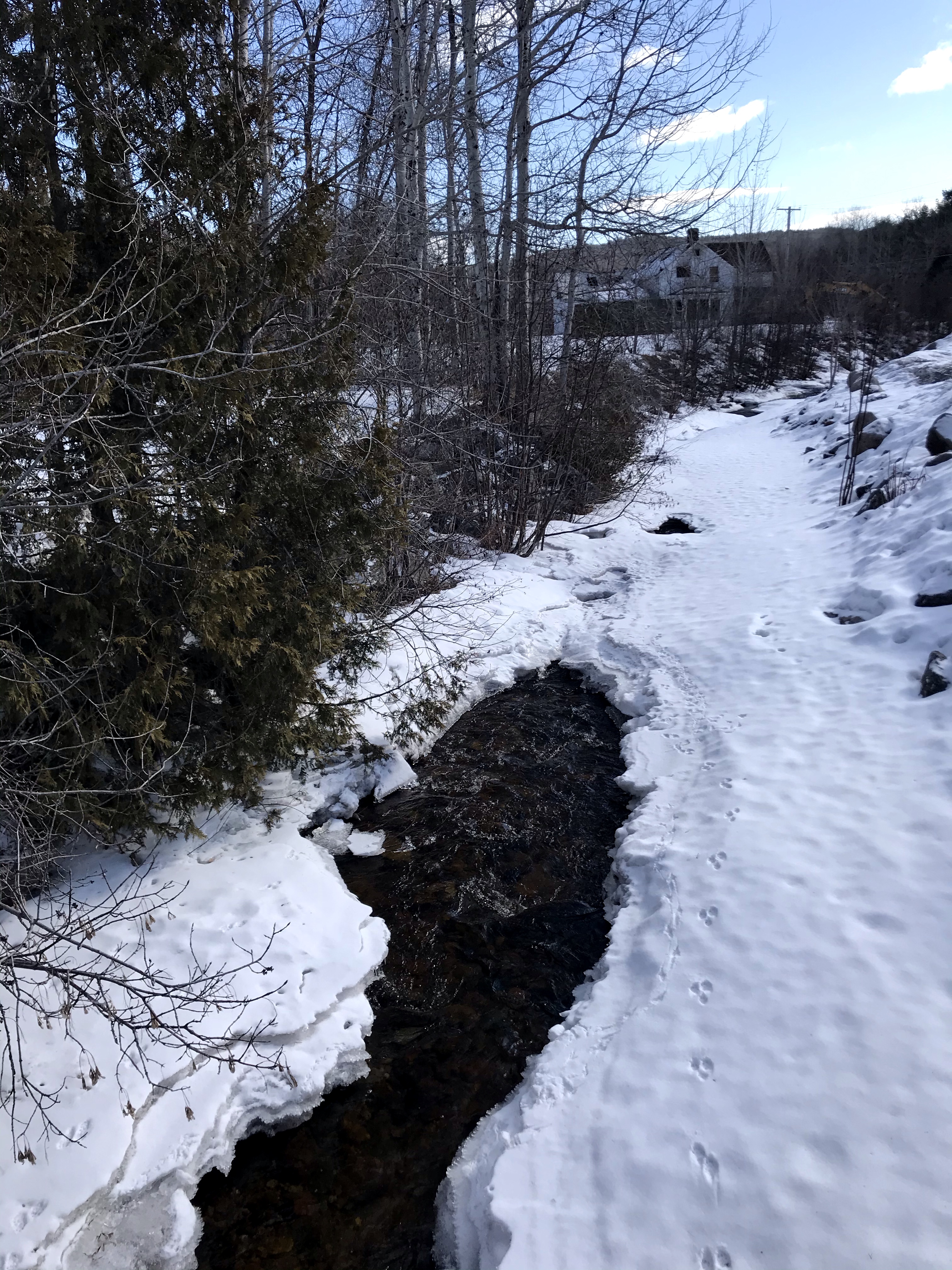 Between Keene and Keene Valley, at Marcy Field, we witness a snow squall kicked up by a landing helicopter. While part of the field is home to the Keene Valley Farmers Market in summer, the field still serves as an active airstrip and helicopter landing zone.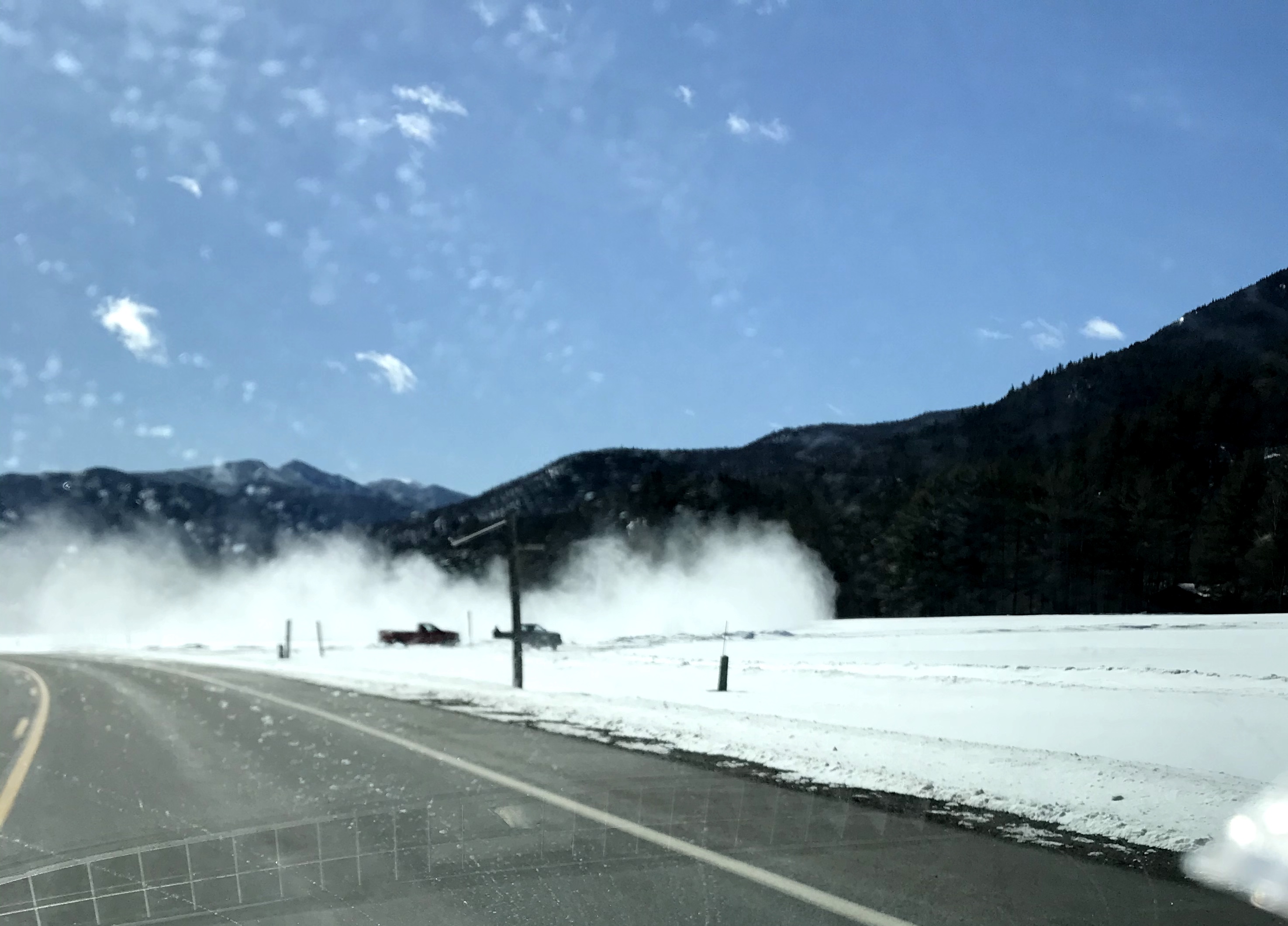 Park carefully, and only in designated pull-offs along Route 73. There are plenty of opportunities for winter hiking, cross-country skiing, and even ice skating. We travel all the way to the Round Pond parking area and then turn back. At a quick stop to stretch and admire the ice climbers beyond Chapel Pond, the blustery winds send us back to the car and a cup of tea.
---
 Support our work to promote responsible, low-impact recreational opportunities protective of Ausable waterways and adjacent lands. Give with confidence today!
---
Finally, we settle on a short hike to one of the Ausable watershed's many waterfalls. From the Giant Mountain DEC parking pull-off on Route 73, you can access Roaring Brook Falls in one of two ways. We choose to take the short and relatively level trail to the base of the falls, but the top of the waterfall is accessible from the Giant Washbowl trail. For those unable to hike, this happens to be one of the largest waterfalls in New York State that is visible by car. There is a small pull-off along Route 73 with an overlook.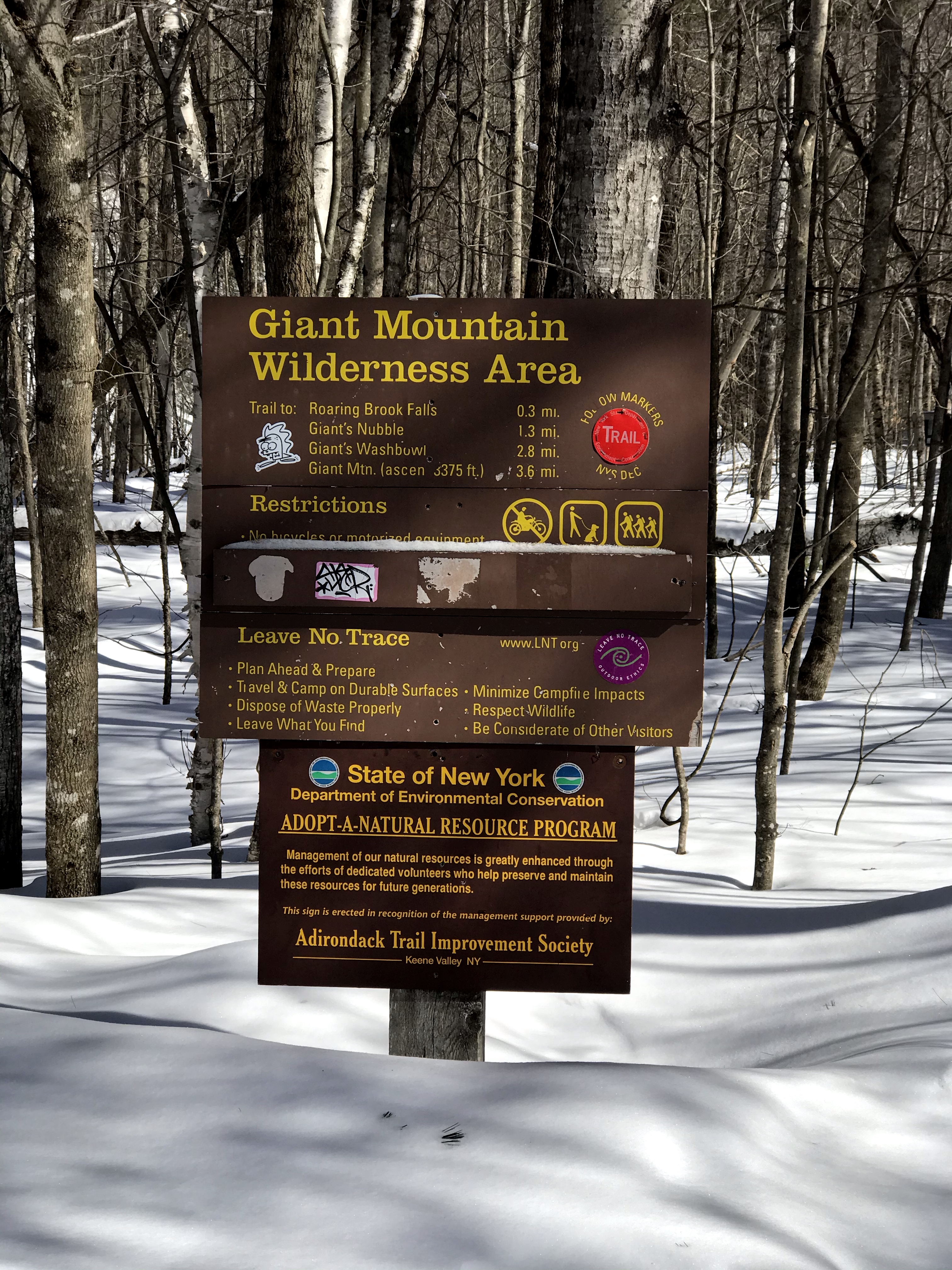 From the parking area, a quick inspection shows that the trail is frozen and icy, therefore no snowshoes were needed. We opt to use microspikes instead of snowshoes.  No post-holing today! It's important to always be prepared to wear snowshoes, skis, or traction devices on your boots while hiking in winter. Remember that snowshoes or skis are required for winter hiking in the High Peaks Wilderness Area.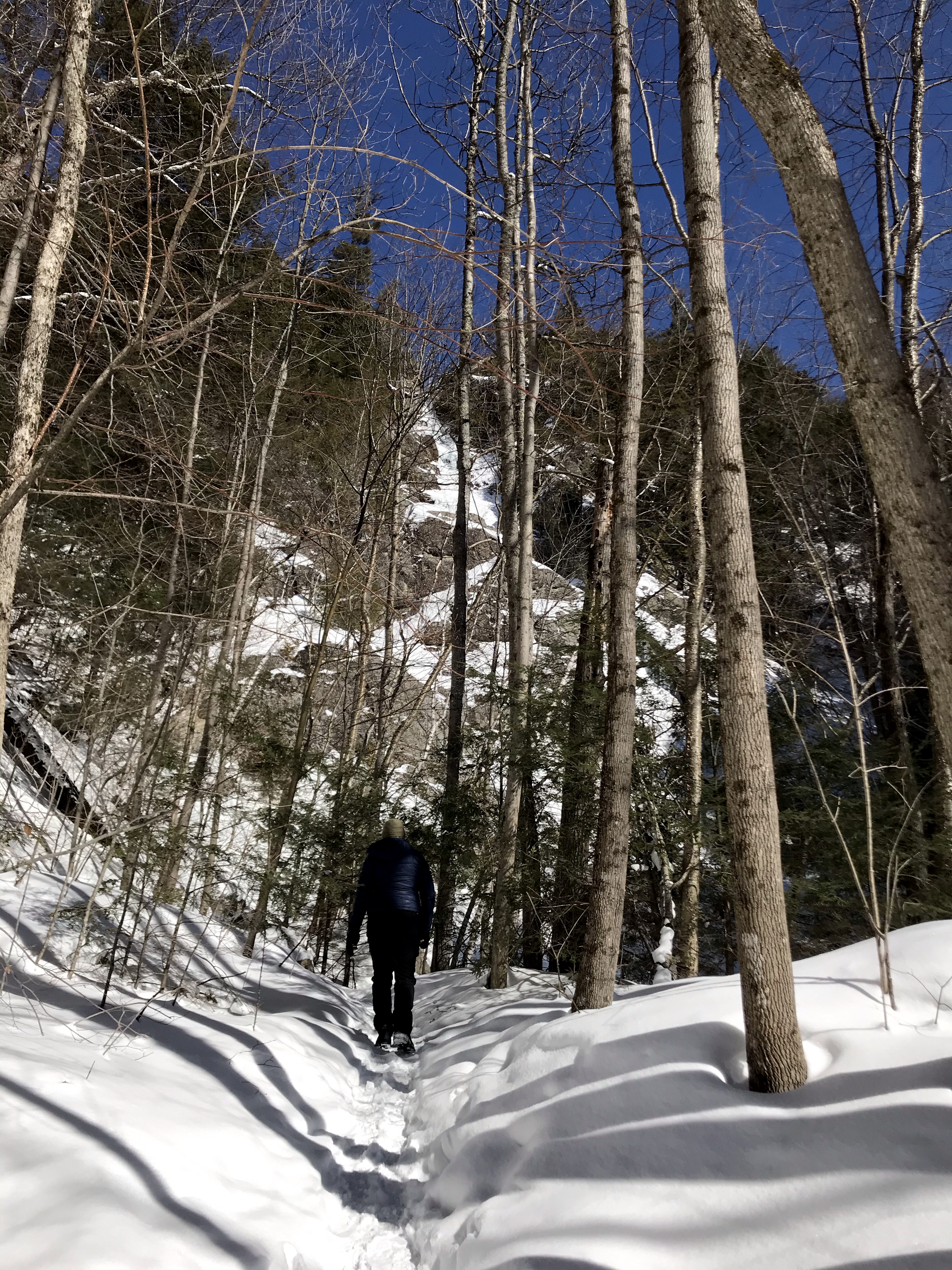 The trail is short and sweet, about three-tenths of a mile one way. We walk through a grove of tall and straight hardwood trees, including white ash, aspen, and red maple. The long trunks have no understory branches, so we imagine this is a dark, quiet forest under the canopy of summer greenery.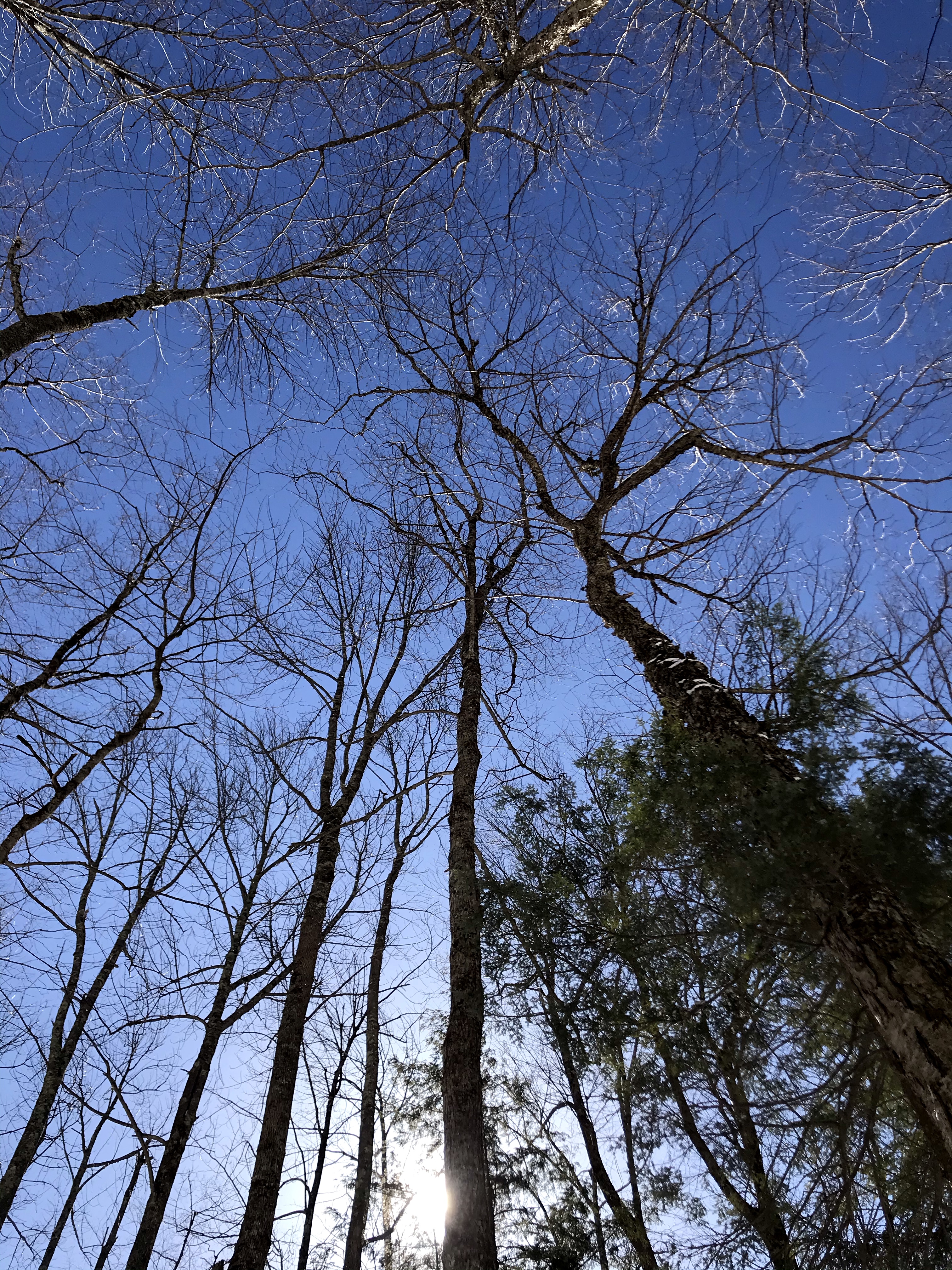 About halfway to the waterfall, we come upon a tree with a very large burl and stop to inspect the unusual manner of growth that the tree took on, with swirling grain and different colored wood. Burls usually occur due to some form of stress, when the tree is trying to protect itself from mold or fungus, an insect infestation, or viral infection.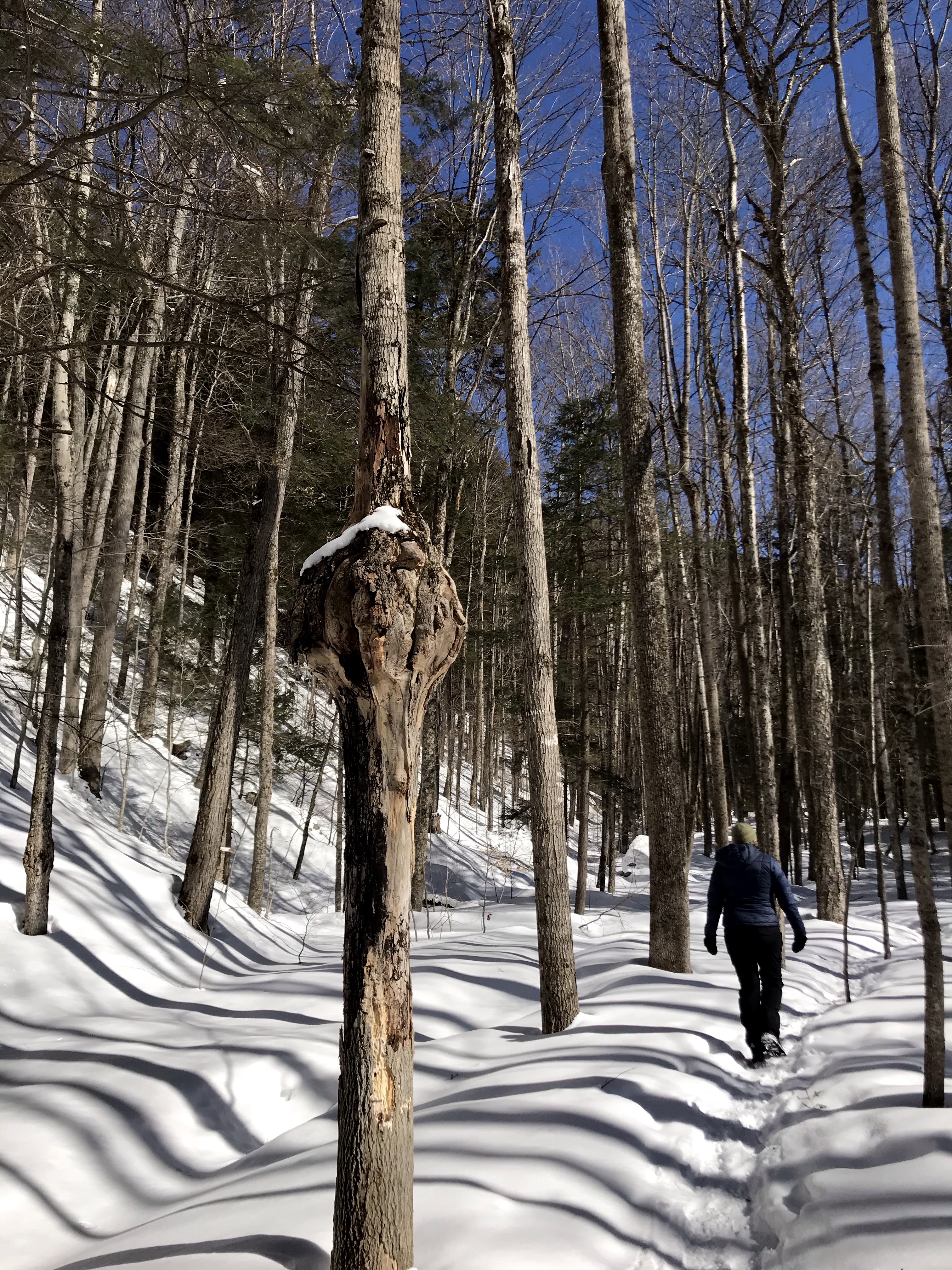 We see that the stream is completely frozen over and assume the waterfall might be the same. Once we reach the stream crossing, we cross an ice bridge to get to the other side. Indeed, the waterfall is frozen today, and in place of roaring water, we are graced with a cascade of icicles, with water frozen in time. Three hundred feet of frozen waterfall, in fact. It's a wonder to gaze up at the sheer rock face that this water normally tumbles or rushes down.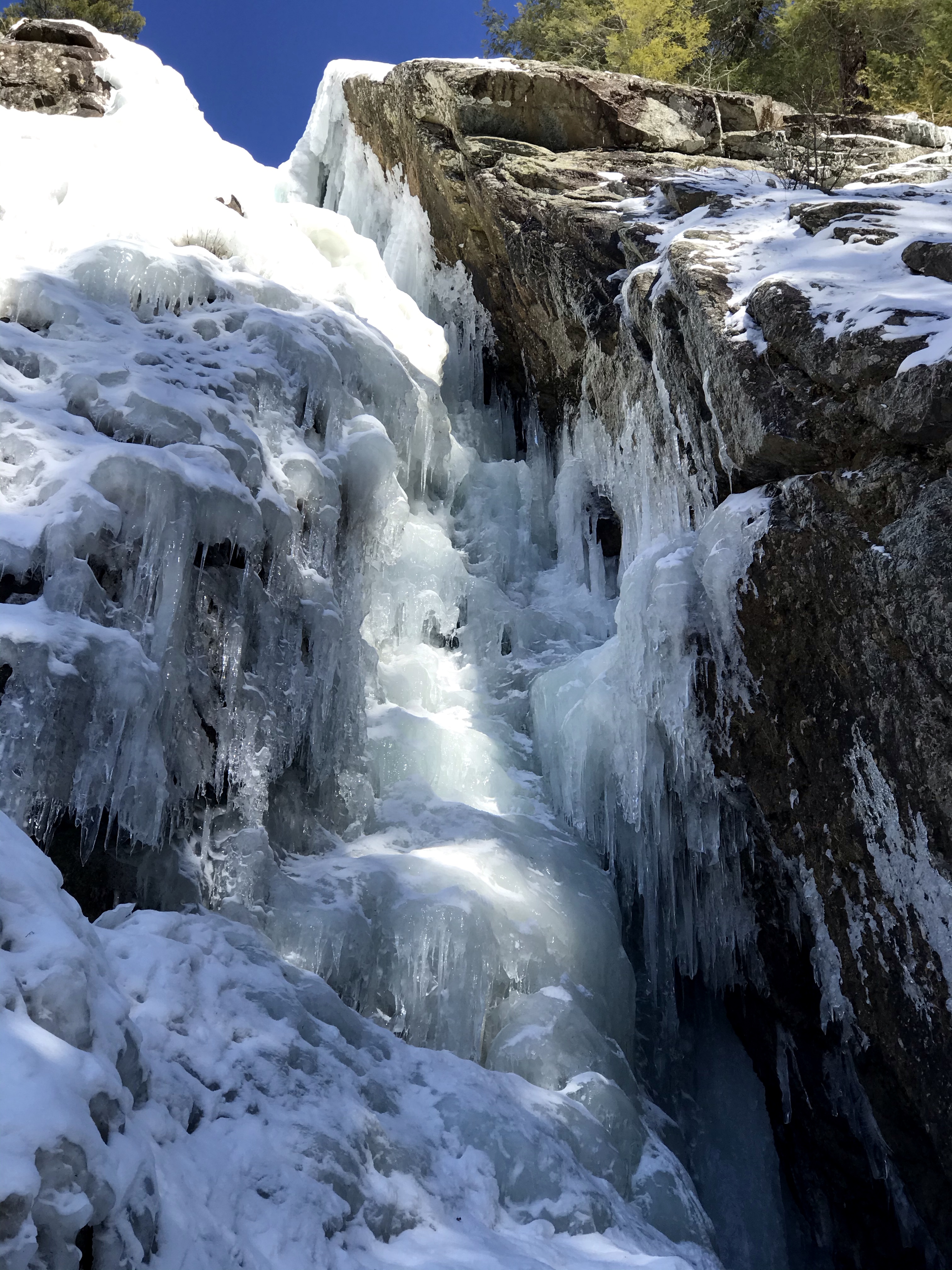 After scrambling around on the ice to get good photos a bit longer, we take a cocoa break and continue to ponder and enjoy this suspended animation.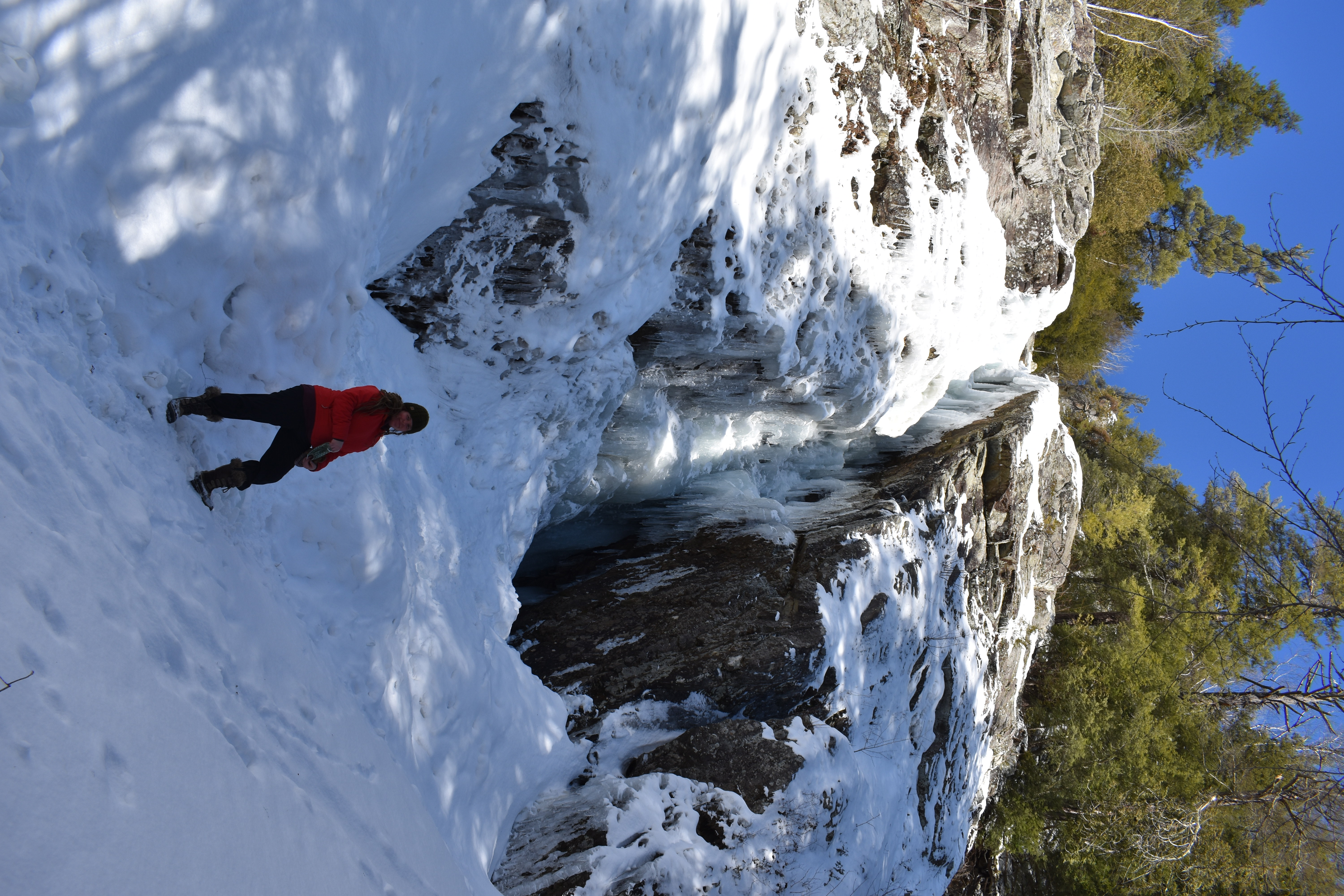 The Ausable River watershed abounds with recreational opportunities. Visit our website for more information and read past blogs about other adventures that can be found here.
---
Story written by Carrianne Pershyn, Biodiversity Research Manager. Sign-up for our e-newsletter to get weekly updates on the latest stories from the Ausable River Association.