Growing up as the eldest son of two anglers, I have had a fishing rod in my hand ever since I started learning to hold things. When I first learned that I would be this summer's Ausable River Association (AsRA) River Steward, I began to research the fishing opportunities along the Ausable River. Lo and behold, I quickly found out that the West Branch was one of the best freshwater flyfishing rivers in the world. Only one problem; I didn't know how to flyfish, and most of my fishing knowledge revolved around saltwater. But, with the same fish-crazy motivation that drives every early-morning and late-night fisherman, I grabbed a cheap fly rod from a big box store, a few random flies (showcasing my inexperience in this arena of fishing) and took them with me from my home state of Maine to my new summer home in the Adirondacks. This is my story as a young fisherman learning to fly fish in the Ausable River.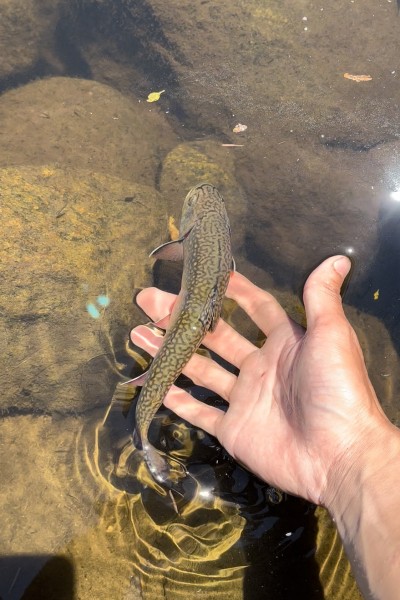 Releasing a brook trout I caught in the East Branch
My journey begins on a day off work in late May at the Whiteface fishing access point. I parked at the far corner of the gravel parking lot near the "Anglers Park Here" sign. After watching countless YouTube videos of how to flyfish beforehand, I stepped out of my vehicle thinking "this is gonna be an absolute breeze. Fly in water, fish bites fly, set the hook, easy-peasy." My troubles began about 4 steps down the dirt trail. My 9-foot fly rod got caught in an overhanging oak branch. I was used to walking with shorter spinning rods. No matter, it was an easy untangle and down the trail I went, holding my rod parallel to the ground. When I finally got down to the water, I tied my (gigantic, as I later learned) size 6 black wooly-bugger onto the end of my tippet, which was attached to my leader, which was attached to my fly line just as the internet had taught me. I brought the rod back to cast just as I had seen in the videos, and the West Branch immediately humbled me. Cast after cast, my flies got stuck in tree branches and the 5X tippet snapped, the wind blew my line backwards, or the line magically tangled itself. After an hour (and almost my entire box of flies retrieved in a useless state) I trudged back up the trail to my car, fishless and discouraged.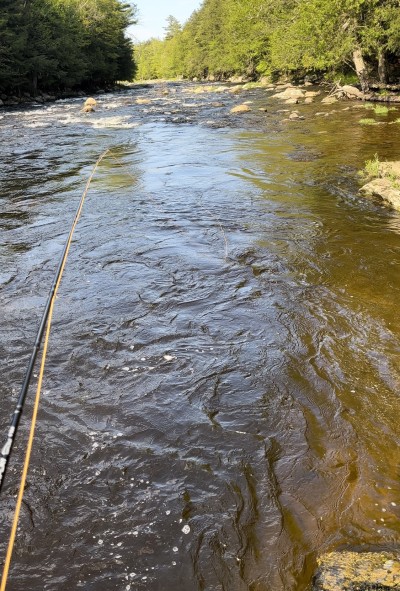 Attempting to flyfish on the West Branch, near Whiteface.
Over the next couple of weeks, the memory of that humbling experience pushed the fly rod to the very back of my closet. While fulfilling my river steward duties such as re-filling wader wash stations and surveying anglers, I would take my spinner rod to one of the fishing access points along the West Branch after each shift to try my luck. Each time, I'd catch nothing and move on with my day.
In late June, however, my luck began to turn. During a phone conversation with my father, I told him all about my trials and tribulations trying to catch a fish in the West Branch. Being a freezer-filling breed of fisherman, he asked me why I wanted to fish the West Branch anyways, since I couldn't keep any of the fish or use the tried-and-true method of worms and split-shot. I didn't have an answer for him, so the next day I took my spinning rod and a yogurt container full of garden worms to a deeper spot on the mostly shallow East Branch near my home. Not ten seconds into my first cast, my adrenaline spiked. My worm, weighed down with two tin split-shots was slammed by a powerful 13-inch brown trout. My hands were shaking as I set the hook and began to reel. My drag was set low for brook trout and the fish took line faster than I could recall it. Fearing my line would get wrapped around a boulder or stick, I tightened the drag down and reeled. Landing what would later that night become nice fish dinner, I quickly threw on another worm and casted again. Another hard strike on my garden worm brought me another large brown trout in my bucket. Satisfied with my haul and excited to tell my girlfriend (who had at this point heard several dozen complaints from me about the fishing not going my way), I rushed back to my car and drove home. I caught a few more brook trout and brown trout in this same fashion over the next couple of months and although it felt good to be catching fish, my goal of catching (and releasing) a big trout on a fly eluded me still.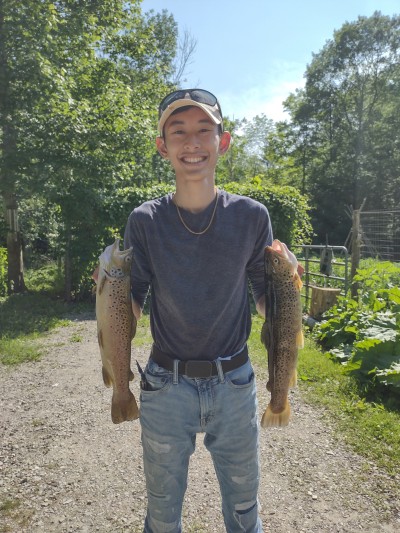 Two 13-inch brown trout, my first catches in the Ausable River.
In late September, the quickly approaching end of summer pushed me once again to pick up my fly rod. In talking with Evan Bottcher at The Hungry Trout fly shop - also a board member of AsRA, he suggested a green mop fly. Having nothing left of my flyfishing pride to lose, I took it to my lucky spot on the East Branch and donned my thick neoprene duck season waders. I tied the fly to my tippet, awkwardly casted it onto the water, and let it float. Over the next ten minutes, I worked on my casting and eventually got my presentation to look half-decent. As fate would have it, a lucky cast where my fly landed perfectly on the water and traveled at the same rate as the flowing bubbles led to a sudden flash of yellow and green barreling towards my mop fly. A quick hook set, and some panic ensued. Not familiar with fighting a fish on a fly rod, I held on for dear life and prayed my line and knots would hold. When I had gotten the fish close enough, I reached out with my net and scooped him from the water. He turned out to be the biggest trout I had ever caught at 17 inches in length, and the only fish I've ever caught on a fly rod.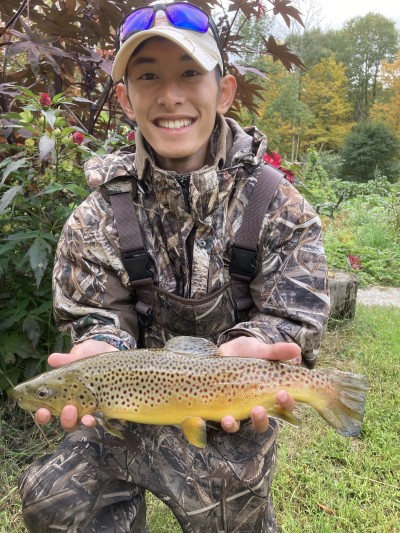 My greatest fishing achievement so far.
With my fishing journey now complete, I look back on this summer with a few key takeaways. As the AsRA river steward, I constantly monitor the Ausable River. This summer, I walked much of the East Branch Ausable, West Branch Ausable, Ausable Rivers, and even some tributaries in search of invasive aquatic species such as milfoil, banded mystery snails, and zebra mussels. Finding none of what I was looking for, it comes as no surprise to me that the fishing is as good as it is. The Ausable River supports various forms of recreation, and it is free of aquatic invasive species in large part due to the efforts of conservation organizations like Ausable River Association and the many fishermen who put time and care in cleaning their gear, and in turn, keeping our river pristine. Wader wash stations, constant invasive species monitoring, and public outreach are critical to protecting the river as other Ausable River Association staff work to restore it. Together, we can keep our river a world-class fishing area, and, for the sake of the future generations of fishermen, we encourage you to continue to check, clean, and dry your gear.
---
 Story written by Vy Duong, 2022 River Steward. Sign-up for our e-newsletter to get weekly updates on the latest stories from the Ausable River Association.
Sign-up for our e-newsletter to get weekly updates on the latest stories from the Ausable River Association.