I will never forget my first plane ride over the Adirondacks. The jolts of the tiny plane kept my stomach on alert. The tops of the mountains were close enough to see hikers enjoying their lunches. I was struck by the connections – streams and rivers cutting through the mountains and spilling onto their floodplains; patchy wetlands filling in spaces between giant trees, lakes, and ponds. The way these natural systems work in harmony was so obvious from the air and yet so easy to miss on the ground.
A couple of years later, I was standing in one of these streams, my feet invisible beneath the flowing water. I was shoulder to shoulder with Corrie Miller, who then led the Ausable River Association (AsRA). We were examining a stream whose connections had been cut. In front of us was a road blocking the water and everything in the water – fish, bugs, and branches – from passing. It had been a hot summer and we were worried about the health of these underwater travelers. It was here that Corrie and I hatched a plan.
For 10 years, The Nature Conservancy's (TNC) Adirondack Chapter and AsRA have worked together to improve culverts, the crossings where rivers and streams flow under roads. Most people don't think about how a road crosses a river unless they're going over a large bridge. But, in our communities, all too often the way the river meets the road is through a small pipe. In the beginning, we set out to reconnect fragmented streams in the Ausable River watershed to allow fish such as brook trout to move upstream to reach cooler waters and spawning areas. Our goal was to preserve or restore the integrity of the stream to improve wildlife habitat.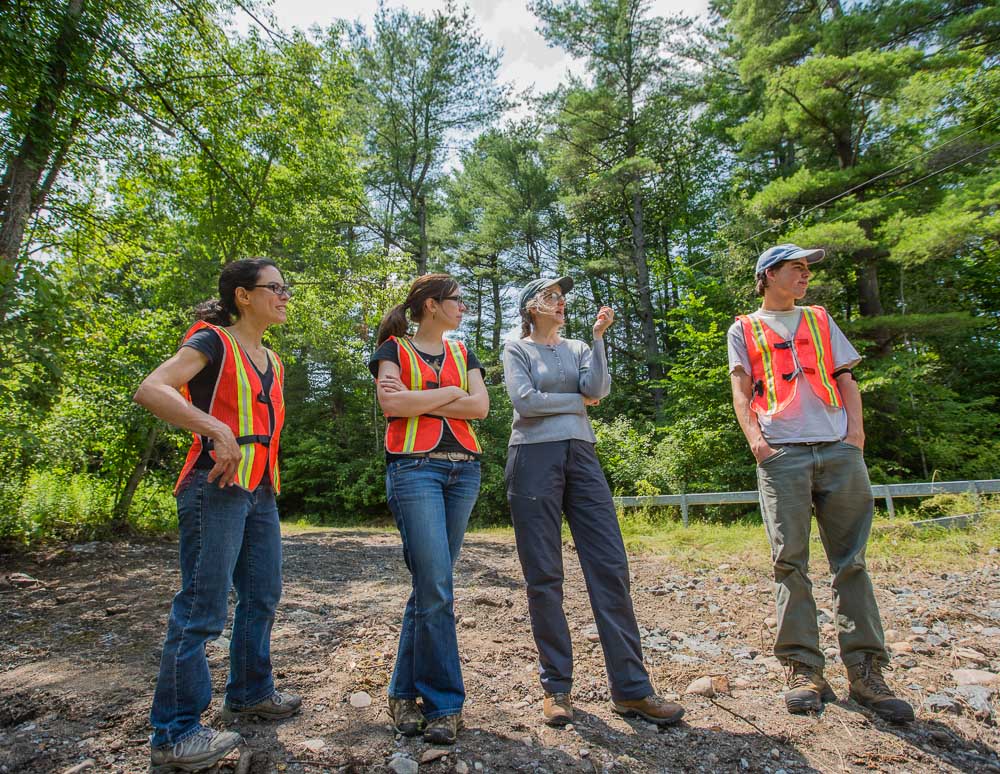 The author, Michelle Brown of TNC Adirondack Chapter, second from left, with AsRA's Kelley Tucker, second from right at a culvert site in 2015. Photo: Erika Bailey.
First, we had to understand the extent of the challenge. While the solutions to problematic culverts are readily available, the costs for upgrades or retrofits can be significant. This was a big undertaking, and we were improvising the methodology as we went along. Corrie and I recruited help from Tim Mihuc, Professor of Environmental Science at SUNY Plattsburgh. Tim was wrestling with similar issues in the northern part of the Lake Champlain watershed and always up for a challenge. We joined forces and began cataloging all the culverts in the Ausable watershed.
When we arrived at a road-stream crossing, we'd measure the structure and assess the stream to see if the culvert allowed fish to pass safely or if it was an impediment. Using those data, we would then generate a fish passability score between zero and one, which represented the range between a culvert that fish could swim through easily and a completely blocked passageway. We crisscrossed the Ausable River watershed to map and inventory each culvert, in order to develop priorities for replacement. Then, right as our fieldwork was ending, Tropical Storm Irene hit the Adirondacks, causing unprecedented flooding in our communities.
This made much of our data irrelevant because Irene suddenly altered many characteristics of the watershed. It also drew our attention to the importance of culverts in a world with increasingly powerful storms. When culverts are too small, they easily clog with natural debris during storms, causing flooding and road damage and requiring expensive repairs. We initially approached this project from an ecological perspective, with the goal of reconnecting streams and rivers for safe fish passage, but the devastating impact of Irene on our communities led us to incorporate science around flood risk and road maintenance. Improving culverts can help mitigate the effects of climate change on both freshwater systems and human communities.
---
Support our work to replace undersized and deteriorated culverts. Give with confidence today!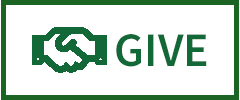 ---
We started getting our hands dirty in 2014 with two culvert retrofit projects in Black Brook. Kelley Tucker, who had led AsRA's board the previous few years, was by then its Executive Director. It fell to her to coordinate the construction of these first projects. At the time, I could not imagine where we are now. I didn't know if we'd be able to continue to find funding and willing partners, or whether the model we were building would be applicable in other places. We've just completed our 10th culvert, and have reconnected more than 100 miles of stream (measured by the number of miles upstream and down to the next barrier) in the Ausable River watershed. That's roughly the distance between Wilmington and Saratoga Springs. And now there is a full regional collaborative of 13 states, led by the University of Massachusetts, with peer-reviewed protocols, databases, and risk modeling for stream flow and flooding. TNC and the New York Department of Environmental Conservation led the charge in bringing these methods to New York State and helping practitioners speak the same language, even across state boundaries.
While we are no longer learning on the job and know what we can accomplish, this work still requires creativity. By working closely together over the last decade, we've been able to bring different sources of funding to the table and expand the expertise applied to each project. We've shifted our construction model, learning from each project how to improve. As we discover each other's strengths, we've refined our organizational roles. Kelley serves as the on-the-ground expert, leading on the technical aspects, such as survey, design, and engineering, with support from the U.S. Fish and Wildlife Service. And I lead the work on inventorying and prioritizing culverts, and apply the model we've developed in the Ausable to other parts of the state. We both leverage longstanding partnerships with other Adirondack stakeholders to help us get this work done.
We often face tough tradeoffs in conservation, with no perfect solution available. The work we have done together to replace and retrofit culverts in the Ausable River watershed is all upside – a win for our Adirondack communities AND for fish and wildlife. A good culvert lets a stream be a stream, but the connections go beyond the water. A strong partnership between the Ausable River Association and The Nature Conservancy relies on each organization's natural strengths to accomplish tangible results that will improve the watershed for decades to come.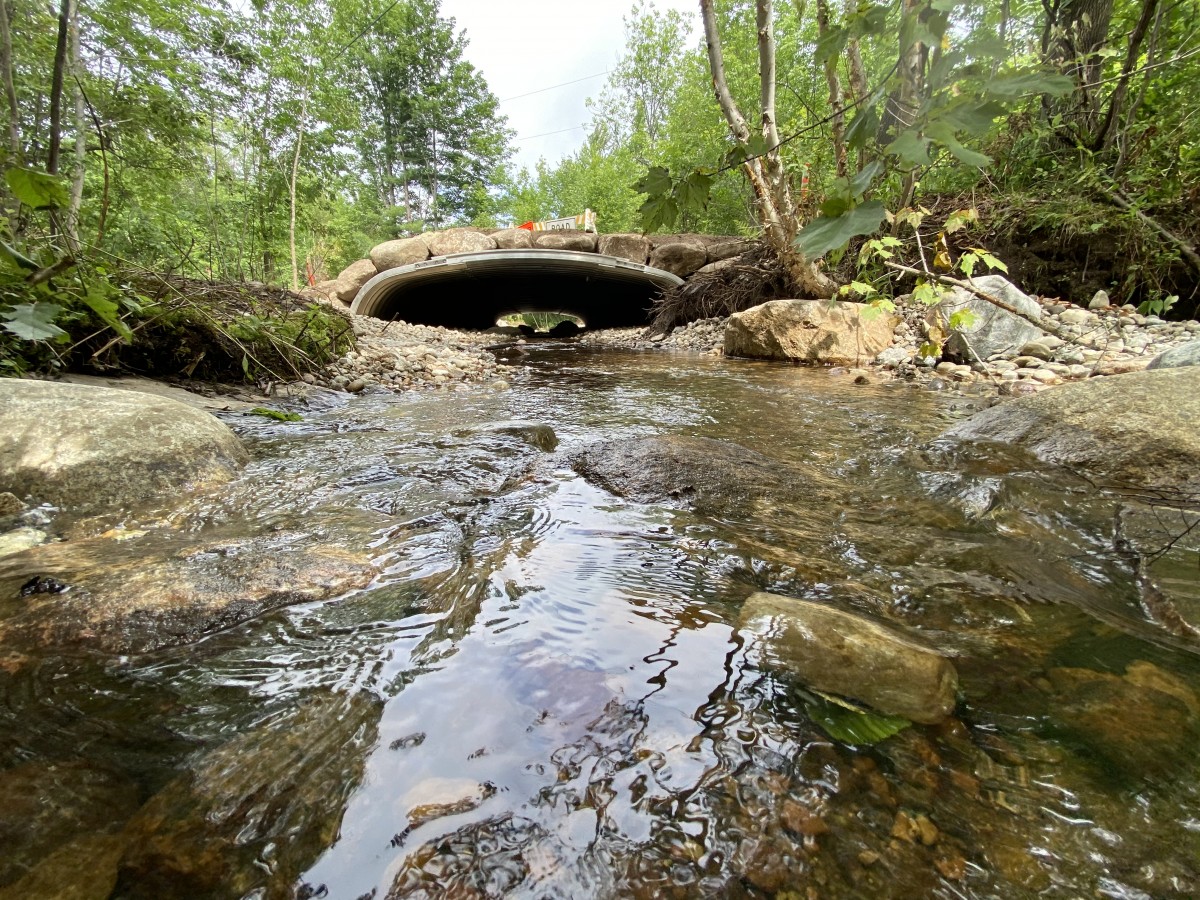 One of two 2020 culverts completed as the result of the AsRA/TNC partnership, Otis Brook #2. Photo: Kelley Tucker, AsRA.
Michelle Brown, Conservation Scientist for The Nature Conservancy, wrote this story for the 2020 fall/winter edition of  AsRA's newsletter Voice of the River.
---
Sign-up for our e-newsletter to get weekly updates on the latest stories from the Ausable River Association.